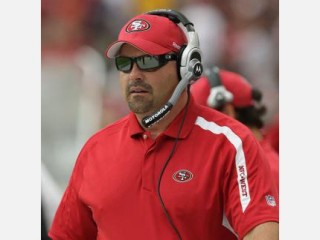 Greg Manusky
Date of birth : 1966-08-12
Date of death : -
Birthplace : Wilkes-Barre, Pennsylvania
Nationality : American
Category : Sports
Last modified : 2010-10-18
Gregory Manusky is the current American football defensive coordinator of the San Francisco 49ers of the National Football League. He is also a former player, playing linebacker for three teams over twelve years. Manusky played college football at Colgate University.

Once a tough, hard-nosed NFL linebacker, Greg Manusky (muh-NUH-ski) has since translated those qualities into a successful 10-year professional coaching career. Manusky brings that mentality to the 49ers defense as he enters his fourth season as defensive coordinator in San Francisco.

Under Manusky's guidance, the 49ers defense has significantly improved in each of the past three seasons. In five games in 2009, Manusky's unit did not allow a single touchdown, marking a franchise record and ranking t-1st in the NFL (NY Jets). San Francisco's defense went on to rank among the top 5 NFL teams in several statistical categories, including forced fumbles (21, t-1st), sacks (44, t-3rd), rushing yards allowed per attempt (3.6 avg., 3rd), opponent red zone scoring (40.4 pct., 3rd), points allowed (17.6 ppg., 4th) and takeaways (33, t-5th). The 44 sacks, 281 points allowed and 1,552 rushing yards allowed marked the best totals by the team since 1997. In addition, the 49ers ranked 6th in the NFL in yards allowed per play (4.97), run defense (97.0 ypg.) and first downs allowed per game (17.4).

Manusky joined the 49ers after serving as the linebackers coach for the San Diego Chargers from 2002-06 and Washington Redskins in 2001. During his 12-year stint as a linebacker with Washington (1988-90), Minnesota (1991-93) and Kansas City (1994-99), Manusky was known as a tenacious workhorse. He said his passion for the game, and mental will to do anything necessary to make an impact on the team, carried him throughout his playing career.

In nine years as a pro coach, Manusky has seen several of his players earn Pro Bowl honors, including 49ers LB Patrick Willis (2007-09), DT Justin Smith (2009) and CB Walt Harris (2007); Chargers LB Shawne Merriman (2006), LB Donnie Edwards (2002) and LB Junior Seau (2002); and Redskins LB LaVar Arrington (2001). Merriman, Edwards, Arrington, Willis and Smith were all named to their first career Pro Bowls under Manusky's tutelage.

Manusky played in 113 consecutive games during his career. Following the 1991 season, he was selected to the All-Madden Team put together by Hall of Fame broadcaster and former coach, John Madden. Manusky said the encouragement he received from his coaches during his playing days instilled in him the confidence to enter the coaching profession.

"During my sixth year in the league, I played under Tony Dungy and Monty Kiffin in Minnesota. They were the first ones to say, 'Hey, you'd be a pretty good coach,'" Manusky recalled. "That's the road I've traveled since. During the number of years that I spent in Kansas City and even in my past few years as a coach, I've continued to try and push myself and adopt the mindset of an offensive or defensive coordinator. I've been fortunate to have the opportunity to do that here in San Francisco."

After retiring from the NFL in 1999, Manusky spent the 2000 season as a volunteer at the Tampa Bay Buccaneers' training camp, where he worked with the linebackers and special teams. One year later, he accepted a job as linebackers coach with the Redskins.

A well-regarded teacher and communicator, Manusky developed the Chargers linebacking corps into one of the NFL's stingiest units. They were part of a defense that finished the 2006 season ranked 7th against the rush and 3rd in turnover margin with a +13 balance. The unit alone accounted for 42.5 of the defense's 61 total regular season sacks.

Manusky was born in Wilkes-Barre, PA, and prepped at Dallas (PA) High School. He went on to attend Colgate University, where he was a four-year letterman and an All-Colonial League selection. Manusky was named the league's Defensive Player of the Year as a senior and graduated with degrees in education and geology.

Manusky and his and wife, Laurie, have two sons, Colton and Jake, and two daughters, Logan and Chandler.
View the full website biography of Greg Manusky .