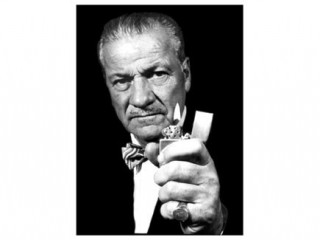 George Blaisdell
Date of birth : 1895-06-05
Date of death : 1978-10-03
Birthplace : Bradford, Pennsylvania, U.S.
Nationality : American
Category : Science and Technology
Last modified : 2011-09-27
George Blaisdell quit the public school in fifth grade, and was expelled from military school two years later. At 12 years of age he went to work at his father's machine shop, and he took over the business at the age of 20. He later sold the shop to invest in stocks and, later, oil, but he floundered in both endeavors. In 1932 he began importing cigarette lighters from Austria, and when sales were sluggish he used his machine shop skills to design a more durable and reliable lighter, resulting in what he called the Zippo. Blaisdell's lighter, of course, should not be confused with ubiquitous and disposable 99¢ lighters -- since the company's founding and even now, all Zippos are guaranteed for life, and repaired or replaced free of charge if they ever fail to light.

Originally made from brass tubing with a cover to protect the flame from the wind, the lighters sold slowly until World War II, when Blaisdell sold Zippos by the millions to the US military. He also shipped a steady supply of Zippos to war correspondent Ernie Pyle, who gave the lighters great publicity. After the war, former soldiers who had grown fond of their Zippos made the deluxe lighter a favorite. Decades after Blaisdell's 1978 death, sales of Zippos remain steady, and the firm is still owned by Blaisdell's descendants.


View the full website biography of George Blaisdell.