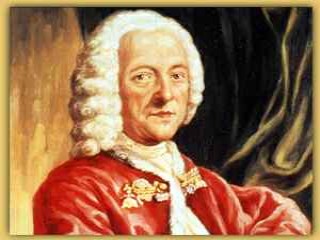 Georg Philipp Telemann
Date of birth : 1681-03-14
Date of death : 1767-06-25
Birthplace : Magdeburg, Germany
Nationality : German
Category : Historian personalities
Last modified : 2011-05-26
Georg Philipp Telemann, a German composer of the late baroque era, was one of the leaders of the Hamburg school during its preeminence in Germany.
Georg Philipp Telemann was born in Magdeburg on March 14, 1681. He was educated there and in Hildesheim. He learned the rudiments of music in school, as all German children did, but otherwise he taught himself music, mainly by studying the scores of Jean Baptiste Lully and Andre Campra. Telemann is said to have composed motets and other pieces of the church service when very young, and by the time he was 12 years old he had written almost the whole of an opera.
In 1701 Telemann entered Leipzig University as a law student. In 1704 he became organist at the Neukirche in Leipzig and founded a student society called the Collegium Musicum. He wrote several operas for the Leipzig theater. He was chapelmaster at the court of Eisenach (1709-1712) and in Frankfurt (1712-1721). He then became cantor of the Johanneum and music director in Hamburg, and he held these posts for the rest of his life. He was offered the position of music director at Leipzig in 1722 but declined it, and J. S. Bach received the appointment.
Telemann made a number of trips to Berlin, and in 1737 he visited Paris, where he was influenced by French musical ideas and style. He died on June 25, 1767.
Telemann composed with rare facility and fluency in a variety of styles. George Frederick Handel is reported to have said that Telemann could write a church piece of eight parts with the same ease as another would write a letter. He composed literally thousands of works, including 12 complete cantata cycles for the liturgical year, 44 Passions, oratorios, funeral and wedding services, chamber music, about 40 operas, and over 600 overtures in the French style. Whereas J. S. Bach could maintain his individuality when he wrote in the French or Italian style, Telemann prided himself on taking on the characteristics of every national style, writing in what was then called the new style galant.
In his History of Violin Playing (1965) David Boyden translates an interesting excerpt from Telemann's autobiography: "I had an opportunity in upper Silesia as well as in Cracow of getting to know Polish music in all its barbaric beauty. One would hardly believe what wonderfully bright ideas such pipers and fiddlers are apt to get when they improvise, ideas that would suffice for an entire lifetime. There is in this music a great deal of merit provided it is treated right. I have myself written in this manner several large concertos and trios that I clad in Italian clothes with alternating Adagi and Allegri."
Opinion is divided as to whether Telemann is an unjustly neglected master or a superficial craftsman whose works lack depth and profundity because of his incredible productivity. Unquestionably he had an effortless melodic gift and wrote music of great charm. His 12 Methodischen Sonate (1732) provide many valuable examples of ornamentation that are particularly useful today when the art of improvised ornamentation is almost dead except in jazz.
View the full website biography of Georg Philipp Telemann.