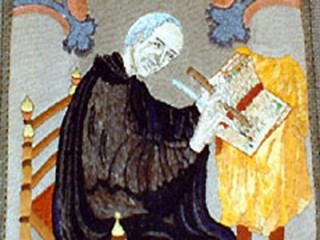 Geoffrey Of Monmouth
Date of birth : -
Date of death : -
Birthplace : Monmouth, Wales
Nationality : English
Category : Historian personalities
Last modified : 2011-05-26
The English pseudohistorian Geoffrey of Monmouth (ca. 1100-1155) is known for his "History of the Kings of Britain," through which he contributed greatly to the dissemination of the Arthurian legend throughout Europe.
Geoffrey was born in or near Monmouth, Wales. By 1129 he was residing in Oxford, probably as a member of a nonmonastic ecclesiastical community. He stayed at Oxford at least until 1151 and during this period wrote his two extant works, Historia regum Britanniae (1136-1138; History of the Kings of Britain) and Vita Merlini (ca. 1148; The Life of Merlin). Geoffrey was a keen observer of contemporary trends in historical writing and combined his observations with a fertile imagination and a consistent, if not profound, philosophical outlook about history to produce his brilliant pseudohistory of the Britons, the Celtic people which inhabited the island of Britain before being conquered by the Anglo-Saxons.
Historia regum Britanniae purports to be a Latin translation of a "very old book" recounting the story of the rise and fall of the Britons. In composing his legendary history, Geoffrey utilized material from British legend and folklore. He also borrowed from earlier Latin accounts of the Britons but treated all his sources with great imaginative freedom. The Historia begins with the story of Brutus, grandson of Aeneas and founder of Britain; there follow accounts of many mythical monarchs (including King Lear). The climax of the work is Geoffrey's invention of a glorious reign of King Arthur and his description of Arthur's tremendous victories over the invading Saxons and the hostile Roman Empire. Here Geoffrey was influenced by contemporaneous historians' accounts of the Anglo-Norman kings and by the English civil war which raged as he wrote. The main themes of the Historia are that history is cyclic, that civil strife brings national disaster, and that the goals of the individual and those of society often clash.
In the Vita Merlini, a 1,500-line Latin poem, Geoffrey tells the story of Merlin, a legendary Welsh prophet and prince, whose prophecies formed one part of the Historia. Merlin goes mad as he watches a ferocious battle and flees to the forest, thwarting all attempts to make him return to the court, whose follies he bitterly reveals. This work carries further Geoffrey's concern with the hero who finds antagonism between his own desires and the values of society.
In 1151 Geoffrey was designated bishop of St. Asaph on the border of England and Wales. In the years following his death, his Historia became widely, though not unanimously, accepted as factual and influenced serious historians of the Britons and the English for centuries.
View the full website biography of Geoffrey Of Monmouth.