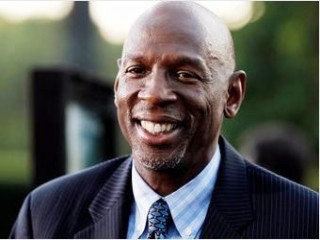 Geoffrey Canada
Date of birth : 1952-01-13
Date of death : -
Birthplace : Harlem, New York City, U.S.
Nationality : African-American
Category : Famous Figures
Last modified : 2011-11-01
Geoffrey Canada, a native from Harlem, N.Y. become a very important African American social activist and educator. Since 1990, Canada has been president and CEO of the Harlem Children's Zone in Harlem, New York, an organization which states its goal is to increase high school and college graduation rates among students in Harlem.

Born January 13, 1952, in Harlem, New York City to parents McAlister and Mary Canada. Canada's father suffered from alcoholism, and his mother eventually left her husband to raise Geoffrey and his three brothers on her own. Finances were tight, and Canada's mother struggled support the family alone. She tutored her sons, restricted their television intake, instilled them with values, and took them to civil rights marches.

Although his mother eventually earned a master's degree from Harvard University, she struggled in the early years to support her children financially. As a result, Canada's early life was marked by poverty. Living in a poor, unsafe neighborhood, Canada had to learn street smarts to stay safe on the way home from school. Learning that it was better to fight than to be labeled a coward, Canada armed himself with a knife, which he always kept in his pocket.

A bright child who excelled at school, Canada was sent to live with his maternal grandparents in Freeport, New York at the age of 15. At Wyandanch High School, Canada won a scholarship to Bowdoin College. Upon completion of high school in 1970, Canada headed to college in Brunswick, Maine. While a sophomore, Canada married high school girlfriend Joyce Henderson. That same year, the couple welcome son, Jerry. The couple would later divorce, but Canada would continue to stay involved in Jerry's life.

Canada completed a bachelor's degree in psychology and sociology in 1974, and entered the Harvard Graduate School of Education shortly thereafter, where he earned a master's degree. After graduation, inspired by his formative years in Harlem, Canada joined the faculty of the Robert White School, an alternative high school for troubled youth in Boston, Massachusetts. Canada excelled at reaching these students, and was often assigned responsibility for the most violent and unreachable pupils. By 1977, Canada had become director of Robert White.

In 1983, Canada returned to Harlem to help the children in his old neighborhood. He found work as the program director for the Rheedlen Institute's Truancy Prevention Program. The program was geared specifically for children between five and 12 years old who had been abused or neglected.

While at Rheedlen, Canada began expanding his methods of approach for counseling young children. A third-degree black belt, Canada opened his first martial arts school, the Chang Moo Kwon Tai Kwon Do Club, with the help of Rheedlen in 1983. Using martial arts as a teaching aid, Canada instructed children in strong conflict resolution skills and violence reduction techniques. This evolved into the Harlem Peacemakers Program, an effort to reduce violence in central Harlem by teaching negotiation skills.

In 1990, Canada was appointed president of Rheedlen. He expanded the center, and renamed it the Harlem Children's Zone. The 97-block complex began offering tutoring, recreational programs and community outreach. Social workers also provided drug counseling, parenting advice, and basic life skills to the community. By 1997, Harlem Children's Zone had 11 sites throughout Manhattan.

In addition to his efforts with Harlem Children's Zone, Canada began national initiatives to save African-American children. In 2009, U.S. President Barack Obama announced plans to replicate the HCZ model in 20 other cities across the nation.

In addition to his social work, Canada has written several books including Fist Stick Knife Gun: A Personal History of Violence in America (1995) and Reaching Up For Manhood: Transforming the Lives of Boys in America (1998).

By the years, Canada was awarded:

The 1st Annual Heinz Award in the Human Condition
Doctor of Humane Letters, Bowdoin College (2007)
Doctor of Humane letters, Tulane University (2010)
Doctor of Laws, Columbia University (2010)
"Local Hero" honor at 2010 BET Awards
Doctor of Humane Letters, Tufts University (2011)

Desiring to emulate the Harlem Children's Zone, in 2009 American President Barack Obama announced plans to replicate the HCZ model in 20 other cities across the nation.

Canada is prominently featured in Waiting for Superman (2010), a documentary on the state of American public education by Academy Award-winner Davis Guggenheim. The film received the Audience Award for best documentary at the 2010 Sundance Film Festival.

View the full website biography of Geoffrey Canada.