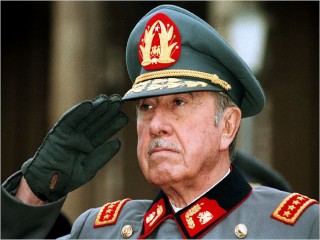 General Augusto Pinochet
Date of birth : 1915-11-25
Date of death : 2006-12-10
Birthplace : Valparaiso, Chile
Nationality : Chilean
Category : Historian personalities
Last modified : 2010-04-27
General Augusto José Ramón Pinochet Ugarte(25 November 1915 – 10 December 2006) was a Chilean army general who was brought to power as president in a U.S.-backed coup d'état on September 11, 1973. Among his titles, he was the Commander-in-Chief of the Chilean army from 1973 to 1998, president of the Government Junta of Chile from 1973 to 1974 and President of the Republic from 1974 until he reinstalled a democratic system in 1990.

Wanting to prevent the infiltration of communism into Chile and with military backing, Augusto Pinochet took over the democratically-elected government in order that he gain full authoritarian power and control over the country. Backed by many supporters in the west, he was abhorred by his enemies. The latter half of his reign came under much scrutiny for its involvement in human rights violations.
Born in a small port town in Chile, young Augusto was a small-stature boy who had dreams of greatness. His will to succeed, prove himself, and gain recognition drove him to excel in his military career. Odds were against him, but even after two rejections into the National Military Academy, he went on to become a second lieutenant. During his slow, but gradual rise in the ranks, he married Maria Hiriart and the two had five children together.
Although Pinochet never wrote an autobiography, he did write a book entitled Geopolitica, as it was his obsession to become one of the greatest military strategists in all of Chile. He studied the advance courses necessary to lead an army. Additionally, throughout the years, he made valuable contacts with high-ranking officials that would prove beneficial. It wasn't, however, until later in his career that he became the division general over all the Chilean army and started thinking about how politics and society went hand in hand. Scared that Marxism would eventually ruin Chile, Pinochet began thinking of ways to overthrow the government before it was too late. On the outside, though, he looked as loyal as ever to his fellow countrymen.
The day that Augusto Pinochet overthrew the elected Chilean government was one of chaos and massive disruption in Santiago. In his presidential home, Allende's guards were taken over and Pinochet's troops killed him, which allowed Pinochet to make the jump from the Commander in Chief of the military to acting President. Many agree that Pinochet would not have been able to take over the country without the help of the United States' CIA, which gave him instructions on how he could take over the Chilean government. This plan is called the White Book.
Chilean society and its government went into a literal depression once Pinochet took command. However, within ten years, the country's economic situation took a massive turn around and free trade, investing, and loans from abroad become the norm. Ironically, Pinochet's government some years later became more authoritarian than ever and attempted to control many areas of society's life, including new economic policies that seemed like they might throw Chile into another depression. By the 1980s, the Chilean government was despised by the world community for their grave violations of human rights for both regular civilians and political dissidents.
By 1990, Pinochet was beaten in fair elections that still allowed him to maintain control of the armed forces. While undergoing surgery in a London hospital, however, Pinochet was arrested for crimes against humanity. Soon after, he was granted immunity and for many years, the British and Spanish governments debated prosecution. In the years that passed, Pinochet suffered strokes and eventual mental dementia that made him too unstable to stand trial for his crimes.
Pinochet suffered a heart attack on the morning of December 3, 2006, and subsequently the same day he was given the last rites. On December 4, 2006, the Chilean Court of Appeals ordered the release of his house arrest. On December 10, 2006 at 13:30 local time (16:30 UTC) he was taken to the intensive care unit. He died of congestive heart failure and pulmonary edema, surrounded by family members, at the Military Hospital at 14:15 local time (17:15 UTC).
View the full website biography of General Augusto Pinochet.