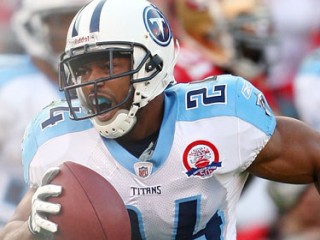 Chris Johnson
Date of birth : 1985-09-23
Date of death : -
Birthplace : Orlando, Florida
Nationality : American
Category : Sports
Last modified : 2010-12-16
PRO:
Adding world-class speed and big-play ability to the rushing attack, Chris Johnson has quickly emerged as one of the NFL's top young offensive stars. The former first-round pick has the uncanny ability to score from anywhere on the field. He produced one of the most extraordinary seasons by a running back in league history when he amassed a franchise-best 2,006 rushing yards and an NFL-record 2,509 yards from scrimmage in 2009.

CAREER HIGHLIGHTS:
• Became only the sixth player in NFL history to reach 2,000 rushing yards in 2009, joining Eric Dickerson (2,105), Jamal Lewis (2,066), Barry Sanders (2,053), Terrell Davis (2,008) and O.J. Simpson (2,003).
• Became the first player in NFL history with at least 2,000 rushing yards and 500 receiving yards in the same season.
• Named AP Offensive Player of the Year and was the only unanimous AP first-team All-Pro selection in 2009.
• Set a franchise record with 228 rushing yards on 24 carries with two touchdowns against Jacksonville (11/1/09).
• Amassed a career-high 284 total yards from scrimmage against Houston (9/20/09), the second-highest combined rushing and receiving total in franchise history behind Billy Cannon's 330 yards against the New York Titans on Dec. 10, 1961.
• Became just the second player in franchise history (Billy Cannon, 12/10/61) to post 100 receiving yards and 100 rushing yards in the same game against Buffalo (11/15/09).
• Became the first player in NFL history with six consecutive games of 125+ rushing yards and a 5.0+ yards per carry average in each of those games (Pro Football Hall of Famer Jim Brown accomplished this feat in five consecutive games in 1958).
• With his three touchdown runs of 85 or more yards in 2009 (91, 89, 85), he became the only player in NFL history to register three career touchdown runs of 85 or more yards.
• In his first two seasons (2009-2010), amassed 3,997 total yards from scrimmage ranking him third (Eric Dickerson and Edgerrin James) in NFL history for scrimmage yards in a player's first two campaigns.
• As a rookie in 2008, led the Titans with 1,228 rushing yards and was named to Pro Bowl. Finished third in AFC (eighth in NFL) in rushing yards and his 4.9-yard average was first in AFC (fourth in NFL).
• Entering 2010, he has rushed for 100 or more yards in 16 career games, including 11 consecutive contests. His 12 100-yard games in 2009 matched an NFL record for a season.
• At the NFL Scouting Combine in February 2008, Johnson was timed in the 40-yard dash at 4.24 seconds.

TITANS TIDBITS:
• Johnson decided to attend East Carolina because the Pirates offered him the best opportunity to play running back. Other schools that recruited him wanted him to play cornerback. His versatility as an athlete came in handy as a junior at ECU when he played slot receiver to limit his cutting on a turf toe injury.
• This is not the first time Johnson has played for the Titans. He was a star running back and track athlete for the Olympia High School Titans in Orlando, Fla.
• At the NFL Scouting Combine in February 2008, Johnson was timed in the 40-yard dash at 4.24 seconds. While a few other players have been recorded at faster times at other venues using a handheld stopwatch, Johnson's time is the fastest in the combine in the last 15 years and believed by most to be the fastest ever electronically timed 40-yard dash at the combine, which began in 1982.
• Johnson, who was a star in track and field as well as football in high school, finished second in the 100-meter dash at the Florida state meet to Walter Dix, who went on to win the bronze medal at the 2008 Summer Olympics.

CAREER TRANSACTIONS:
• The Orlando, Fla., native was selected by the Titans in the first round (24th overall) of the 2008 NFL Draft.

COLLEGE:
• Became third all-time leading rusher in ECU history with 2,982 rushing yards and set team record among running backs in career receptions (125) and receiving yards (1,296). Also became Pirates' career leader in total touchdowns (44), kickoff return yards (2,715 - a Conference USA record) and all-purpose yards (6,993 - third in conference history). In total, set or tied 18 game, season and career records for ECU. Also included on that list are season scoring record (144 points as a senior) and single-game all-purpose yardage total (408 yards on two occasions during senior season). He appeared in 47 games with 36 starts.
• As senior (2007), led nation with 227.7 all-purpose yards per game and was named first-team All-American by Pro Football Weekly and honorable mention All-American by SI.com. Started all 13 games at running back and totaled 236 carries for 1,423 yards (6.0 avg.) and 17 touchdowns. Added 37 receptions for 528 yards (14.3 avg.) and six touchdowns and 36 kickoff returns for 1,009 yards (28.0 avg.) and one touchdown.
• As junior (2006), played 12 games with five starts. Totaled 78 carries for 314 yards and four touchdowns and 21 receptions for 176 yards. Named first-team All-Conference USA as return specialist after posting 21 kickoff returns for 482 yards and one touchdown.
• As sophomore (2005), led Pirates with 176 carries for 684 yards (3.9 avg.) and six touchdowns. Also ranked second on squad with 35 receptions for 356 yards and two touchdowns. Added 21 kickoff returns for 459 yards. Ranked second in Conference USA with 136.3 all-purpose yards per game (1,499 total).
• As freshman (2004), earned Conference USA All-Freshman honors after rushing for 561 yards and five touchdowns on 134 carries (4.2 avg.). Added 32 receptions for 236 yards and two touchdowns and career-high 37 kickoff returns for 765 yards. Ranked fourth in the conference with an average of 142.0 all-purpose yards per game.
• Majored in communications.

PERSONAL:
• Splits time between Nashville and Orlando, Fla.
• Earned All-Orange County honors as senior running back for Olympia (Orlando, Fla.) High School Titans. Scored eight touchdowns as senior and eclipsed 1,000 yards as junior.
• Also played basketball and competed in track in high school. Ran 10.38-second 100-meter dash and anchored 4x100 team that won Golden South and Golden West National Championships.
• The past two offseasons, gave his time and efforts for the three-day Old Spice Chris Johnson Football Camp in Nashville.
• List of favorites: (movie) "Menace II Society"; (TV show) "The Jamie Foxx Show"; (actor) Denzel Washington; (music artist) Lil Wayne; (school subject) math; (car) 1973 Chevy Caprice; (video game) NCAA Football; (sports team other than Titans) Denver Nuggets; (sports hero) Deion Sanders; and (food) pizza.
• Born Christopher Duan Johnson on Sept. 23, 1985 in Orlando, Fla.
View the full website biography of Chris Johnson.