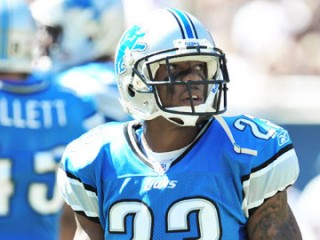 Chris Houston
Date of birth : 1984-10-18
Date of death : -
Birthplace : Austin, Texas
Nationality : American
Category : Sports
Last modified : 2010-12-13
Chris Houston is an American Football cornerback for the Detroit Lions of the National Football League.

* Acquired by the Detroit Lions via trade with the Atlanta Falcons March 9, 2010.
* Drafted by the Atlanta Falcons in the second round (41st overall) of the 2007 NFL Draft.

PRO:
Cornerback Chris Houston was acquired by Detroit through a trade with Atlanta after spending the first three years (2007-09) with the Falcons. Competing to earn one of the team's starting cornerback positions.

* Houston comes to Detroit with 162 career tackles (145 solo), three interceptions (14 yards; one TD), 34 pass defenses, a forced fumble and two fumble recoveries.
* In 2009, he played in 12 games (10 starts) before ending the year on the reserve/injured list due to a hamstring injury.
* Started 16 games in 2008 and had two interceptions, one of which he returned 10 yards for a touchdown (KC, 9/21). Also started in Falcons' playoff game.
* Played in all 16 games as a rookie and led all Falcons rookies with 55 tackles after emerging as a full-time starter (11 starts), primarily at right cornerback.

2010: Team's starting left cornerback. Has 42 tackles (33 solo), 1 interception, 11 pass defenses, 1 forced fumble and 2 special teams tackle on the season.
* Recorded 4 solo tackles a forced fumble and a special teams tackle in season opener at Chicago (9/12).
* Tallied 5 solo tackles at Minnesota (9/26).
* Recorded first interception of the season at Green Bay (10/3), along with one tackle and one pass defense.
* Compiled four tackles (4 solo) and two pass defenses against St. Louis (10/10).
* Had four tackles (3 solo), one tackle for loss, one pass defense and a special teams tackle against Washington (10/31).
* Recorded season-high 3 pass defenses and a solo tackle before leaving the game due to injury against the New York Jets (11/7).
* Tallied five tackles (4 solo) and had two pass defenses at Buffalo (11/14).
* Had four tackles (3 solo) against New England (11/25).
* Recorded six tackles (6 solo) and added two pass defenses against Chicago (12/5).

2009: Finished season with 47 tackles, an interception and 9 pass defenses after playing in 12 games (10 starts).
* Had a season-high 6 tackles in two games (at NE, 9/27 and vs. Chi, 10/18).
* Inactive three games: vs. NO (12/13), at NYJ (12/20) and vs. Buf (12/27) due to hamstring injury.
* Placed on reserve/injured list December 29.

2008: Started in all 16 games at right cornerback and finished the season with career-highs in tackles (60), interceptions (2) and pass defenses (16).
* Recorded a career-high 4 passes defensed and his first career interception vs. Kansas City (9/21) in addition to posting one tackle. He returned the interception 10 yards for a touchdown.
* Notched a season-high 7 tackles twice, at San Diego (11/30) and vs. Tampa Bay (12/14).

2007: Led Falcons rookies with 55 tackles and contributed with 9 pass defenses and a forced fumble.
* Made first career NFL start at cornerback vs. Houston (9/30) and posted a tackle.
* Started at right cornerback and tallied 5 tackles and his first career pass defense at New Orleans (10/21).
* Established a career-high in tackles (8) and pass defenses (two) at Carolina (11/11).
* Recorded 2 tackles, a pass defense and his first career forced fumble vs. Tampa Bay (11/18).
* Posted a team-high 8 tackles vs. Seattle (12/31).

COLLEGE:
A Pro Football Weekly All-America honorable mention and All-Southeastern Conference second team selection by the league's coaches and Associated Press in 2006 at Arkansas.
* Houston gained 129 yards on 2 interceptions against Mississippi State, which set a school game-record, topping the old mark of 99 yards by Orlando Watters vs. Louisiana State in 1993.
* Returned an interception 87 yards for a touchdown in the same game against MSU, which was the ninth-longest return in school history and the longest since Jermaine Petty returned an interception 88 yards vs. Auburn in 2001.
* Blocked a punt that he recovered for a touchdown in 2004.

PERSONAL:
Attended Lyndon B. Johnson (Austin, Texas) High School, competing as a running back and cornerback.
* As a senior, Houston rushed for 426 yards and six touchdowns before moving exclusively to cornerback.
* Member of the 2004–05 Lon Farrell Academic Honor Roll.
View the full website biography of Chris Houston.