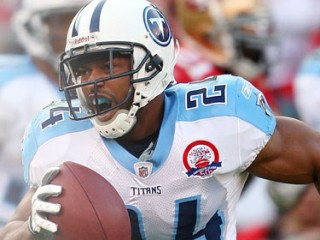 Chris Hope
Date of birth : 1980-09-29
Date of death : -
Birthplace : Rock Hill, South Carolina
Nationality : American
Category : Sports
Last modified : 2010-12-16
PRO:
A proven winner and a student of the game, Chris Hope provides leadership and big-game savvy in the Titans secondary. The ninth-year veteran earned a Super Bowl championship with the Steelers in 2005 and was selected to the Pro Bowl as a member of the Titans in 2008. A relentless worker in the weight room, Hope has been instrumental in the development of young players in the Titans' defensive backfield.

CAREER HIGHLIGHTS:
• Hope enjoyed a stellar 2008 campaign after returning to the field following a neck injury that cut short his 2007 season. He earned his first career Pro Bowl nod in 2008 while starting all 16 games and finishing third on the team with four interceptions and tied for third on the squad with 93 tackles.
• In 2006, Hope quickly showcased his ability in his first season in Tennessee by leading all NFL strong safeties with 128 tackles (career-high) and his career-high five interceptions tied for first place among players at his position.
• In 2005, Hope was a key member of the Super Bowl champion Pittsburgh Steelers teaming up with Pro Bowl safety Troy Polamalu.
• In 2004, Hope emerged as the Steelers' starting free safety, totaling 97 tackles, one forced fumble, one fumble recovery and one interception in 16 starts.

TITANS TIDBITS:
• In March 2008, Hope teamed with Soles4Souls, a Nashville-based global organization dedicated to providing free footwear to people in need all over the world, to provide 1,000 pairs of shoes to the Nashville Rescue Mission. He has worked with the organization the past three offseasons.
• Hope is the spokesperson for Get Fit Tennessee. He makes numerous community appearances around Middle Tennessee, with many of them focusing on health and fitness.
• Since arriving from the Steelers in 2006, Hope's leadership has had a trickle down effect on the Titans secondary. Hope has been the ring leader for the secondary workouts the last few offseasons. Hope along with Cortland Finnegan, Michael Griffin and Vincent Fuller met on a daily basis in the offseason to workout and watch film.
• Nicknamed "Hammer" by friends growing up in Rock Hill, S.C., the name has followed him to the professional ranks because of his hard-knock play between the white lines.
• Since his Seminole days, Hope makes it a ritual to wear his Jesus bracelet every game and he reads the Bible that his aunt gave him in high school before he takes the field for inspiration.
• A communications major at Florida State, Hope plans on pursuing a career as a sports commentator and he has the vision of opening his own public relations firm as well.

CAREER TRANSACTIONS:
• The Rock Hill, S.C., native was originally selected by the Steelers in the third round (94th overall) in the 2002 NFL Draft.
• Signed by the Titans as an unrestricted free agent on March 15, 2006.

COLLEGE:
• At Florida State, was three-year starter who performed in three national championship games and two-time Academic All-America selection.
• Earned award for most dependable defensive back on team twice and finished his career with 234 tackles (149 solo) and seven stops behind line of scrimmage, 18 passes defensed, nine interceptions, three forced fumbles and two fumble recoveries.
• As senior, named All-Atlantic Coast Conference and Academic All-ACC first-team.
• As junior, earned second-team All-ACC honors.
• Majored in communications.

PERSONAL:
• Single and splits time between Nashville and Rock Hill, S.C.
• At Rock Hill (S.C.) High, named USA Today All-USA first-team and Parade All-American as senior. Also named USA Today Player of the Year in state of South Carolina and selected to Prep Star's Dream Team. Ranked as No. 1 defensive back prospect in the nation by Prep Star and rated No. 3 defensive back and No. 50 overall prospect in America by National Recruiting Advisor. Was member of Atlanta Journal-Constitution Super Southern 1000. Selected to Orlando Sentinel All-Southern team. Rated as No. 1 defensive back recruit nationally by Tampa Tribune and ranked as sixth-best recruit nationally by St. Petersburg Times. Recorded 114 tackles and three interceptions as defensive back while rushing for 1,319 yards and 20 touchdowns as running back. Totaled 464 tackles, 10 interceptions and four fumble recoveries during his four-year varsity career.
• Cousin Gerald Dixon played linebacker for nine seasons (1993-2001) in the NFL with the Cleveland Browns, Cincinnati Bengals and San Diego Chargers.
• Participates in Titans charitable events and is actively involved in school and hospital visits in Nashville. Also visits schools in Rock Hill, S.C. during off-season.
• Took part in Titans Caravan 2008 in April, visiting soldiers and family members at Fort Campbell.
• List of favorites: (movie) "Rush Hour 2"; (food) grilled chicken; (TV Show) "Martin"; (music artist) Notorious B.I.G.; (vacation getaway) Miami; and (sports team other than the Titans) Duke University men's basketball team.
• Born Christopher Pierre Hope on Sept. 29, 1980 in Rock Hill, S.C.

View the full website biography of Chris Hope.