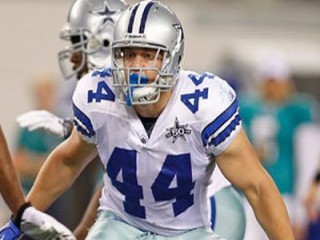 Chris Gronkowski
Date of birth : 1986-12-26
Date of death : -
Birthplace : Buffalo, New York
Nationality : American
Category : Sports
Last modified : 2010-11-03
Chris Gronkowski is an American football fullback for the Dallas Cowboys of the National Football League. He played college football at Arizona.

COLLEGE

* Started in 15-of-26 games played in two seasons (2008-09) at Arizona after transferring from Maryland.
* Totaled 12 receptions for 218 yards (18.2 avg.) with three touchdowns and two rushes for one yard (0.5 avg.) while primarily serving as a backfield blocking specialist at H-Back for the Wildcat offense.
* As a senior, started in seven of 13 games played to haul in four passes for 20 yards (5.0 avg.) with a long catch of 16 yards while also rushing two times for one yard (0.5 avg.)
* In 2009, helped the Arizona offense gain 2,250 yards on the ground with 19 touchdowns while allowing Wildcat rushers to average 4.8 yards-per-carry.
* As a junior, started seven to earn second-team All-Pac-10 Academic Football Team selection.
* Finished with eight receptions for 198 yards to lead the team at 24.8 yards per grab, along with three touchdowns and a long catch of 37 yards.
* Joined Arizona after the 2007 fall camp and after a year (2006) at UA as a reserve baseball prospect.
* Played linebacker in his first UA season in 2007 but did not record any statistics.
* Redshirted as a true freshman fullback in 2005 at Maryland, moving up to challenge for depth chart status during 2006 spring ball before transferring to Arizona.

PERSONAL

* A three-year letterwinner at Williamsville North High School in Williamsville, N.Y.
* Averaged 6.2 yards per carry his senior year while posting 453 receiving yards while also making 82 tackles on defense, forcing four fumbles and recording a pair of defensive touchdowns.
* An all-league and second team All-Western New York pick.
* Also lettered three years in baseball.
* Majored in accounting at Arizona.
* Third of five brothers, two of which were NFL draft picks - Dan, tight end, drafted by the Detroit Lions in the 2009 NFL Draft (seventh round, 255th overall) and Rob, who played with him at UA as a tight end, by the New England Patriots (second round, 42nd overall) in the 2010 NFL Draft.
View the full website biography of Chris Gronkowski.