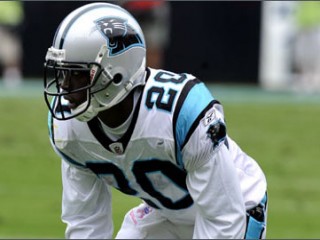 Chris Gamble
Date of birth : 1983-03-11
Date of death : -
Birthplace : Boston, Massachusetts, United States
Nationality : American
Category : Sports
Last modified : 2010-11-02
Chris Gamble is an American football running back with the Carolina Panthers.

TRANSACTIONS
Signed to contract extension by Carolina (11/28/08)...Selected by Carolina in the first round (28th overall) of the 2004 NFL Draft (4/24/04).

2009
Started all 16 games at cornerback...Notched 70 tackles and nine passes defensed...Tied with Richard Marshall for the team lead with four interceptions...Has led or tied for the team lead in interceptions in five of six seasons with Carolina...Equaled the team record for the second-most consecutive games with an interception with picks in three consecutive games at the New York Jets (11/29/09), versus Tampa Bay (12/6/09) and at New England (12/13/09)...Key member of defense that finished fourth in the NFL in pass defense, eighth in total defense and ninth in scoring defense and recorded 18 takeaways in the final six games...At New Orleans (11/8): Intercepted Saints quarterback Drew Brees and returned heist 41 yards to set up a field goal...At New York Jets (11/29): Picked off Jets quarterback Mark Sanchez, leading to a field goal...Vs. Tampa Bay (12/6): Seized a pass by Buccaneers quarterback Josh Freeman for an interception...At New England (12/13): Theft of pass by Patriots quarterback Tom Brady resulted in a touchdown.

2008
Started 16 games for the first time since rookie season...Finished third on team with a career-high 103 tackles and led the team with a career-best 20 passes defensed...Tied for team lead with three interceptions...At San Diego (9/7): Recovered an Antonio Gates fumble forced by safety Chris Harris and returned it 31 yards for his third career touchdown in 26-24 victory...Vs. Chicago (9/14): Recovered fumble that was forced by Harris to set up Panthers first touchdown...At Minnesota (9/21): Moved into second place on Panthers' career interception list (18) with first quarter interception of Gus Frerotte...Vs. Atlanta (9/28): Led team and matched career high with 11 tackles...Vs. Kansas City (10/5): Started on defense that recorded fourth shutout in team history, limiting Chiefs to 127 total yards...At Oakland (11/9): Intercepted Andrew Walter in the fourth quarter...At Atlanta (11/23): Forced a fumble to set up Carolina field goal...Vs. Denver (12/14): Picked off a second quarter Jay Cutler pass while helping limit NFL's second-ranked offense to one touchdown...NFC Divisional Playoffs Vs. Arizona (1/10): Started and recorded two tackles.

2007
Played in 15 games with 12 starts at left cornerback...Inactive versus New Orleans (11/25) with an injured thumb...Collected 50 tackles, one interception, six passes defensed, one forced fumble and one fumble recovery...Added one special teams tackle...Key member of defense that finished the season 11th in the NFL in yards per play and fourth in rushing yards per attempt...Helped defense limit opponents to fewer than 100 yards rushing in seven contests...At St. Louis (9/9): Recovered a fumble by Rams running back Steven Jackson in the third quarter...Vs. Tampa Bay (9/30): Forced fumble by Buccaneers wide receiver Ike Hilliard in the second quarter that was recovered by Thomas Davis...Vs. San Francisco (12/2): Intercepted San Francisco quarterback Trent Dilfer in the fourth quarter to seal victory...Interception moved Gamble into a tie for second place on the club's all-time list with former safety Mike Minter.

2006
Played in 15 games with 13 starts at left cornerback...Inactive versus the New York Giants (12/10) with an injured hamstring...Tied for the team lead with three interceptions...Ranked second on the team with 11 passes defensed...Tallied 67 tackles, one sack and two quarterback hurries...Posted one special teams tackle...Contributed to defense that allowed only 3,000 net passing yards, which rank as the second fewest surrendered in team history behind the team record of 2,993 given up in 2002...Key member of a defensive unit that finished seventh in the NFL in total defense and tied for eighth in scoring defense, allowing 19.1 points per game...At Tampa Bay (9/24): Notched interception of Buccaneers quarterback Chris Simms on the second play from scrimmage, leading to a Panthers touchdown...Vs. Dallas (10/29): Intercepted Cowboys quarterback Tony Romo in the first quarter, which resulted in a Panthers touchdown...Vs. Pittsburgh (12/17): Sacked Steelers quarterback Ben Roethlisberger for a nine-yard loss....At New Orleans (12/31): Picked off Saints quarterback Jamie Martin in the third quarter and returned it 18 yards for a touchdown.

2005
Started 15 contests and was inactive for one game...Led team with seven interceptions for 157 return yards, including one for a touchdown...Tallied 78 tackles and seven passes defensed...Averaged 11.3 yards on 14 punt returns for 158 yards...Seven interceptions combined with fellow cornerback Ken Lucas' six thefts made Carolina the only team in the NFL to have two players with at least six interceptions in 2005...Second player in team history to be sole interception leader in consecutive seasons, joining Eric Davis who accomplished feat from 1997-2000...Seven interceptions ranked as second-highest total in team history behind eight recorded by Doug Evans in 2001...Helped Panthers defense lead NFC and rank second in the NFL with 42 take-aways and rank third in the NFC and fourth in the NFL with 23 interceptions...Key component of defense that finished third in the NFL in yards allowed per game, the second-highest ranking in team history behind 2002 unit that finished second...Helped Carolina set a team record in 2005 for most take-aways in a season with 42 bettering the previous mark of 38 in 1997, 1999 and 2003...440 interception return yards accumulated by defense established a team record, bettering the previous mark of 420 in 2004...23 interceptions recorded by the defense ranked as the third-highest total in team history...Suffered an injured ankle in practice prior to game at Arizona (10/9)...Injury forced him to leave Cardinals contest late in the first half and be inactive at Detroit (10/16)…
POSTSEASON: Started all three contests...Corralled 14 tackles, one pass defensed and four special teams tackles…
PANTHERS TEAM RECORD: 157 interception return yards in 2005 established a team single-season record surpassing the previous team mark of 143 set by Julius Peppers in 2004…Vs. New England (9/18): Notched a 76-yard punt return, the third longest in team history, to set up the Panthers second touchdown...Forced a fumble on the Patriots final possession to preserve the victory...At Miami (9/25): Recorded interception off Dolphins quarterback Gus Frerotte...Vs. Green Bay (10/30): Pass defensed on Green Bay's final possession secured a 32-29 Carolina win...At Tampa Bay (11/6): Intercepted Buccaneers quarterback Chris Simms on Tampa Bay's first possession of the second-half and returned the interception 61-yards for his first career touchdown...Intercepted Simms on Tampa Bay's final possession and gained 40 yards on return to total a team-record 101 interception return yards, bettering the pervious mark of 97 yards by Julius Peppers at Denver (10/10/04)...Equaled a personal best with two interceptions, previously achieved at Atlanta (12/18/04)...Vs. New York Jets (11/13): Intercepted pass by Jets quarterback Brooks Bollinger...Interception was one of a season-high six take-aways by the Panthers...10th career interception occurred in Gamble's 24th regular season game, the fastest a player has reached that plateau since cornerback Anthony Henry notched his 10th career interception in his 16th career game while with Cleveland in 2001...At Buffalo (11/6): Intercepted Bills quarterback J.P. Losman on their final possession with 41 seconds remaining to clinch 13-9 victory for Carolina...NFC Wild Card at New York Giants (1/8): Part of defensive effort that held scoreless a Giants offense that ranked third in the NFL in points per game...Panthers became the first team to register a shutout on the road in the playoffs since 1980 when the Los Angeles Rams posted a 9-0 victory at Tampa Bay (1/5/80) in the 1979 NFC championship...Carolina shutout was third in team history, matching 24-0 victory versus Tampa Bay (12/1/96) and 13-0 win at New Orleans (10/19/97).

2004
Started all 16 games at right cornerback...Produced a team-high six interceptions, 84 tackles, 12 passes defensed and one forced fumble...Stood fourth on the team with 10 special teams tackles...Ranked second on the team in passes defensed and second among defensive backs in tackles...Three of his interceptions came during the last five games of the season...Three of his six interceptions came in Carolina's end zone, a fourth at the three-yard line, and the other two occurred inside Panthers territory...Performance helped Carolina reverse fortunes and finish with 6-2 mark after beginning season with record of 1-7...Primary contributor to defense that led NFL with 26 interceptions and ranked second with 38 take-aways...Team finished fourth in the League with a plus 12 turnover differential...Unit established team single-season marks for interceptions and with 420 interception return yards, surpassing previous marks of 24 interceptions and 374 interception return yards in 2001...Defense tied record for take-aways that had been achieved in 1996 and 2000…HONORS:Pro Football Weekly All-Rookie…
AMONG LEADERS IN INTERCEPTIONS: Tied current teammate Ken Lucas, who signed with Carolina as an unrestricted free agent from Seattle during the 2005 offseason, for the NFC lead in interceptions...Interception total tied for first among NFL rookies, equaling amount tallied by Houston's Dunta Robinson...Tied for third in the NFL behind Baltimore's Ed Reed with nine, and Cincinnati's Tory James with eight…
PANTHERS ROOKIE RECORDS: Six interceptions established team rookie mark, bettering the previous record of three posted by Ricky Manning, Jr. in 2003...Gamble's six interceptions tied Brett Maxie's 1995 total for the second-highest in team history and were two shy of the team record of eight, notched by Doug Evans in 2001...First rookie in Panthers history to be team's sole interceptions leader...Manning, Jr. tied for the team lead as a rookie in 2003...First defensive player and third player overall in team history to start all 16 games as a rookie...Offensive linemen Blake Brockermeyer and Jordan Gross started every regular season contest as rookies in 1995 and 2003, respectively…At Kansas City (9/19): Posted first NFL interception, victimizing Chiefs quarterback Trent Green in the fourth quarter...At Seattle (10/31): Led team with a season-high 11 tackles...Vs. Oakland (11/7): Joined Jordan Carstens, Keary Colbert and Travelle Wharton as one of four rookies to start contest...Matched the most rookies to ever start in a regular season contest for the Panthers, previously accomplished when Nick Goings, Kris Jenkins, Dan Morgan and Chris Weinke started as rookies at Atlanta (9/23/01) and versus Green Bay (9/30/01)...At San Francisco (11/14): Intercepted 49ers quarterback Tim Rattay in the end zone with 1:05 remaining in the contest to seal 37-27 victory for Carolina...One of five turnovers tallied by Panthers, including four in the second half as team rallied from 17-3 halftime deficit to end six-game losing streak...Interception was one of four recorded by defense, matching team record most recently accomplished at the New York Giants (12/28/03)...Vs. Arizona (11/21): Produced acrobatic one-handed interception in the end zone in the fourth quarter off of Cardinals quarterback Shaun King...One of four take-aways registered by defense...Vs. St. Louis (12/12): Intercepted Rams quarterback Chris Chandler in the end zone to thwart a St. Louis scoring threat at the end of the first half...Missed the second half of the contest with an injured groin...Part of defensive effort that produced a team-record six interceptions and equaled a team mark with seven take-aways...Six interceptions bettered team's previous mark of four that had been accomplished on six occasions, most recently at San Francisco (11/14) earlier in the season...Ironically, seven take-aways equaled a team record that previously had been set versus St. Louis (12/3/00)...At Atlanta (12/18): Notched two interceptions off of Falcons quarterback Michael Vick...Tallied first theft on last play of the first half...Registered second interception at the Falcons three-yard line in the fourth quarter...Second interception led to touchdown...Joined Dan Morgan, Ricky Manning, Jr. and Colin Branch as Carolina players who recorded two interceptions in a single game in 2004...Branch's two interceptions occurred versus Arizona (11/21)...Morgan's and Manning's performances both came versus St. Louis (12/12).

COLLEGE

Versatile two-way performer at Ohio State...Entered the draft following junior season...Ended career with 19 starts at cornerback, 14 starts at wide receiver, and six contests started at both positions...2003 (Jr.): All-Big Ten first-team selection for the second consecutive season...Started all 13 games at cornerback and contributed at wide receiver in four contests...Produced three interceptions, 41 tackles, 12 passes defensed and four receptions for 38 yards...Totaled 92 yards on 20 punt returns and 115 yards on six kickoff returns...2002 (So.): Second-team All-America by The Sporting News and first-team All-Big Ten choice...Elected co-MVP by his teammates...Key member of Buckeyes team that captured national championship...Started all 14 contests at wide receiver and played nine games on defense, starting the final six at cornerback...Led team with four interceptions and registered 24 tackles and six passes defensed on defense...Ranked second on the team with 31 receptions for 499 yards on offense...Averaged 23.0 yards on 11 kickoff returns...Two interceptions came in opponents' end zone, one ended an opponent's final drive and one was returned for a touchdown...Earned opportunity on defense after demonstrating athletic ability during defensive drills when the receivers and defensive backs would switch positions...Received first action on defense at Cincinnati and recorded interception on his first play at cornerback...Returned interception 40 yards for touchdown versus Penn State that proved to be the difference in the game...57-yard catch versus Miami in the Fiesta Bowl to set up field goal was Ohio State's longest pass play of the season...2001 (Fr.): Played in 11 games as a reserve receiver...Contributed five catches for 72 yards, four punt returns for 82 yards and one kickoff return for 16 yards.

PERSONAL
Attended Dillard HS in Sunrise, Fla....Majored in sports and leisure studies at Ohio State.

View the full website biography of Chris Gamble.