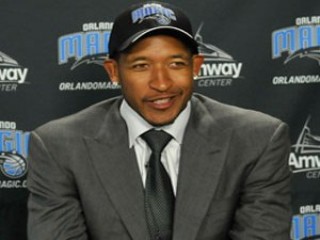 Chris Duhon
Date of birth : 1982-08-31
Date of death : -
Birthplace : Mamou, Louisiana, U.S.
Nationality : American
Category : Sports
Last modified : 2011-03-31
Chris Duhon is an American professional basketball player for the Orlando Magic. Duhon was a point guard for the Duke Blue Devils men's basketball team from 2000 to 2004, the Chicago Bulls from 2004 to 2008, and the New York Knicks from 2008 to 2010, and presently plays for the Orlando Magic.

Career history:
Chicago Bulls (2004–2008)
New York Knicks (2008-2010)
Orlando Magic (2010-present)

2009-10 :

Played in 67 games for New York, averaging 7.4 ppg., a team-high 5.6 apg. and 2.7 rpg. in 30.9 minpg….Made 59 starts, averaging 7.8 ppg., 6.0 apg. and 2.7 rpg. in 32.4 minpg. during that span…Tied for fifth in the NBA in assists-to-turnover ratio (3.44, 378-110)…Led (or tied) the team in scoring twice and in assists a team-best 38 times…Scored in double figures 25 times, including a season-high 25 points (also had 10 assists) on Dec. 4 @ Atlanta…Dished out 10-or-more assists four times, including a season-high 13 assists twice, the last time on Jan. 26 vs. Minnesota…Recorded two double-doubles…Had at least one steal 47 times and had two steals in 12 outings…Logged a career-high 56 minutes in double overtime loss on Oct. 30 @ Charlotte…Scored his 3,000th career NBA point on Nov. 4 vs. Indiana…Registered his 2,000th career NBA assist on Nov. 27 @ Denver, his 1,000th career rebound on Nov. 21 @ New Jersey and his 400th career NBA game on Dec. 6 vs. New Jersey…DNP-CD 15 times.

Played four seasons at Duke University, averaging 8.8 ppg., 5.7 apg. and 3.4 rpg. in 33.4 minpg. in 144 career games…Helped lead Blue Devils to three ACC Championships, two NCAA Final Four appearances and an NCAA National Championship in 2000-01…Duke finished 123-21 during his four-years, more wins than all but one player in ACC history (Shane Battier, 131)…Named a finalist for the Wooden and Naismith Awards as both a junior and senior…Finished collegiate career as the only player in ACC history with at least 1,000 points (1,268), 800 assists (819), 475 rebounds (489), 300 steals (300) and 125 three-pointers (162)…First in Duke history in minutes played (4,813) and steals, while ranking second in assists…As a senior (2003-04), named to the All-ACC First Team and Third Team All-American by Associated Press, while also being named Duke's Male Blue Devil of the Year…Finished 14th in the NCAA in assists (6.1 apg.)…As a junior (2002-03), named to the All-ACC Third Team and averaged 6.4 apg., which ranked fifth in the nation…As a sophomore (2001-02), earned Honorable Mention All-ACC Team and All-Defensive Team, while garnering All-ACC Tournament Second Team honors…As a freshman (2000-01), was named the ACC Rookie of the Year and earned Second Team Freshman All-American honors from The Sporting News…Capped off season by tallying 10 points and six assists in 39 minutes, as Duke defeated Arizona in the NCAA title game.

PERSONAL:

Full name is Chris Nicholas Duhon...Son of Vivian Harper…Earned bachelor's degree in sociology from Duke, along with a markets and management certificate…Extremely active in the community, with special emphasis on his hometown of Slidell, LA…Earned NBA's Community Assist Award in November 2007…Received 'Good Guy Award' from The Sporting News in 2006 for his efforts after Hurricane Katrina, as well as the Charles Lubin Award as the Chicago Bulls player that demonstrated the highest level of community work…Hosts annual Chris Duhon Basketball Camp in Slidell, LA…Organized the Chris Duhon Stand Tall Foundation in 2005, immediately following Hurricane Katrina, to aid victims with primary needs and assist in rebuilding of his hometown of Slidell, including a personal donation of $100,000 to refurbish basketball courts in New Orleans and SlidellHas participated in NBA's Basketball Without Borders programs in Africa, Europe and Asia…Penned a guest column for the New York Post on Jan. 21, 2009, describing facing President Barack Obama on the basketball court…In high school and college, slept with a basketball on nights before games…Close friend and Duke teammate, Reggie Love, serves as special assistant and personal aide to President Obama…Lists Dr. Martin Luther King, Nelson Mandela and Oprah as three people he'd like to have dinner with…Favorite movie is Coming to America…Favorite actor is Denzel Washington, while favorite food is red beans and rice.


View the full website biography of Chris Duhon.