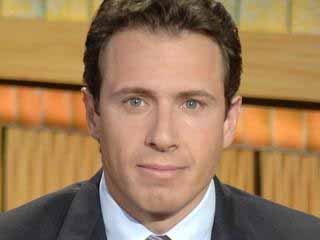 Chris Cuomo
Date of birth : 1970-08-09
Date of death : -
Birthplace : Queens, New York, U.S.
Nationality : American
Category : Arts and Entertainment
Last modified : 2010-08-09
Christopher "Chris" Cuomo, born August 9, 1970 in Queens, New York is a television journalist, ABC News chief law and justice correspondent, and co-anchor for ABC's 20/20.

Christopher Cuomo joined ABC News in 1999. Since then, he has served as the Senior Law and Justice Correspondent, and anchor on the ABC newsmagazine PrimeTime and in 2006, he became the news anchor for Good Morning America. He was promoted to 20/20 on December 10, 2009.

He has anchored numerous award-winning primetime hour documentaries on pressing social issues, such as teen drug use, prescription drug policy, juvenile justice, parenting, and gang violence. He distinguished GMA as source for investigative journalism with the "Gets Answers" series, which addresses health insurance and financial issues, and also with "Cuomo's AmeriCANS", highlighting those going the extra mile to help others through these difficult economic times.

Chris Cuomo is co-anchor of "20/20," the Emmy Award-winning ABC Newsmagazine, and is the Chief Law and Justice Correspondent for ABC News, covering legal and breaking news for the entire network. His new role begins December 2009.

Since September 2006, Cuomo was the news anchor for "Good Morning America," and he co-anchored the newsmagazine "Primetime," which he joined in April 2004.

While at "Good Morning America," Cuomo has reported live from the field on numerous breaking news stories, including: the recent massacre at Ft. Hood; the Washington, D.C. Metro crash; and the Bridgeville, Pa. gym shooting.

He has covered Hurricanes Katrina and Rita; the Pennsylvania Amish school shootings; and the Sago Mine collapse, a news event in which Cuomo was the only reporter breaking news on both morning and evening broadcasts.

Cuomo reported live from the scene of the Minneapolis bridge collapse in August 2007 and was part of the ABC News team that won a prestigious Edward R. Murrow Award for their coverage. Cuomo was also live from Virginia Tech in the aftermath of the deadly school shootings and anchored a special edition of "Primetime" from the campus.

In 2009, Cuomo traveled to Afghanistan where he was embedded with military forces and traveled throughout the region reporting on the conflict. While in the country, Cuomo conducted an in-depth interview with Pervez Musharraf. In 2007, Cuomo reported live from Baghdad, Iraq where he was again embedded with military forces in the region.

Cuomo's recent newsmaker interviews include Rep. Barney Frank, President Obama's Chief of Staff Rahm Emanuel, and Jon Gosselin, among others. He has distinguished himself at ABC News in covering national drug issues, medical insurance scams, and prescription drug issues. Cuomo was also the network's leading legal reporter before joining the morning broadcast.

While at "Good Morning America," Cuomo hosted a regular feature for abcnews.com, "The Show You Missed," a two-minute wrap-up of the morning's major headlines, as well as co-hosting a weekly program, "Focus on Faith" with Father Edward Beck on ABC News Now, the network's 24-hour digital outlet. The weekly web-based program consists of in-depth conversations and study into the various religions, customs and traditions that shape modern society today.

Cuomo's reporting and investigations have been recognized with more than a dozen journalism awards, including a Loeb Award for business reporting and multiple Emmy nominations and an award for his reporting on the 9/11 terrorist attacks. Cuomo's "Good Morning America" profile of inspiring 12-year-old poet, Mattie Stepanek, was recognized with a News Emmy Award, making him one of the youngest correspondents to receive a News Emmy in network news history.

Before joining ABC News, Cuomo was a correspondent for the Fox News Channel and Fox Broadcast Network's, "Fox Files," where he covered a wide range of stories focusing on controversial social issues. He also served as a political policy analyst for Fox News Channel. Prior to Fox News, Cuomo made similar appearances on CNBC, MSNBC and CNN.

A licensed attorney, Cuomo received his law degree from the Fordham University School of Law in New York City and his undergraduate degree from Yale University. He resides in New York City with his wife, Cristina, and two young children.
View the full website biography of Chris Cuomo.