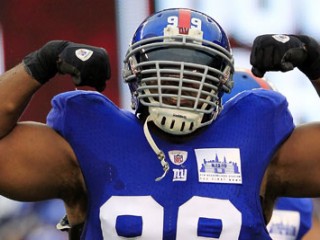 Chris Canty
Date of birth : 1982-11-10
Date of death : -
Birthplace : Bronx, New York
Nationality : American
Category : Sports
Last modified : 2010-09-22
Chris Canty is an American football defensive lineman for the New York Giants of the National Football League. He was drafted by the Dallas Cowboys in the fourth round of the 2005 NFL Draft. He played college football at Virginia.

* Originally a 4th round (132nd pick overall) draft choice by the Dallas Cowboys in 2005…Signed with the Giants as an unrestricted free agent on March 1, 2009.


GIANTS NOTES
* Three of his last 4 and 4 of his last 7 sacks (including playoffs) prior to joining the Giants were of Eli Manning.
CAREER HIGHLIGHTS
* Has played in 72 regular season games with 54 starts…Also started both postseason games in which he's played…Played in every game in his first 4 seasons and started each contest from 2006-08…Career totals include 171 tackles (112 solo), 10.5 sacks, 8 passes defensed, a forced fumble and a fumble recovery in the regular season and 10 tackles (9 solo) and 1 sack in the postseason.
* In 2009, played in 8 games with 4 starts…Season was curtailed due to injuries – a hamstring in training camp, a calf strain that forced him to miss weeks 2-8 and a knee that sidelined him for the season finale…Contributed 23 tackles (10 solo), including a half-sack…Made his 1st start for the Giants vs. Dallas (12/6) and had a season-high 5 tackles…Split a 2-yard sack of Matt Moore with Justin Tuck vs. Carolina (12/27).
* In 2008, started all 16 games and finished with 46 tackles ( 32 solo), 3 sacks, 18 QB pressures and 7 passes defensed…Posted 5 tackles along with 1 pressure and his 1st sack of the season vs. Washington (9/28) …Finished with 4 tackles, 2 pressures and 1 sack at the Giants (11/2)…Had 4 tackles, including 1 for a loss, to help hold San Francisco to just 26 rushing yards (11/23)…Tied his season-high with 6 tackles and had 1 sack, 2 pressures and one pass breakup vs. Giants (12/14).
* In 2007, contributed 46 tackles, finished 3rd on the team with 3.5 sacks and tied for 3rd with 4 tackles for losses…Blocked his 1st career field goal that was returned by Patrick Watkins 68 yards for a touchdown against Minnesota (10/21)….Had a season-best 6 tackles and a sack at the Giants (11/11)…Posted 3 tackles, a pressure and a sack in the NFC Divisional Playoff Game vs. the Giants (1/13).
* In 2006, started at defensive end in all 16 regular season games and the team's lone playoff game…Finished the season with 44 tackles (28 solo) and 1 sack (at Tennessee 10/1)…Had 6 tackles vs. Philadelphia (12/25)…Tallied a career postseason high 7 tackles in NFC Wild Card Game at Seattle (1/6).
* As a rookie in 2005, spent the spring and summer rehabilitating his knee and recovering from a detached retina and was back on the field 1 week into training camp…Played in all 16 games with 2 starts…Split time with Greg Ellis at right defensive end and led all Dallas defensive linemen with 43 tackles, was 2nd on the team with 5 tackles for a loss and was tied for 4th with 2.5 sacks.
* Recorded his 1st NFL tackle and quarterback pressure in the season opener at San Diego (9/11)…Brought down Mark Brunell for his 1st career sack vs. Washington (9/19)…Made his 1st NFL start at the Giants (12/4) and recorded 4 tackles.
COLLEGE
* Was a 2-time 2nd-team All-Atlantic Coast Conference selection and led all conference defensive linemen in tackles as a sophomore and junior...His senior campaign ended in the 4th game of the season, when he tore his left anterior cruciate ligament, medial collateral ligament and posterior cruciate ligament…Had 30 tackles, 7 stops for a loss, a sack and a forced fumble prior to the injury…As a junior, received the Ned McDonald Award as Virginia's Most Outstanding Defensive Player, recording a career-high 104 tackles, 12 stops for a loss, 12 pressures and 4 sacks…Became only the 2nd down lineman in school history to record more than 100 tackles in a season and earned All-ACC Academic honors…Despite missing 3 games because of an injury, finished his sophomore season with 86 tackles, 4 stops for a loss, 4 pass deflections, 3 pressures, 3 fumble recoveries and 2 sacks while starting 8 of 11 games…Played 12 games as a reserve defensive end in 2001 after redshirting his first year at Virginia…Started 1 game and recorded 23 tackles, 3 pressures and 2 passes defensed.
OFF FIELD ACTIVITY
* Purchased toys for 108 kids from the Committee for Hispanic Children and Families' CAPS after-school program in the Bronx, and arrived as Santa Claus to hand-deliver the gifts and throw the kids a pizza party.
* Is a proud supporter of the Food Bank for New York City and an attendee of the Can Do Awards Dinner. Served lunch at Thanksgiving at the Food Bank's Community Kitchen in Harlem.
* Hosts the annual Chris Canty Camp of Champions summer football camp for youth in Charlotte, N.C.
* Attended the Marine Corps Scholarship Foundation's Leatherneck Ball
* Participated in the Schomberg Center for Research in Black Culture Youth Summit.
* Read to students at Thomas Giordano School in the Bronx as part of Read Across America.
* Participated in the Giants Foundation 2009 Golf Outing.
* Attended the Champions for Children fundraiser gala benefitting the Tom Coughlin Jay Fund Foundation.
* Joined employees from the NFL League Office and the United Way of New York City to install new fitness equipment and beautify the MOSAIC Beacon School at PS 111 in the Bronx during the Hometown Huddle.
* Attended Tutan Reyes' Beyond the Boroughs Bowling Fundraiser, which provides scholarships to high school students looking to pursue college.
* Joined members of the NYC Mayor's office and NYC Department of Transportation to host a press conference encouraging the public to enjoy Super Bowl Sunday, but to have a game plan on how to get home safely if they've been drinking.
* Joined the New Jersey Education Association to serve as a celebrity reader at Winfield Scott Elementary in Elizabeth, N.J., during Read Across America week.
* Attended the annual dinner benefit for My Sister's Place - a Giants supported domestic violence shelter in Westchester, N.Y. - and received an award on behalf of the team for the support of the organization.
* Showed his support for the United Way of New York City by attending their Gridiron Gala Fundraiser Kickoff.
* Served as the speaker at the Rochelle Park DARE Graduation, encouraging kids to maintain lives free of drug and alcohol abuse.
* Attended the Giants Kickoff Luncheon benefitting St. Vincent's Medical Center.
PERSONAL
* Christopher Lee Canty played football only during his junior and senior years at Latin School in Charlotte, N.C…Earned all-state honors as a senior tight end and defensive end after recording 20 catches for 400 yards and 89 tackles with 7 sacks…Finished his prep career with 161 tackles, 12 sacks and 2 fumble recoveries…Was also a 2-year letterman and all-conference honoree on the basketball team…Received his bachelor's degree in African-American studies in May 2004 and did graduate course work in secondary education during his final football season at Virginia…Canty's mother, Shirley, is an ordained Methodist minister.
View the full website biography of Chris Canty.