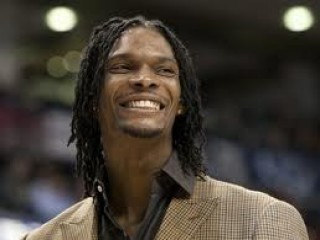 Chris Bosh
Date of birth : 1984-03-24
Date of death : -
Birthplace : Dallas, Texas, U.S.
Nationality : American
Category : Sports
Last modified : 2010-07-07
Christopher Wesson Bosh is an American professional basketball player in the National Basketball Association (NBA) who is currently a free agent.

Early life

Born in Dallas, Texas, to Noel and Freida Bosh, Chris Bosh grew up in Hutchins, Texas. A family-oriented person, Bosh often played basketball in the house with his younger brother, Joel. By four years of age, he began learning how to dribble a basketball in the gym where his dad played pick-up games. Although Bosh was always tall since youth and this allowed him to out-rebound others in basketball games, he only started learning the game around fourth grade at a playground near his grandmother's house. Apart from basketball, Bosh also played baseball up till high school, preferring to play as first baseman. Growing up, Bosh names his parents as the biggest influences on his personality and considered NBA superstar Kevin Garnett as his favorite athlete, modeling his play after him. Academically, Bosh always did well in school but he began to garner significant attention from college recruiters when he led Lincoln High School in Dallas to the number one ranking in the country and the USA Today National Championship with a perfect 40–0 season.

The teenager went on to lead Lincoln High to win the Class 4A state title before 16,990 fans as he racked up 23 points, 17 rebounds and nine blocks. Bosh was subsequently named High School Player of the Year by Basketball America, Powerade Player of the Year in Texas, a First-team all-American by Parade, McDonald's and EA Sports, a Second-team all-American by USA Today and SLAM Magazine, a First-team all-state player, and "Mr. Basketball" in Texas by the Texas Association of Basketball Coaches. With his combination of grades and basketball skills, Bosh was on a number of college recruiting lists. Florida and Memphis made serious attempts, but it was Paul Hewitt, coach of the Georgia Tech, who made the best impression. Bosh felt Hewitt would look out for his best interests and respect his aspirations to play professional basketball; moreover, Georgia Tech's transition offense impressed the teenager.

Bosh eventually chose to follow the footsteps of his cousin and aunt and attended Georgia Tech to study graphic design and computer imaging, and subsequently, management. There, he led the Yellow Jackets in averaging 15.6 points, 9.0 rebounds and 2.2 blocks in 31 games, and led the Atlantic Coast Conference in field goal percentage (.560), joining Antawn Jamison as the only freshmen ever to do so. Bosh originally intended to complete his degree, but by the end of the 2002–03 season, his strong performances convinced him that he was ready for the NBA. He left Georgia Tech after his freshman season and entered the 2003 NBA Draft. Although Bosh said in future interviews that he misses his college days, he believes he made the right decision to pursue a professional career. He also intends to obtain his college degree one day, to fulfill a promise made to his mother.

Rookie year

In a strong draft class comprising future All-Stars LeBron James, Carmelo Anthony, and Dwyane Wade, Bosh was selected fourth overall by the Toronto Raptors in the 2003 NBA Draft and was signed on July 8, 2003. Prior to his signing, however, other NBA teams made offers for Bosh as they knew Toronto needed a veteran scorer, and Raptors star Vince Carter himself pressed for a trade. General manager Glen Grunwald turned everyone down.

In his rookie season Bosh was forced to play out of position as the Raptors' starting center after Antonio Davis was traded to the Chicago Bulls. Night in and night out the wiry teenager battled against opponents who had a significant size and strength advantage over him. Bosh—who cited teammate Michael Curry as his mentor—was often praised by his coaches for his heart, and willingness to play through pain and injuries resulting from his lack of body strength compared to some of the league's strong forwards and centers. Bosh's contributions were not unnoticed by teammates either, as he averaged 11.5 points, 7.4 rebounds, 1.41 blocks, and 33.5 minutes in 75 games, leading all rookies in rebounding and blocks, and setting a franchise record for most rebounds in a rookie season with 557. Bosh was rewarded by being selected to the All-Rookie First Team for the 2003–04 season.

With the departure of the disenchanted franchise face of the team, Vince Carter, in December 2004, Bosh was simultaneously anointed as the new leader around whom Toronto would build. In the remaining games following Carter's departure, the power forward averaged 18.4 points, 9.5 rebounds, 1.6 blocks, and 38.1 minutes per game, improving in every major statistical category. In recognition of his efforts, he was awarded his first ever NBA Eastern Conference Player of the Week for games played between 3 and 9 January 2005. As the season drew to a close, analysts predicted that Bosh would become an All-Star one day. Bosh ended the 2004–05 season as the leading scorer and leading rebounder for the team on 21 and 46 occasions respectively.

Prior to the 2005–06 season, Bosh was named as one of Toronto's team captains. Bosh continued to work on his game as he consistently chalked up double doubles, leading the team in scoring, rebounding, and field goal percentage for the first half of the season. On February 9, 2006, for the first time in his career, Bosh was selected to play in the 2006 NBA All-Star Game in Houston, Texas as a reserve forward for the Eastern Conference. He was only the third Raptor to make an All-Star game, after Carter and Antonio Davis. Bosh's selection was just three days after he was named NBA Eastern Conference Player of the Week for the second time in his career. In March 2006, following a season-ending injury to Bosh, the Raptors slid to a 1–10 record. This highlighted Bosh's importance as the centerpiece of the offense, as well as the leader of the team. The Raptors finished the season 27–55 and Bosh averaged 22.5 points, 9.2 rebounds, and 2.6 assists per game.

Bosh's international career began in 2002 when he was selected as a member of the 2002 USA Basketball Junior World Championship Qualifying Team that finished with a 4–1 record and the bronze medal.

After his NBA career began, Bosh was named in March 2006 to the 2006–2008 United States men's national basketball team program, and helped lead the team to a 5–0 record during its pre-World Championship tour. In August 2006, Bosh was named as a member of the 2006 USA World Championship Team. Together with fellow 2003 draftees Dwyane Wade, LeBron James, Carmelo Anthony, and Kirk Hinrich, this team competed in the 2006 FIBA World Championship. The team won the bronze medal, defeating former 2004 Olympic champion Argentina. Bosh was ranked sixth in field goal percentage.

Following the 2006–07 season, Bosh was named to the team that would compete in the 2007 FIBA Americas tournament. However, he sustained a foot injury and withdrew from the squad. On June 23, 2008, he was named to the team that would compete in the 2008 Olympic Games in Beijing. During the tournament itself, Bosh operated as the main backup to center Dwight Howard as Team USA went unbeaten in all eight games en route to the gold medal, defeating Spain in the final. He averaged 9.1 points per game, and led the team in rebounds with 6.1 a game.

2009-10 :
Started all 70 games he appeared in for the Raptors and averaged 24.0 points (.518 FG%, .797 FT%), 10.8 rebounds, 2.4 assists, 0.97 blocks and 36.1 minutes¡­missed a total of 12 games due to injury or illness¡­missed six games (Feb. 19-Mar. 1) due to a sprained left ankle¡­sat out the Mar. 5 game at New York due to a stomach virus¡­missed the final five games of the season (Apr. 7-14) with a displaced nasal fracture that occurred as a result of an inadvertent elbow to the face with 9:32 left in the first quarter in Cleveland on Apr. 6 and required surgery the following day¡­was a two-time NBA Eastern Conference Player of the Week (weeks ending Jan. 31 and Apr. 4)¡­received the 2010 Magic Johnson Award from the Pro Basketball Writers Association for his steady cooperation with the media¡­was the only player in the NBA to rank in the Top 10 in both rebounding (6th) and in scoring (9th)¡­set career highs in scoring average, rebound average and field goal percentage¡­led Toronto in scoring average, points, field goal percentage, field goals made and attempted; free throws made and attempted; offensive, defensive and total rebounds; minutes per game and double-doubles¡­topped the Raptors in scoring 55 times and in rebounds on 53 occasions¡­scored in double figures on 68 occasions, including a career-high 53 20-point performances, 15 games with at least 30 points and a pair of 40-point efforts¡­grabbed double-figure rebounds a career-high 49 times and posted a career-high and franchise record 49 double-doubles¡­became the Raptors¡¯ all-time leading scorer on Jan. 3 vs. San Antonio¡­scored his 10,000th career point on Mar. 17 vs. Atlanta¡­played his 500th career game at New Jersey on Mar. 20¡­scored a career-high 44 points at Milwaukee on Jan. 20¡­was selected as an Eastern Conference reserve and had 23 points (including the game-winning free throw with five seconds left), 10 rebounds, two steals and one assist in 29:08 minutes at the NBA All-Star Game in his hometown of Dallas¡­Season Highs: 44 points (at Milwaukee, Jan. 20), 18 rebounds (vs. Miami, Jan. 27), seven assists (twice), five steals (vs. Golden State, Apr. 4), four blocks (twice) and 46:03 minutes (at Philadelphia, Apr. 3).


View the full website biography of Chris Bosh.