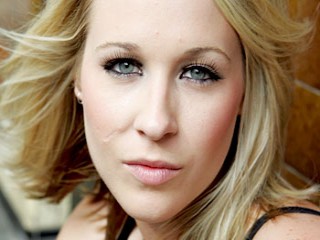 Catherine Britt
Date of birth : 1984-12-31
Date of death : -
Birthplace : Newcastle, New South Wales, Australia
Nationality : Australian
Category : Arts and Entertainment
Last modified : 2011-01-07
Catherine Britt is a country music artist who has had success in both her native Australia and in the United States. She moved to Nashville, Tennessee, United States, in 2004, and has charted several singles on the Billboard Hot Country Songs charts in the U.S., in addition to releasing four studio albums in her native Australia. Her highest charting single, "The Upside of Being Down", peaked at #36 on the country music charts in 2004.

Catherine Britt is a native of Newcastle, New South Wales, Australia, on that continent's eastern coast. Her father listened to a lot of country music as she grew up, and she discovered Dolly Parton, Loretta Lynn and Hank Williams. When she was 11, her parents took her to see Bill Chambers (Kasey Chambers' father and a member of the Dead Ringer Band), and Britt requested the Jimmie Rodgers song, "T.B. Blues." Chambers brought her on stage to sing "T.B. Blues" with him, invited her to sing at a Merle Haggard tribute he was hosting in Sydney the following week and proceeded to take the youngster under his wing. By the time she was 14, Britt had made her first recording, a Chambers-produced EP called In the Pines. When "That Don't Bother Me," a song she'd co-written with Chambers, was released to radio, it reached the Top 10 on the charts. Record labels took notice, but due to her age, nothing came of it.

Two years later, with scores of gigs and thousands of tour miles under her belt, she and Chambers returned to the studio for her first full-length CD, Dusty Smiles and Heartbreak Cures in 2001. The self-released project was quickly picked up and re-released by ABC Records the following year. Featuring six originals and covers by Hank Williams, Merle Haggard, Fred Eaglesmith and more, the album generated a string of singles that has kept Britt's voice on Australian radio to this day.

Elton John discovered the album in an Australian record store, fell in love with it and invited her to his show in Sydney. He offered to help her make contacts in America. The next morning, three labels offered her a deal. RCA Records flew Britt and Chambers to Nashville, where she signed a contract and performed on the Grand Ole Opry, the youngest Australian to do so.

Chambers co-produced her RCA album with Keith Stegall. In addition to singing a duet with John, guests on the album include Kenny Chesney and Hank Williams' steel player Don Helms.


View the full website biography of Catherine Britt.