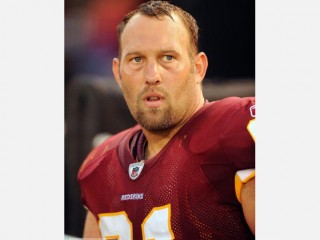 Casey Rabach
Date of birth : 1977-09-27
Date of death : -
Birthplace : Sturgeon Bay, Wisconsin
Nationality : American
Category : Sports
Last modified : 2010-11-22
Casey Rabach is an American football player currently playing for the Washington Redskins of the National Football League.

A tough and experienced lineman, Casey Rabach has played in 121 career games with 102 starts in his eight NFL seasons. Rabach began his career playing both the center and guard positions in Baltimore, but has become a fixture at the center position with Washington. In four of his five seasons in Washington, he has helped lead the way for a Redskins' running back to top 1,000 yards rushing in a single season (Clinton Portis, 1,262 rushing yards in 2007; Ladell Betts, 1,154 in 2006; Portis, 1,516 in 2007; and Portis, 1,487 in 2008).

PRO:
* Has appeared in 121 regular season contests with 102 starts.
* Also played in four postseason games with three starts.
* Played both the guard and center positions early in career before starting his last 79 games at center with the Redskins.
* Started 79 of the last 80 games at center for the Redskins (missed game with an injured groin vs. Arizona, 10/21/07).
* Has played with the Baltimore Ravens (2001-04) and the Washington Redskins (2005-09).

2009 (WAS)
* Started in all 16 regular season games; one of just two offensive lineman (Derrick Dockery) to do so.
* Provided protection for quarterback Jason Campbell to establish career highs in completions (327), completion percentage (64.5), passing yards (3,618), and (20) and passer rating (86.4).

2008 (WAS)
* Started in all 16 regular season games
* Paved the way for RB Clinton Portis to rank fourth in the NFL in rushing yards (1,487) and total yards from scrimmage (1,705)
* Strong blocker who helped Portis tie the NFL lead in total first downs (86) with Chicago Bears' RB Matt Forte and Atlanta Falcons' RB Michael Turner
* Paved the way for Portis to have the second-most rushing yards (1,487) in a single-season in club history
* Opened up running lanes for Portis to post more than 120 yards rushing in five consecutive contests (121 rushing yards, at Dallas, (9/28); 145 at Philadelphia, (10/5); 129 vs. St. Louis, (10/12); 175 vs. Cleveland, (10/19) and 126 at Detroit, (10/26)
* Paved way for Portis to become only the second player in NFL history with 120 rushing yards in five consecutive games twice in a career (O.J. Simpson in 1973 and 1975), Portis previously accomplished the feat in his final four games of 2003 with Denver and posted his fifth consecutive 120-yard game in 2004 when he joined Washington
* Led way for Portis to tie a club record for most consecutive 100-yard rushing games (5 straight contests in 2008), a record shared by Rob Goode (1951), Portis (2005) and Ladell Betts (2006)
* Provided outstanding protection to allow QB Jason Campbell to establish a club record with 271 consecutive passes without an interception

2007 Season (WAS):
* Played in and started 15 regular-season games at center (missed one game due to an injured groin vs. Arizona, 10/21)
* Led an offensive line that paved the way for the Redskins third-highest, single-game rushing performance in club history with 296 yards on 48 carries at the New York Jets (11/4)

2006 Season (WAS):
* Started at center in his 60th career game at Dallas (9/17)
* Instrumental part of an offensive line that helped total 495 yards of offense and helped protect quarterback Mark Brunell, who set an NFL record for consecutive completions in a single game with 22 at Houston (11/24)
* Paved the way for RB Ladell Betts to post a career-best in rushing yards (1,154) and total touchdowns (five)

2005 Season (WAS):
* Started all 16 regular-season games at center
* Part of an offensive line that helped Clinton Portis rush for a franchise record 1,516 yards

2004 Season (BAL):
* Started at left guard for an injured Edwin Mulitalo (torn left triceps) and helped pave the way for the Ravens to rush for 190 yards in the season finale vs. Miami (1/2/05)
* Started at center and helped open holes allowing the Ravens to rush for 160 yards at Indianapolis (12/19)
* Started at center and helped pave the way for the Ravens to rush for 254 yards and two rushing scores, including a franchise-record 10.3 yards per carry by Jamal Lewis at Cincinnati (9/26)

2003 Season (BAL):
* Played both the guard and center positions in 14 games and did not play in two games at Pittsburgh (9/7) and vs. Kansas City (9/28)
* Subbed at both right and left guard due to injuries and helped open holes, allowing Jamal Lewis to rush for an NFL record 295 yards and two scores vs. Cleveland (9/14)

2002 Season (BAL):
* Played in 12 regular-season games, starting five (four at left guard and one at center)
* Did not play vs. Denver (9/30), vs. Pittsburgh (10/27), at Atlanta (11/3) and at Miami (11/17)

COLLEGE
* Started 48 games for Wisconsin
* Holds the rare distinction of garnering All-Big Ten Conference first team honors at two different positions, picking up those accolades as a center in 1999, then at guard in 2000
* Starter on back-to-back Rose Bowl Champion teams (1999 and 2000)
* Earned second team All-America honors by the Associated Press and Walter Camp as a senior
* Recipient of the Wayne Souza Award, given annually to the Wisconsin offensive player that contributes the best of his abilities on and off the field
* Three-time Honor Roll student and an agricultural journalism major

PERSONAL
* Cousin Nick Greisen played linebacker for the Baltimore Ravens and another cousin, Chris Greisen, plays for the Georgia Force
* Great uncle, Stan Kramer, played for the Green Bay Packers
* During this past offesason, took part in the NFL Business Management and Entrepreneurial Program at the Kellog School of Management at Northwestern University, which focused on developing and selling a brand and evaluating franchising opportunities
* He and his wife, Nicole, were married on February 16, 2002 and have two children: daughter Alana and son Porter
* Has his own website, www.caseyrabach.com
* Name is pronounced: RAH-bock and his full name is Casey Edward Rabach.
View the full website biography of Casey Rabach.