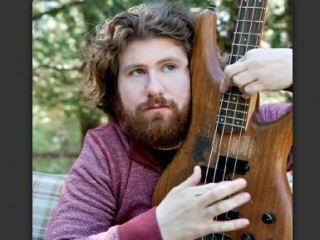 Casey Abrams
Date of birth : 1991-02-12
Date of death : -
Birthplace : Austin, Texas
Nationality : American
Category : Arts and Entertainment
Last modified : 2012-06-25

Casey Abrams (born 1991, Austin) is one of the top 24 contestants in Season 10 of the FOX reality competition series American Idol. He was eliminated in 6th place on April 28th, 2011. Casey auditioned in Austin, Texas and graduated from Idyllwild Arts Academy in 2009. He is currently a student at the University of Colorado at Boulder, where he is majoring in music. Casey Abrams currently living in Idyllwild, California, but is originally from Wilmette, Illinois.

Like his generation-hopping tunes, singer-songwriter/multi-instrumentalist Casey Abrams distills 200 years of American music to craft his electrifying new album, "Oh, You Kid!". Inspired by the music of America's most celebrated musicians, from Bob Dylan to Frank Zappa, and with assistance from producer John Simon (The Band, Simon & Garfunkel, Janis Joplin), Abrams has created an album that is both timeless and completely of the moment.

Southern-bred and Boston-based, Casey Abrams is a listener and a collector. His new album "Oh, You Kid!" is a shoebox full of pictures and stories- summer afternoon postcards, sprawling stormy-night creepers, sad and rainy letters and bright, sunny country-road racers.

"Abrams' songs reflect an impeccable knowledge of American music." says Pop Matters. "Oh, You Kid!" sits down with 200 years of the American scene and goes to work. The story begins with a chance meeting twenty years ago. "I happened upon a box of old LPs in my parents garage: Dylan, Jethro Tull, Al Stewart, Frank Zappa, Ry Cooder; I was hooked immediately- fascinated with the hows and whys of this odd assortment of music."

Years of playing, listening and writing followed, including a degree in composition and jazz guitar. And countless hours spent in record shops, flea markets and old bookstores, collecting sounds and stories and storing them away.

Co
"Over the years, my musical education has been guided as much by what book or record was next in a box at a yard sale as a study of music theory and history," he says. "As a result, I don't tend to think in terms of trends or restrictive musical styles." Abrams follows a similar protocol when it comes to his live shows. ""I like to use the set list as a jumping off place, playing what feels right based on what's happening in the room."

Abrams has produced a thoughtful record that calls to mind the entire tradition of the American repertoire—filled with songs that are not only nostalgic, but capture the hearts and minds of new listeners with subtle ease. For this, his third album, Abrams calls upon legendary songwriter-producer John Simon—the force behind The Band's "Music from Big Pink," Simon and Garfunkel's "Bookends," and countless other classic albums— for some assistance. "To me, his records reflect a compelling fascination with the craft of songwriting and storytelling; he also has a very adventurous take on getting the musicians involved to help tell the story." says Abrams. "I sent him some songs and he liked what he heard. So, we got together and kicked some tunes around and he told me where he heard them going. The depth of his insights was remarkable- his instincts and his ears are astounding."

The stories on "Oh, You Kid!" are brought to life by The Mysterious Strangers, featuring studio heavyweight and Leonard Cohen sideman/producer Bob Metzger. Here Abrams leads a conglomeration of jazz cookers, balladeers, ragtime monsters, country pickers, soul players and folk harmonizers. The sound is surprising yet familiar, literate, earthy and distinctly American.

A singer, writer, multi-instrumentalist and storyteller, Casey Abrams is the genuine article. "Abrams writes with skewed perspective, droll humor and storytelling ease." says Amplifier magazine. "His work fits right along-side his most impressive forefathers."


On January 8, 2012 Abrams signed with Concord Music Group. Abrams' linking with Concord Music Group marks the second signing of a contestant from season ten to a non-Universal Music Group-owned label. His first album is self-titled, Casey Abrams, and is scheduled for release on June 26, 2012.

The album was produced by Randy Jackson and American Songwriter writes that "co-writers on the album include American Idol co-producer Iain Pirie and mega-hit songwriters Jason Mraz, Rune Westberg, Martin Terefe, and Toby Gad."

The single "Get Out" was released on June 05, 2012.


View the full website biography of Casey Abrams.