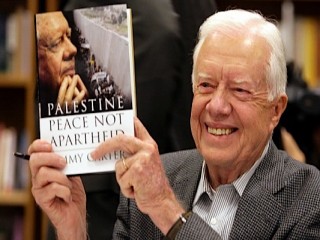 Carter Jimmy Jr.
Date of birth : 1924-10-01
Date of death : -
Birthplace : Plains, Georgia, USA
Nationality : American
Category : Politics
Last modified : 2010-05-22
James Earl "Jimmy" Carter, Jr. (born October 1, 1924) served as the 39th President of the United States from 1977 to 1981 and was the recipient of the 2002 Nobel Peace Prize, the only U.S. President to have received the Prize after leaving office. Before he became President, Carter served two terms as a Georgia State Senator and one as Governor of Georgia, from 1971 to 1975, and was a peanut farmer and naval officer.


Known to the world as a human-rights advocate and a leader who paid attention to the pulse of the United States, Jimmy Carter continues to advocate the importance of people over politics on both foreign and domestic fronts. As a president, he attempted to lead his country out of an energy crisis and delivered his famed 'Malaise' speech asking the nation to keep confidence in their potential.
Spending more money on social security and cutting the military budget by 6 billion dollars, Carter wanted to make a statement that he cared about the working class citizens of the nation. Furthermore, he promoted diversity and multiculturalism at every level, including appointing those of different ethnic, racial, and religious backgrounds to fill the most prestigious offices in Washington D.C.
As a child, Jimmy was a gifted student. His love for reading has never ceased and he started many national reading campaigns that would boost the literacy of America's youth. From his father's business as a peanut farmer in Georgia, the young Carter didn't go without and received an excellent education. He graduated from the Georgia Institute of Technology and received a Bachelor of Arts degree from the United States Naval Academy. Following, at Union college, Carter studied nuclear physics, but had to quit his studies with the death of his father. He then served in the Navy on both coasts. He became a commanding officer, which is talked about in the autobiography of Jimmy Carter entitled Why Not the Best.
A devout Christian his whole life, he was still able to see the root of any debate and break it down to its bare elements. He became more involved in public life and soon began a career serving two terms in the Georgia State Senate. After his service with the Senate, he thought about running for the House of Representatives, but his agricultural business got the best of his time.
After some time away from politics, Carter returned more fervent than ever. He decided to run to become the Governor of Georgia. He then set his sights on becoming the 39 th President of the United States. With the media strongly backing his nomination and eventual candidacy, he would become the first democratic president from the far south in over 100 years. Even with difficulties in office, he became involved in righting the wrongs the US had been involved in abroad. He was involved in trading with China, the Panama Canal Treaties, and the Camp David Accords. He continues to be an outspoken voice of the people in all issues foreign and domestic, and has written nearly 25 books. His continued perseverance won him a nomination for the Nobel Peace Prize in 2002.
Legacy
When he first left office, Carter's presidency was viewed by some as a failure. In historical rankings of US presidents, the Carter presidency has ranged from #19 to #34. Although Carter's presidency received mixed reviews from some historians, his all-around peace keeping and humanitarian efforts since he left office have led him to be widely renowned as one of the most successful ex-presidents in US history.
Although Carter has also received mixed reviews in both television and film documentaries, such as the Man from Plains (2007), the 2009 Documentary, Back Door Channels: The Price of Peace, credits Carter's efforts at Camp David, which brought peace between Israel and Egypt, with bringing the only meaningful peace to the Middle East. The film opened the 2009 Monte-Carlo Television Festival in an invitation-only royal screening on June 7, 2009 at the Grimaldi Forum in the presence of His Serene Highness Albert II, Prince of Monaco. The film has not yet shown in the United States, an indication of Carter's comparatively high popularity overseas versus at home in the U.S.
Jimmy Carter and Walter Mondale are the longest-living post-presidential team in American history. On December 11, 2006, they had been out of office for 25 years and 325 days, surpassing the former record established by President John Adams and Vice President Thomas Jefferson, who both died on July 4, 1826.
Jimmy Carter is one of only four presidents, and the only one in modern history, who did not have an opportunity to nominate a judge to serve on the Supreme Court.
Public image
The Independent reported, "Carter is widely considered a better man than he was a president." While he began his term with a 66% approval rating, this dropped to 34% approval by the time he left office, with 55% disapproving.
In the wake of Nixon's Watergate Scandal, exit polls from the 1976 Presidential election suggested that many still held Gerald Ford's pardon of Nixon against him, and Carter by comparison seemed a sincere, honest, and well-meaning Southerner.
When Carter ran for reelection, Ronald Reagan's nonchalant self-confidence contrasted to Carter's serious and introspective temperament. Carter's personal attention to detail, seeming indecisiveness and weakness with people was also accentuated by Reagan's charm and easy delegation of tasks to subordinates. Ultimately, the combination of the economic problems, Iran hostage crisis, and lack of Washington cooperation made it easy for Reagan to portray him as an ineffectual leader.
Since leaving office, Carter's reputation has much improved. Carter's presidential approval rating, which sat at 31% just prior to the 1980 election, was polled in early 2009 at 64%. Carter's continued post-Presidency activities have also been favorably received. Carter explains that a great deal of this change was owed to Reagan's successor, George H.W. Bush, who actively sought him out and was far more courteous and interested in his advice than Reagan had been. Carter has maintained working relationships with former Presidents Clinton and George H.W. Bush, and despite their political differences the three men all have become good friends over the years while working together in a number of humanitarian and other projects.
Nobel Peace Prize
In 2002, President Carter received the Nobel Peace Prize for his work "to find peaceful solutions to international conflicts, to advance democracy and human rights, and to promote economic and social development" through The Carter Center. Three sitting presidents, Theodore Roosevelt, Woodrow Wilson and Barack Obama, have received the prize; Carter is unique in receiving the award for his actions after leaving the presidency. He is, along with Martin Luther King, Jr., one of only two native Georgians to receive the Nobel.
Honors and awards
Carter has received honorary degrees from many American and foreign colleges and universities. They include:
* LL.D. (honoris causa) Morehouse College, 1972; Morris Brown College, 1972; University of Notre Dame, 1977; Emory University, 1979; Kwansei Gakuin University, 1981; Georgia Southwestern College, 1981; New York Law School, 1985; Bates College, 1985; Centre College, 1987; Creighton University, 1987; University of Pennsylvania, 1998
* D.E. (honoris causa) Georgia Institute of Technology, 1979
* PhD (honoris causa) Weizmann Institute of Science, 1980; Tel Aviv University, 1983; University of Haifa, 1987
* D.H.L. (honoris causa) Central Connecticut State University, 1985; Trinity College, 1998; Hoseo University, 1998
* Doctor (honoris causa) G.O.C. University, 1995; University of Juba, 2002
* Honorary Fellow of Royal College of Surgeons in Ireland, 2007
* Honorary Fellow of Mansfield College, Oxford, 2007
Among the honors Carter has received are
the Presidential Medal of Freedom
in 1999 and
the Nobel Peace Prize
in 2002. Others include:
* Freedom of the City of Newcastle upon Tyne, England, 1977
* Silver Buffalo Award, Boy Scouts of America, 1978
* Gold medal, International Institute for Human Rights, 1979
* International Mediation medal, American Arbitration Association, 1979
* Martin Luther King, Jr., Nonviolent Peace Prize, 1979
* International Human Rights Award, Synagogue Council of America, 1979
* Conservationist of the Year Award, 1979
* Harry S. Truman Public Service Award, 1981
* Ansel Adams Conservation Award, Wilderness Society, 1982
* Human Rights Award, International League of Human Rights, 1983
* World Methodist Peace Award, 1985
* Albert Schweitzer Prize for Humanitarianism, 1987
* Edwin C. Whitehead Award, National Center for Health Education, 1989
* Jefferson Award, American Institute of Public Service, 1990
* Liberty Medal, National Constitution Center, 1990
* Spirit of America Award, National Council for the Social Studies, 1990
* Physicians for Social Responsibility Award, 1991
* Aristotle Prize, Alexander S. Onassis Foundation, 1991
* W. Averell Harriman Democracy Award, National Democratic Institute for International Affairs, 1992
* Spark M. Matsunaga Medal of Peace, US Institute of Peace, 1993
* Humanitarian Award, CARE International, 1993
* Conservationist of the Year Medal, National Wildlife Federation, 1993
* Rotary Award for World Understanding, 1994
* J. William Fulbright Prize for International Understanding, 1994
* National Civil Rights Museum Freedom Award, 1994
* UNESCO Félix Houphouët-Boigny Peace Prize, 1994
* Great Cross of the Order of Vasco Nunéz de Balboa, Panama, 1995
* Bishop John T. Walker Distinguished Humanitarian Award, Africare, 1996
* Humanitarian of the Year, GQ Awards, 1996
* Kiwanis International Humanitarian Award, 1996
* Indira Gandhi Prize for Peace, Disarmament and Development, 1997
* Jimmy and Rosalynn Carter Awards for Humanitarian Contributions to the Health of Humankind, National Foundation for Infectious Diseases, 1997
* United Nations Human Rights Award, 1998
* The Hoover Medal, 1998
* The Delta Prize for Global Understanding, University of Georgia, 1999
* International Child Survival Award, UNICEF Atlanta, 1999
* William Penn Mott, Jr., Park Leadership Award, National Parks Conservation Association, 2000
* Zayed International Prize for the Environment, 2001
* Jonathan M. Daniels Humanitarian Award, VMI, 2001
* Herbert Hoover Humanitarian Award, Boys & Girls Clubs of America, 2001
* Christopher Award, 2002
* Grammy Award for Best Spoken Word Album, National Academy of Recording Arts and Sciences, 2007
* Berkeley Medal, University of California campus, May 2, 2007
* International Award for Excellence and Creativity, Palestinian Authority, 2009
* Mahatma Gandhi Global Nonviolence Award, Mahatma Gandhi Center for Global Nonviolence, James Madison University (to be awarded September 21, 2009, in Harrisonburg, Virginia, and to be shared with his wife, Rosalynn Carter)
* Recipient of 2009 American Peace Award along with Rosalynn Carter
In 1998, the US Navy named the third and last Seawolf-class submarine honoring former President Carter and his service as a submariner officer. It became one of the first US Navy vessels to be named for a person living at the time of naming.
View the full website biography of Carter Jimmy Jr..