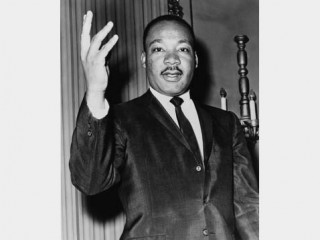 Carter Godwin
Date of birth : 1875-12-19
Date of death : 1950-04-03
Birthplace : New Canton, Virginia
Nationality : African-American
Category : Famous Figures
Last modified : 2010-07-09
Carter Godwin Woodson, born December 19, 1875 - died April 3, 1950 was an African-American historian, author, journalist and the founder of the Association for the Study of African American Life and History. He was one of the first scholars to value and study Black History. He recognized and acted upon the importance of a people having an awareness and knowledge of their contributions to humanity and left behind an impressive legacy. A founder of Journal of Negro History, Dr. Woodson is known as the Father of Black History.

"Sidelights"

A man of humble origins--he came from a large, poor family and both his parents were former slaves--Carter G. Woodson became a giant in the field of African American studies. A graduate of Harvard University, he adopted the institution's standard of objective, scientific inquiry. Throughout his career he acquired an enormous number of primary sources, which he eventually contributed to the Library of Congress, and also engaged in the collection of original data. An associate, W. Montague Cobb, later reminisced in the National Medical Association Journal about a five-year project which sent five field investigators throughout fourteen Southern states: "Woodson consulted official sources of data such as census reports and the like, but was not dependent upon them and frequently showed them to be in error. Here a generation ago [the late 1920s] a black scholar was executing a black-conceived and black-controlled black studies program which the myriad current workers in this field would do well to emulate." Some of Woodson's books, however, are unabashedly polemical. For example, in Alain Locke's 1933 Survey review of The Mis-education of the Negro, he applauded Woodson's "articulate and reasoned ... black Zionism." Whereas Woodson could be a detached researcher under certain circumstances, he could also be a passionate advocate of racial self-esteem under others.

Moving from his Virginia farm to Huntington, West Virginia, at the age of seventeen in search of work, Woodson found employment as a coal miner, a job which did not leave much time for formal schooling. Toward the end of his nineteenth year, however, he enrolled at Douglass High School and not only graduated in one-and-a-half years but later returned to Douglass as its principal and presented his sister, Bessie, with her diploma in 1901. By this time, Woodson had completed some coursework at Berea College and had taught school in Winona, West Virginia.

After receiving his bachelor of literature degree from Berea College in 1903 and briefly attending the University of Chicago, he departed from San Francisco across the Pacific Ocean upon the S.S. Korea and arrived in the Philippines on his twenty-eighth birthday. His experiences as a teacher in the Philippines taught him a great deal about different cultural perspectives. The eventful journey back to the United States in 1907 contributed to his intellectual development and his appreciation of human diversity, as he visited India, Palestine, Egypt, Greece, Italy, and France. In the latter country he spent a semester at the Sorbonne in Paris before returning to the U.S. and completing his formal studies at the University of Chicago and Harvard. In 1912 he became the second black student (W. E. B. du Bois had been the first) to receive a Ph.D. in history from Harvard University.

The exposure to European historical and literary sources and his painstaking research at the Library of Congress nurtured his resolve to become a racial historian. After he completed his Harvard dissertation, titled "The Disruption of Virginia," he launched into his life's work: the discovery, recording, and promulgation of the complex history of black people in the U.S. and in Africa.

Woodson established himself as an authority with the publication of his first book, Education of the Negro Prior to 1861, in 1915. A study of the changes in quality of instruction offered to blacks prior to and following 1935, the book received acclaim from critics. One commentator, quoted by Edward L. Cox in Dictionary of Literary Biography (DLB), found Education of the Negro "a work of profound historical research, full of interesting data on a most important phase of race life which has heretofore remained unexplored and neglected." Woodson went on to pen more than fifteen additional works throughout the course of his career. Among these is 1933's Mis-education of the Negro, in which the author returned to education, a subject about which he harbored strong feelings. In the volume Woodson criticizes the "educated Negroes," who maintain an "attitude of contempt toward their own people because in their own as well as in their mixed schools they are taught to admire the Hebrew, the Greek, the Latin and the Teuton and to despise the African." Woodson goes on in The Mis-education of the Negro to advocate the instruction of the black student "about his race and its history and such training of his special gifts as will restore in him both individual and racial self-respect." "As far as Woodson was concerned," Cox explained in his DLB essay, "a revamping of the entire American educational system, especially of its curriculum, was essential if blacks were to make any meaningful progress in the United States."

In addition to writing numerous pioneering books and holding a variety of academic posts, Woodson achieved major accomplishments in establishing the following: a professional association, two periodicals, and a publishing company. The Association for the Study of Negro Life and History provided a focus for black intellectuals to explore and promote their heritage. The Journal of Negro History, still published today, provided an outlet for serious scholarship. Because he also wanted a more popular medium for the layperson, he established the Negro History Bulletin, a vehicle designed to make significant research accessible even to school children. Finally, his Associated Publishers, Inc., allowed him and his fellow historians to disseminate their findings in book form at a time when few established publishers were interested in the subjects which attracted Woodson.

Although he never saw to fruition one of his planned projects, an Encyclopaedia Africana, he did, according to Cox in his DLB essay, firmly establish himself as one of the twentieth-century's premier American historians. "He made an indelible impression on the minds of a whole generation of American historians and educators," Cox declared. "The study, writing, and teaching of American history has not been the same since Woodson successfully countered the ignorance and misinformation that had surrounded the contributions of blacks to the building of the United States."


PERSONAL INFORMATION

Family: Born December 19, 1875, in New Canton, VA; died April 3, 1950, in Washington, DC; buried in Lincoln Memorial Cemetery, Suitland, MD; son of James Henry and Anne Eliza (Riddle) Woodson. Education: Berea College, B.L., 1903; attended the Sorbonne, 1906; University of Chicago, A.B., 1907, M.A., 1908; Harvard University, Ph.D., 1912. Hobbies and other interests: Reading, travel, tennis. Memberships: Association for the Study of Negro Life and History (now the Association for the Study of Afro-American Life and History; founder and executive director, 1915), National Association for the Advancement of Colored People (life member), American Negro Academy, American Teachers Association (life member).

AWARDS

Carnegie Corporation grant, 1921; Laura Spelman Rockefeller Memorial grants, 1921 and 1926; Spingarn Medal, National Association for the Advancement of Colored People (NAACP), 1926; Social Science Research Council award, 1928; Rockefeller Foundation grants, 1929 and 1930; doctor of laws degree from Virginia State College, 1939; Carter Godwin Woodson Public School No. 160 in Baltimore, MD, named in his honor, 1953; Carter G. Woodson Junior High School in Washington, DC, dedicated November 19, 1956; elected to the Ebony Hall of Fame, 1958; Carter G. Woodson Houses (senior citizen housing) established in Brooklyn, NY, 1969; Carter G. Woodson Professorship in Negro History established at Berea College, 1973; a bronze marker was erected at Woodson's birthplace in New Canton, VA, by the Association for the Study of Afro-American Life and History on December 19, 1975 (the hundredth anniversary of his birth); Dr. Carter G. Woodson Regional Library dedicated in Chicago, IL, December 19, 1975; Woodson House (his home and office), in Washington, DC, was placed on the national register as a historical landmark in 1976; a 20-cent stamp bearing Woodson's likeness was issued by the United States Postal Service in conjunction with Black History Month, February 1, 1984; the mayor of Huntington, WV, formed the Carter G. Woodson Memorial Committee to fund scholarships in his name, 1986; the Black History National Recreation Trail was dedicated in honor of Woodson, February, 1988.

CAREER

Historian, 1910-50. Railroad construction laborer and coal miner, 1892-94; schoolteacher in Winona, WV, 1898-1900; Douglass High School, WV, principal, 1900-03; schoolteacher in Philippines, 1903-07, and at M Street High School (later Dunbar High School), Washington, DC, 1909-18; Armstrong Manual Training School, Washington, DC, principal, 1918-19; Howard University, dean of School of Liberal Arts, 1919-20; West Virginia Collegiate Institute (now West Virginia State College), dean, 1920-22. Editor and founder of Journal of Negro History, 1916-50, and Negro History Bulletin, 1937-50; founder and chair of the board of Associated Publishers, Inc., 1921-50. Founder of Negro History Week (which evolved into Black History Month observed every February in the U.S.), 1926.
View the full website biography of Carter Godwin.