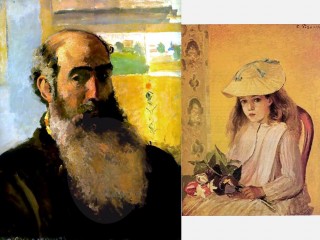 Camille Pissaro
Date of birth : 1830-07-10
Date of death : 1903-11-12
Birthplace : St. Thomas, Virgin Islands
Nationality : French
Category : Arts and Entertainment
Last modified : 2011-01-26
The French painter Camille Pissarro was one of the original impressionists. Although his work is generally less innovative than that of his major contemporaries, it is no less important in reflecting the new style.
Camille Pissarro was born in St. Thomas, Virgin Islands, on July 10, 1830. His father, a Portuguese Jew, ran a general store. Although Pissarro attended school in Paris and demonstrated an exceptional talent for drawing, he returned to St. Thomas in 1847 to work in the family business. During the ensuing years his interest in art persisted, and in 1855 his parents finally yielded to his ambition to become a painter.
Pissarro reached Paris in time to see the important World's Fair of 1855. He was particularly impressed by the landscapes of Camille Corot and other members of the Barbizon group, who had taken the first steps toward working directly from nature, and by the ambitious and forthright realism of Gustave Courbet, although his own work increasingly gravitated toward landscape rather than figurative subjects.
During the next 10 years Pissarro received some academic training at the Ecole des Beaux-Arts, but he spent most of his time at the Academie Suisse, where free classes were offered. This was an important gathering place for those artists whose ambitions and sensibilities lay outside the teaching of the official schools, for it offered greater opportunity to discuss and develop personal ideas about painting and art in general. In this setting Pissarro became friends with Claude Monet, Pierre Auguste Renoir, Alfred Sisley, and Paul Cezanne, who were seeking alternatives to the established methods of painting. Pissarro's works at this time were occasionally, though by no means consistently, accepted at the annual Salons. More importantly, however, he received critical backing and encouragement from Emile Zola.
During the Franco-Prussian War in 1870-1871 Pissarro and Monet went to London, where they were impressed by the landscape paintings of John Constable and J.M.W. Turner. By this time Pissarro and Monet had begun to work directly from nature and to develop the unique style that would later be called impressionism. In their pursuit of this new and revolutionary direction, the lessons of the earlier English landscapists provided crucial and much-needed support, particularly in terms of the loose handling of paint, the abstractness, and the strong response to nature which characterized their own paintings. When Pissarro returned to his home at Louveciennes near Paris, he found that the Prussians had destroyed nearly all of his paintings.
By the early 1870s the work of Pissarro and his colleagues had been rejected by the Salon on repeated occasions. In 1874 they held their own exhibition, a show of "independent" artists. This was the first impressionist exhibition (the term "impressionist, " originally used derisively, was actually coined by a newspaper critic). There were seven similar exhibitions until 1886, and Pissarro was the only artist who participated in all eight. This fact is important because it reveals something about Pissarro's relation to impressionism generally: he was the patriarch and teacher of the movement, constantly advising younger artists, introducing them to one another, and encouraging them to join the revolutionary trend that he helped to originate.
In 1892 there was a large retrospective of Pissarro's work, and he finally gained the international recognition he deserved. Characteristic paintings are Path through the Fields (1879), Landscape, Eragny (1895), and Place du Theatre Francais (1898). He died in Paris on Nov. 12, 1903.
Pissarro is the subject of critical analysis in these works by John Rewald: Camille Pissarro (1963), a monograph on the artist; C. Pissarro (1965), an exhibition catalog; and The History of Impressionism (1961), in which Pissarro's role in the development of impressionism is well documented.
Adler, Kathleen, Camille Pissarro: a biography, New York: St. Martin's Press, 1978, 1977.
Camille Pissarro Gallery:
View the full website biography of Camille Pissaro.