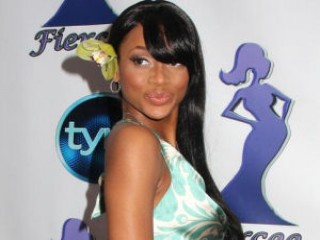 Camille McDonald
Date of birth : -
Date of death : -
Birthplace : Bronx, Westchester County, NY
Nationality : American
Category : Arts and Entertainment
Last modified : 2011-08-09
Camille McDonald born to two loving Jamaican parents was raised in the Bronx and had a knack for the spotlight and the catwalk from an early age. Currently she wears many hats as a Professional Model, Designer, Fashion Consultant, Spokes Person, Humanitarian, and Cultural & Goodwill Ambassador for her adopted country, Jamaica. She recently completed a Bachelor of Arts degree in Advertising at Howard University complimented by a minor in Fashion Design from The Fashion Institute of Technology.

The world became familiar with Camille during her television debut on Cycle 2 of the hit reality television series America's Next Top Model (ANTM) produced by Super Model and Talk-show Host Tyra Banks. Cycle 2 of ANTM was a huge success and UPN's highest rated series.

With a captivating, sassy, and spicy attitude, Nielsen's Rating and polls showed viewers picked Camille as one of the most memorable show participants to date. The girl everyone loved to hate had America's attention and as a result became a familiar face on red carpets from New York to Los Angeles as well as Viacom's "up fronts" and "press events" interacting with key advertisers and investors.

This bodes well for Camille's career as a top tier model and reaffirms her ability to capture an audience as well as sell a product. Due to popular demand, Cycle 2 was televised in over 30 countries worldwide, including prominent U.S networks such as VH1, MTV, and most recently Oxygen in 2009. The increased exposure served as an additional platform elevating her career in the fashion industry. She seized the opportunity to strut her long silky legs down the catwalks from the Americas to Asia and also became a vocal spokes person on social and humanitarian issues.

World renowned run-way coach and author Miss Jay, famous for his ability to teach supermodels how to master the catwalk, could not help noticing Camille's Signature Walk, quoting "float like a butterfly, sting like a bee, black girls always gotta' give something extra!" and after some fine tuning approved of her walk.

The name "Miss Signature Walk" was then coined by fans because Camille fearlessly and confidently strutted down the catwalk at an ANTM "go-see" proclaiming with confidence her Signature Walk was going to make her famous. Indeed, that bold assertion materialized into reality as Camille instantly became a sought after celebrity model.

Her next big brake came when she was signed by the prominent European modeling agency, Major Model Management (Milan). While living in Europe, Camille was busy shooting editorials and "Signature Walking" down runways for designers such as Escada, Wolfords of London, LBO3 Japan, to name a few.

After a successful tour in Europe, she returned to New York and continued working with Major Model Management (NY), securing runway shows, print ads, billboard campaigns and magazine layouts ranging from Azure Denim to D-Squared as well as been a Fit-Model for Marithe Francois Girbaud.

Camille has shot for publications such as Glamour Magazine, Women Wear Daily (WWD), and W Magazine. As a student, her most memorable internship was working with fashion guru Diane Von Furstenberg(DVF) where she learned a great deal about fashion marketing.

While pursuing her dreams of becoming a world renowned icon in the entertainment industry, Camille followed through on a self made promise and commitment to education. Traveling between New York and Washington, DC she pursued and secured a Bachelor of Arts degree in Advertising from Howard University and a degree in Fashion Design from the illustrious Fashion Institute of Technology.

Camille enjoyed successes in modeling and beauty pageants as early as 1995 when she won the Stephanie Gibbs Model Search (FL) contest. A year later, she narrowly missed being crowned Miss Teen Florida and in 1997 was the 1st runner up in the Miss Jamaica USA beauty pageant (NY).

In pursuit of her philanthropic aspirations, Camille uses her education, vivacious and charming attitude as a vehicle in the advancement of community and social issues. The commitment to helping others is an instinctive trait passed on by her father, the late Patrick Winston McDonald who often told her:

"We are all interdependent on one another and we must help when we see fit, what comes around goes around, be a humble servant and you will be blessed."

One of Camille's first endeavors was to shed light on the fight against HIV/Aids among teenagers and young adults and to-date has helped raise thousands of dollars which has been used for educational and infrastructural projects around the globe. Over the last five years, she has raised and personally funded several other needy causes ranging from children's education to hurricane relief projects.

Camille's endless zeal and passion for the business of fashion and entertainment will continue to grow. She is more determined to claim her niche in the world of fashion, beauty, and entertainment.

She is learning and growing in her fabulousity! Continuing with her dreams, inspiring and touching the lives of others through her work as a philanthropist, humanitarian, and good-will ambassador from Paul Newman's Hole in the Wall Camps fundraising efforts to most recently Wyclef Jean's YELLE Haiti Foundation.

Camille is currently signed to Kim Thompson Model & Talent Management, a small NY boutique agency, that takes pride in representing this 5'9 1/2", 34" Bust, 25" Waist and 35" Hip goddess secure her American Dream. She has beauty, brains, compassion and a Signature Walk to match.
View the full website biography of Camille McDonald.