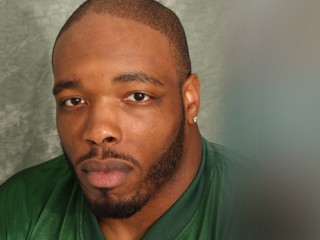 Calvin Pace
Date of birth : 1980-10-28
Date of death : -
Birthplace : Detroit, Michigan
Nationality : American
Category : Sports
Last modified : 2010-10-31
Calvin Pace is an American football linebacker for the New York Jets of the National Football League. He was drafted by Arizona Cardinals in the first round (18th overall) in the 2003 NFL Draft. He played college football at Wake Forest.

CAREER HIGHLIGHTS

◊ Played in 83 games, starting 54, with 255 tackles, 21 sacks, one interception, eight fumble recoveries, including one 50-yard fumble return for a touchdown, nine forced fumbles and 14 passes defensed.
◊ Established career highs with seven sacks, five forced fumbles and four fumble recoveries in 2008...Single season totals for forced fumbles and fumble recoveries exceeded his career totals entering the season.
◊ Led team with four fumble recoveries and tied for team lead with five forced fumbles in 2008 as part of defense that led NFL with 26 forced fumbles and tied for the NFL lead with 16 fumble recoveries.
◊ Matched his career high with two sacks of J.P. Losman vs. BUF, 12/14/08, marking his third career game with two sacks.
◊ Scored first NFL touchdown when he returned the fumble caused by Abram Elam on Marc Bulger 50 yards for a touchdown vs. STL, 11/9/08.
◊ Started all 16 games in 2007 for the first time in his career, establishing career highs with 106 tackles.
◊ Recorded lone blocked field goal of NFL career on attempt by Josh Brown at SEA, 9/17/06.

◊ 2008 (JETS) Started all 16 games at outside linebacker for the second consecutive season…Accumulated 67 tackles, seven sacks, four fumble recoveries, five forced fumbles, 12 tackles-for-loss, nine quarterback hurries and three passes defensed…Returned one fumble recovery for a touchdown… Contributed one special teams tackle…Selected third alternate for the Pro Bowl…Led team in fumble recoveries and tackles for- loss, tied for team honors in forced fumbles, ranked second in sacks, tied for third in quarterback hurries and ranked fourth in tackles…Established career highs for sacks,forced fumbles and fumble recoveries…Five forced fumbles exceeded his career total prior to the 2008 season and four fumble recoveries matched his career total…Part of defense that ranked seventh in the NFL in sacks, fewest rushing yards allowed per game and fewest rushing yards per attempt. SEASON HIGHLIGHTS: (12/28 vs. MIA)…Registered fifth forced fumble of the season. (12/14 vs. BUF)… Matched career-high with two sacks of J.P. Losman… Marked third career game with two sacks...Notched one forced fumble. (12/7 at SF)…Recorded fumble recovery. (11/23 at TEN)…Victimized Kerry Collins for a sack and forced fumble on the same play…(11/9 vs. STL)…Scored his first NFL touchdown on 50-yard return of fumble caused by Abram Elam on Marc Bulger…Notched half-sack of Bulger. (10/12 vs. CIN)…Produced his second consecutive game with a sack, fumble recovery and forced fumble…Garnered sack of Ryan Fitzpatrick…(9/28 vs. ARI)…Notched sack of Kurt Warner…Registered one forced fumble and a fumble recovery. (9/14 vs. NE)…Contributed half of sack of Matt Cassel. (9/7 at MIA)…Recorded a sack of Chad Pennington in Jets debut.

◊ 2007 (ARI) Started every game at linebacker, recording 6.5 sacks and 106 tackles, his first career interception, six pass breakups, a forced fumble and two fumble recoveries … Logged six special teams tackles. SEASON HIGHLIGHTS: (12/23 vs. ATL)…Recorded a career-high 10 tackles and a sack of Chris Redman. (12/16 at NO)…Notched a fumble recovery. (12/9 at SEA)…Corralled a sack of Matt Hasselbeck. (11/11 vs. DET)…Led ARI with 2.5 sacks of Jon Kitna, including a strip sack in which he recovered the fumble…Defense held DET to modern-era record 18 yards rushing. (10/21 at WAS)…Picked off Jason Campbell for his first career interception and returned it 14 yards to set up a touchdown in an eventual two-point win…Also notched sack of Campbell. (10/7 at STL)…Responsible for sack of Gus Frerotte.

◊ 2006 (ARI) Converted from defensive end to linebacker during the off-season…Appeared in all 16 games for the first time since his 2003 rookie campaign, earning five starts at outside linebacker…Contributed 27 tackles, one sack, two forced fumbles and one pass defensed…Responsible for 11 tackles and a blocked field goal on special teams. SEASON HIGHLIGHTS: (12/24 at SF)…Posted sack of Alex Smith. (10/22 at OAK)…Forced QB Marques Tuiasosopo to fumble out of bounds. (9/17 at SEA)…Blocked a Josh Brown field goal attempt in the second quarter. (9/10 vs. SF)…Started first game at strongside linebacker after converting from defensive end…Forced a fumble by tight end Vernon Davis.

◊ 2005 (ARI) Played in five games and earned one start before being placed on the reserve/non-football injury list (10/19)… Recorded 11 tackles and one sack. SEASON HIGHLIGHTS: (10/9 vs. CAR)…Logged his only start of the season. (10/2 vs. SF)…Sacked Tim Rattay…Recovered a fumble by Rattay on another play that Rattay subsequently fumbled when stripped by Fred Beasley.

◊ 2004 (ARI) Played in 14 games…Recorded 4.5 sacks, 12 tackles, one forced fumble, four passes defensed and four special teams tackles. SEASON HIGHLIGHTS: (11/28 vs. NYJ)…Contributed half sack of Brooks Bollinger. (10/10 at SF)…Recorded two sacks on Tim Rattay. (10/3 at NO)… Sacked Aaron Brooks. (9/26 at ATL)…Victimized Michael Vick for sack and forced fumble on the same play…Fumble recovered by Peppi Zellner.

◊ 2003 (ARI) Started all 16 games at right defensive end as a rookie…Collected 32 tackles, one sack and one fumble recovery. SEASON HIGHLIGHTS: (10/26 vs. SF)…Took down Jeff Garcia for his first NFL sack…Recovered a fumble when Ronald McKinnon stripped Kevan Barlow. (9/7 at DET)…Started in his NFL debut and led linemen with four tackles and two hurries

BEFORE THE NFL

◊ Finished as the all-time tackles-for-loss leader at Wake Forest with 74…Finished second on the all-time list with 29 sacks.
◊ Demon Deacon career numbers included 189 total tackles (116 solos), five forced fumbles and a fumble recovery in 42 appearances with 33 starts.
◊ Senior All-America pick, the 14th in Wake Forest history, and two-time All-ACC selection.
◊ Played outside linebacker and quarterback as a three-year starter at Lithia Springs HS in Douglasville, GA.
◊ Finished senior campaign with 88 total tackles, five forced fumbles and three fumble recoveries.
◊ Earned All-Region and County Defensive Player of the Year honors in 1997.

PERSONAL

◊ Full name is Calvin Lamar Pace.
◊ Sociology major at Wake Forest.
◊ Worked with teammates and Jets Chairman and CEO Woody Johnson through the Interfaith Food Pantry to unload and hand out turkeys to people in need for Thanksgiving at Saint Margaret's Church of Scotland in Morristown in Nov. 2008.
◊ Participated in the Newark Star Ledger Junior Reporter program in 2008, which motivates participation in classes with dozens of hands-on activities.
◊ Handed out toys to underprivileged children during the holdiay season in 2008.
◊ Father, Calvin, Sr. is on the Atlanta Police force.
◊ Mother, Nancy, and sister, Simone.
◊ Also played basketball in high school and enjoys golf, tennis and cooking.
View the full website biography of Calvin Pace.