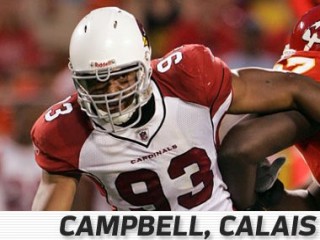 Calais Campbell
Date of birth : 1986-09-01
Date of death : -
Birthplace : Denver, Colorado
Nationality : American
Category : Sports
Last modified : 2010-11-28
Calais Campbell is an American football defensive end for the Arizona Cardinals of the National Football League. He played college football at the University of Miami.

Pro Career:
The Cardinals second-round selection (50th overall) in the 2008 NFL Draft has appeared in all 38 regular and postseason games for the Cards in his first two seasons.

2009: In his second NFL season, set career-highs with 53 tackles, seven sacks, five passes defensed, and two blocked FGs while starting 15 of 16 regular season games played and one of two postseason games … in first career start, tied for the team-lead with seven tackles, while also recording one QB pressure and one QB hit vs. SF (9/13) … blocked first career FG and registered first half-sack of career @ Jax (9/20); blocked FG was returned 83 yards for a TD by Antrel Rolle, putting Arizona up 17-3 in the second quarter; named NFC Special Teams Player of the Week for the first time in his career … came up big again on special teams, blocking a 35-yard Kris Brown FG and making a TD saving tackle at the AZ 31-yard-line after a 62-yard punt return by Jacoby Jones vs. Hou (9/27); following Jones punt return, helped defense stop the Texans on four straight downs, including the last three where they only needed one-yard for a first down; was also part of the goal line stand that stopped the Texans from scoring on three straight plays in the final two minutes … registered a career-high 1.5 sacks @ Sea (10/18) … recorded one sack and led the defensive line with two passes defensed @ NYG (10/25); deflected an Eli Manning pass that was picked off by Adrian Wilson at the Giants 24-yard line … led team with a career-high eight tackles, including two tackles for loss vs. Car (11/1) … recorded first forced fumble of the season and one QB hit @ StL (11/22) … did not start for the first time all season as the Cardinals opened the game with six DBs, but tied for the lead among defensive linemen with four tackles, one tackle for loss and one sack vs. Min (12/6); sack forced Minnesota into a 3rd-and-24 which resulted in an INT on the following play in the 3rd quarter … registered five tackles, one tackle for loss, one QB hit, and one sack @ SF (12/14) … registered three tackles, one tackle for loss, one QB hit and one sack vs. StL (12/27) … registered two tackles before leaving the game in the fourth quarter with a thumb injury in the regular season finale vs. GB (1/3/10) … played with thumb injury that required a cast and recorded two tackles and one QB hit vs. GB (1/10/10) in the Wild Card contest … continued to play with a cast on his injured thumb and led the defensive line with three solo tackles and one QB hit @ NO (1/16/10) in the Divisional matchup.

2008: As a rookie played in all 16 regular season games and four postseason games (including the Super Bowl) as a reserve DE and special teams contributor, finishing fourth on the team with 16 special teams tackles during the regular season ... collected first career tackle in NFL debut @ SF (9/7) ... in just seven plays on defense registered three solo tackles as well as first career special teams tackle vs. Mia (9/14) ... in just 16 plays on defense, registered three tackles, one QB pressure and first career forced fumble vs. Dal (10/12) ... returned one kickoff 16 yards and recorded two tackles on nine defensive plays @ Car (10/26) ... registered a career-high three special teams tackles @ StL (11/2) ... recorded career-high four tackles and one tackle for loss @ NE (12/21) ... played in first career playoff game vs. Atl (1/3/09) … registered first career pass defensed @ Car (1/10/09) … recorded one tackle and one special teams tackle in each of the four postseason games and his four special teams tackles tied for the team-high in the postseason.

College:
Played in 36 career games with the Hurricanes (25 starts) before entering the NFL draft following his junior season … finished his career with 158 tackles, 19.5 sacks, 39 tackles for a loss, and 30 QB pressures … was a two-time All-ACC selection … started all 12 games at right DE as a junior, finishing the season with 50 tackles and leading the team with 12 tackles for a loss … recorded six sacks and 19 QB pressures while forcing two fumbles, recovering two fumbles and recording his first career INT … started 12 of 13 games at right DE as a sophomore and was named the team's MVP … ranked second on the team with 10.5 sacks and led the ACC with 20 tackles for loss (fourth best in the nation) … added a team-high 16 QB pressures and three fumble recoveries while totaling 80 tackles, six behind team leader Brandon Meriweather … had a streak of seven consecutive games with at least one sack, the second-longest streak in school history … appeared in all 12 games with one start as a freshman, totaling 35 tackles, 2.5 sacks, eight QB pressures and 5.5 tackles for a loss.

Personal:
Full name Calais Malik Campbell … first name pronounced "cuh-LAY-us" … attended South (Aurora, CO) High School and was a two-time All-State pick as a DE as a junior and senior while also playing TE as a senior … established a state career-record of 58 sacks over his four seasons with 38 of those coming in his final two seasons … as a senior, recorded 19 sacks, 188 tackles and two INTs on defense and added 38 receptions for 412 yards and four TDs as a TE … as a junior, recorded five TDs off of blocked kicks and fumble recoveries … an all-around athlete, also garnered All-State accolades in basketball as a junior and competed in track and field, qualifying for the state meet in both discus and shot put in 2003 … following the 2008 season, attended the NFL Business Management and Entrepreneurial Program at the Harvard Business School … younger brother, Jared, is a DB at Miami (FL) and his other brothers played college football as well; his older brother Ciare was a DB at Colorado State from 2004-05 and his brother Raj played football at Butte and Orange County Junior Colleges and was a receiver at Adams State … Sociology major at Miami.

View the full website biography of Calais Campbell.