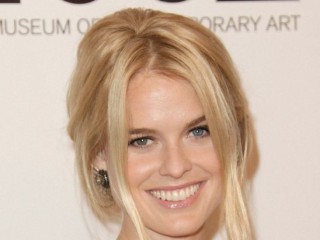 Alice Eve
Date of birth : 1982-02-06
Date of death : -
Birthplace : London, England
Nationality : English
Category : Arts and Entertainment
Last modified : 0000-00-00
Alice Sophia Eve was born in London, England, the daughter of fellow actors Trevor Eve and Sharon Maughan. She has English, Irish and Welsh ancestry. She is best known for her roles in the films Starter for 10 (2006), Crossing Over (2009), She's Out of My League (2010), Sex and the City 2 (2010), The Raven (2012), Men in Black 3 (2012) and Star Trek Into Darkness (2013).

Her family moved to Los Angeles, California when she was young as her father tried to crack the American market. However, they returned to the United Kingdom when she was age 13.

She attended a school in Chichester for a year, whilst her mother appeared in a play. She then moved to Bedales School, where she first started acting in "Les Misérables" and "Twelfth Night". She took her A-Levels at Westminster School in London. She took a gap year before starting university to study at the Beverly Hills Playhouse. Afterwards, she returned to the United Kingdom to read English at St. Catherine's College, Oxford University. While at university, she appeared in student productions of "An Ideal Husband", "Animal Crackers" (which toured to the Edinburgh Fringe Festival), "Scenes from an Execution" and "The Colour of Justice".

Alice appeared in television dramas as well as two plays by Trevor Nunn and the play "Rock 'n' Roll" by Tom Stoppard. She got her first film role in Starter for 10 (2006) with James McAvoy and followed that with the film Big Nothing (2006) alongside Simon Pegg. In 2006, she went to India to shoot the British miniseries Losing Gemma (2006). Alice was introduced to American audiences in the film Crossing Over (2009). Her first high-profile role was in Sex and the City 2 (2010), where she played Charlotte York's Irish nanny.

Alice was ranked as having one of the most "Beautiful Famous Faces" by "The Annual Independent Critics List of the 100 Most Beautiful Famous Faces From Around the World." She was ranked #7 in 2010, #47 in 2009, and #22 in 2008.
View the full website biography of Alice Eve.