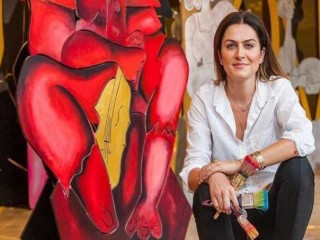 Alexandra Nechita
Date of birth : 1985-08-27
Date of death : -
Birthplace : Vaslui, Romania
Nationality : Romanian-American
Category : Arts and Entertainment
Last modified : 0000-00-00
Alexandra Nechita is a Romanian-American cubist painter, dubbed as "Petite Picasso" she started painting at age of two, while at age of seven Alexandra painted with oils and acrylics.

Born August 27, 1985 in Vaslui, three months after her father, Niki, escaped from Communist Romania. She and her mother, Viorica, had to wait two years before they were allowed to join him in the United States. The family settled in California, where her father found work as a lab technician and her mother as an office manager.

Graduated: Orange Lutheran High School, University of California, Los Angeles.

Alexandra Nechita continues to be recognized as an accomplished international artist. The story of Ms. Nechita is remarkable. She burst on to the international art scene as a bright-eyed eight-year old, who, upon seeing Picasso's work for the first time and not knowing who the artist was, told her mother , "He (Picasso) paints like me!" She was instantly drawn to the work of Picasso, because she intuitively understood the concepts of color, composition, and clarity of expression.

By early 1996 Nechita had already delivered 16 solo exhibits of her paintings, and "at least $1.5 million in sales." Nechita came to national attention in early 1997, when she was chosen to design the 39th Annual Grammy Awards Program. Nechita has been a guest on The Oprah Winfrey Show and has appeared with numerous celebrities, including Bill Clinton.

She has appeared on television news and talk shows around the world, including NBC's Today Show, The Oprah Winfrey Show, NBC Nightly News and CBS Sunday Morning. She has received numerous awards and honors which include Outstanding Artist of the Year (Lincoln Center for Arts New York); Most Fascinating Woman of the Year (Ladies' Home Journal in conjunction with CBS TV); Outstanding Young person Award (Osaka, Japan); and Woman of the Year by the American Red Cross.

City Hall by ARCUB organizes the Days of Bucharest , G Radin sculpture , the first exhibition of sculpture by the famous artist Alexandra Nechita . The exhibition space can be visited between September 19 and October 19 , right in front of the Romanian Athenaeum where 8 impressive sculptural works by the artist will be exhibited.

"I created in Romania with a very good energy and a lot of emotion. It's a new experience in many ways. It is the first time I exhibit a set of sculptures in the country, where I am rather known as a painter. They are the first made right here, with local materials and - the thing I enjoy the most - are accessible to the public, in a less conventional space, which encourages interaction. I have long dreamed of creating in Romania and exhibiting for the public here, " says Alexandra Nechita , author of the exhibition The Garden with Sculptures.

View the full website biography of Alexandra Nechita.