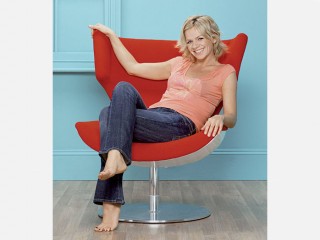 Zoë Louise Ball
Date of birth : 1970-11-23
Date of death : -
Birthplace : Blackpool, Lancashire, England
Nationality : British
Category : Arts and Entertainment
Last modified : 2010-04-20
Zoë Louise Ball (born 23 November 1970 in Blackpool, Lancashire) is an English television and radio personality, most famous for becoming the first female host of the BBC Radio 1 breakfast show and for her earlier work presenting 1990s kids show Live & Kicking.

TV career

The daughter of children's TV presenter Johnny Ball, Zoë Ball grew up in Farnham Common, Buckinghamshire and was educated at a convent school and a sixth form college. She joined the Young Theatre at Beaconsield where she trained as an actor. Her first TV appearance was as a child in the studio audience of Saturday morning children's show Saturday Superstore, on which her father was appearing as a guest.

She began her television career as a runner at Granada Television and researcher on BSkyB. She worked as a researcher for quiz shows for two years. Her presenting jobs have included hosting The Big Breakfast and The Priory on Channel 4, BBC One's Saturday morning children's programme Live & Kicking and pre-school programme Playdays. Between 1996 and 1998 she was a regular presenter on Top of the Pops usually alternating with fellow presenters and DJs Jayne Middlemiss and Jo Whiley. The three only ever presented together once on Christmas Day 1997.

Between 1999 and 2001, she was a co-host with Jamie Theakston on Friday night chat/music show The Priory, which was commissioned by Chris Evans then production company Ginger Productions. Despite initial strong ratings, the show failed to capitalise on this despite the demise of TFI Friday (also a Ginger production) and figures slowly dropped. A fourth series was never commissioned, while today the show is remembered by many as a failed attempt to emulate TFI Friday's success, including the time slot it once occupied. Despite the shows relative failure, fans of the former UK Play spoof interviews show Rock Profile, often recall creators (and future stars of Little Britain) Matt Lucas and David Walliams appearance on the show as Danny and Noel from Hear'Say, in which they constantly sung "Monday, Monday" after Jamie asked them a question. As Jamie was the interviewer on Rock Profile, he as a result reprised his role from that show.

Ball then co-hosted the 2002 BRIT Awards with Frank Skinner, following which motherhood meant that she took less TV work.

In 2005 after co-hosting the BBC reality show Strictly Dance Fever, Ball became a contestant on series 3 of its sister show Strictly Come Dancing, partnering with Ian Waite. Ball and Waite ranked third place.

At the end of 2006, Ball co-hosted ITV1's Extinct, with Sir Trevor McDonald.

In January 2007, she presented the second series of ITV1's Soapstar Superstar, taking over from Fern Britton and Ben Shephard, who hosted the first series. In March 2007, she hosted ITV talent search Grease Is the Word.

Ball is set to feature alongside Jamie Theakston once again in Channel 5's upcoming TV quiz series, Britain's Best Brain, which is set to air in October 2009.

Radio career

Although known primarily for her TV work, Ball first became a major British celebrity in radio, after she was recruited to co-host the BBC Radio 1 breakfast show in October 1997 with Kevin Greening. She eventually graduated to become the sole host — the first female DJ to do so. At this time, her hard-drinking, hard-partying antics contributed to the identification of the so-called "ladette culture" of the late 1990s. She later notoriously re-created the naked pose on a backturned chair made famous by Christine Keeler when doing an interview and spread with SKY magazine.

Ball left BBC Radio 1 in March 2000 to raise a family. Her final breakfast show was on 30 March 2000, and she was succeeded by Sara Cox.

Though regarded as professional, Ball twice received a BBC warning for swearing on the radio — first when she used the word "bastard" while being interviewed by Chris Evans during his stint on the BBC Radio 1 breakfast show (she was publicising her appointment to The Big Breakfast at the time); then, as host of the BBC Radio 1 breakfast show, for using the expression "fucking brilliant" to describe a night out she had.

She returned to radio in mid 2002 when she joined London rock station XFM, where she presented the Weekday Drivetime show until December 2003 and then in January 2004 took over a Friday evening music show for the station. She also stood in for Ricky Gervais while he filmed the second series of The Office. She eventually left XFM at the end of 2004.

In September 2007, she celebrated 40 years of Radio 1 by hosting a show with Sara Cox.

Since 2006 she has provided relief presenting duties for BBC Radio 2, fronting specialist documentaries, sitting in for Dermot O'Leary for three weeks in February 2006 and co-presenting, along with Danny Baker, the hastily-conceived replacement for Jonathan Ross' Saturday morning show, in the wake of Ross' suspension due to Sachsgate in 2008.

From 2009, as well as Simon Mayo, Ball is considered one of the main relief presenters for Ken Bruce's weekday mid-morning show on BBC Radio 2. She also began hosting the Saturday breakfast show from 6:00am to 8:00am on the network from Saturday 6 June 2009 as part of a shake up of weekend programming at Radio 2. She will be back on BBC Radio 2 on Saturday 27th February 2010.

Personal life

While at BBC Radio 1, Ball began a relationship with DJ and musician Norman Cook (a.k.a. Fatboy Slim). The couple married at Babington House in Somerset in August 1999. In 2003, the couple split up when Ball revealed that she had an affair with close friend of Cook and fellow DJ Dan Peppe. They later patched up their relationship.

The couple have one son, Woody (born 15 December 2000), and one daughter Nelly May Lois Ball (born 14 January 2010). They live in Hove.
View the full website biography of Zoë Louise Ball.