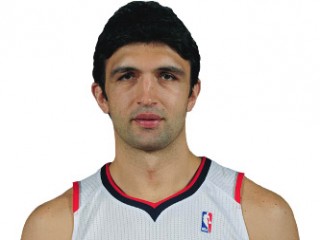 Zaza Pachulia
Date of birth : 1984-02-10
Date of death : -
Birthplace : Tbilisi, Georgia
Nationality : Georgian
Category : Sports
Last modified : 2011-03-15
Zaza Pachulia, born Zaur Pachulia is a Georgian professional basketball player for the Atlanta Hawks of the NBA.

Re-signed as a free agent on July 13, 2009
• Originally signed with the Hawks as a free agent on August 11, 2005
• Traded by the Charlotte Bobcats to the Milwaukee Bucks in exchange for a 2004 second round draft pick on June 23, 2004
• Selected by Charlotte in the 2004 NBA Expansion Draft on June 22, 2004
• Originally selected in the second round (42nd overall) of the 2003 NBA Draft by the Orlando Magic.

LAST SEASON (2009-10):
Provided his usual high-energy and production as the Hawks' primary backup big man
• In his fifth season in an Atlanta uniform, averaged 4.3 ppg and 3.8 rpg in 14.0 mpg (.488 FG%, .650 FT%) in 78 games
• Ranked 5th on the team in rpg and 3rd in FG%
• Scored in double-figures 6 times, and compiled 1 double-double
• Led the team in rebounding (3x) and assists (1x)
• Had 13 pts and 7 boards in season-high 28 mins in his only start this season (4/14 v/Clev)
• Posted 10 pts, season-high 10 rebs, 2 assts and 2 stls v/LAL (3/31)
• Had 6 pts, 5 rebs and a season-high-tying 3 stls v/Phil (3/3)
• Tallied 8 pts and 7 rebs @Chi (3/1)
• Season-high 14 pts to go with 6 rebs @Tor (12/11)
• Missed 2 games due to flu-like symptoms (1/13-1/15) and 2 with a sore left hip (2/9-2/10)

PERSONAL:

• A participant in the NBA's Basketball Without Borders initiative, Pachulia spent a portion of the summer of 2006 assisting in the Sarunas Marciulionis Basketball Academy in Vilnius, Lithuania
• Began playing for Ulker when he was just 15 years old in 1999
• Left his native Georgia in 1998 to go to Turkey and pursue his basketball career
• Has also been a member of the Georgian Junior National Team and the Georgian Cadets National Team
• Names Al Pacino, Robert DeNiro and Sasha Baron-Cohen as his favorite actors, and he would like to one day meet Pacino
• Favorite sports outside of basketball include tennis and soccer
• A fan of the AC Milan soccer team
• Lists Jay-Z and 50 Cent as his favorite musical artists
• Hobbies include traveling and fashion
• He wears a size 17 basketball shoe
• His favorite TV shows are "Punk'd" and "Chappelle's Show"
• Enjoys eating steak and pasta
• His favorite athlete is Michael Jordan.


View the full website biography of Zaza Pachulia.