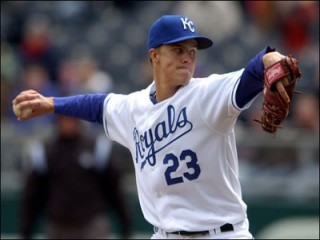 Zack Greinke
Date of birth : 1983-10-21
Date of death : -
Birthplace : Orlando, Florida
Nationality : American
Category : Sports
Last modified : 2010-10-29
GROWING UP

Donald Zackary Greinke was born on October 21, 1983 in Orlando, Florida. He was the first of two boys. Luke arrived a few years later. Both were blessed with excellent athletic ability.

The Greinkes lived in a northwest suburb of Orlando called Apopka. Zack's parents—Don and Marsha—were loving and supportive. Education was a top priority in the Greinke home. Don was a history teacher with a special passion for geography.

Zack sometimes felt awkward as a kid, especially in situations where he was forced to be social. His family had a history of depression, but his parents—Don and Marsha—didn't notice any behavior in Zack that made them overly concerned. Zack hated nothing more than lunchtime at school. The pressure of fitting in with the "cool kids" was oppressive for him.

Zack was able to work off the stress he experienced at school on the baseball field. Lean and agile, he was a great hitter with tremendous power. Zack normally played shortstop or first base. He never pitched. In fact, when he dreamed of becoming a big leaguer, he saw himself in the mold of Mark McGwire.

Zach entered Apopka High School as a freshman in the fall of 1998. He was already ticketed for stardom on the baseball team. He earned a spot on the varsity the following spring, playing the infield and hitting in the heart of the lineup. Zack would finish his career with a batting average well above .400, plus 31 home runs and 144 RBIs.

Ultimately, however, it would be on the mound that Zack impressed most—not that pitching had ever been part of his plan. The teenager took the hill more by accident. He threw so hard that it seemed like a waste not to use him. There was nothing subtle about the way Zack pitched. He was all power and no finesse.

As a senior, Zack went 9-2 with a 0.55 ERA. In 63 innings, he fanned 118 batters and walked only eight. Apopka High posted a record of 30-3, and Zack was named the Gatorade National Baseball Player of the Year.

By this point, Zack's life was more or less laid out before him. He was a surefire first round pick, and he had met the girl of his dreams, a pretty coed named Emily Zuchar. She spent part of her school day as a library assistant. Zach learned the times she was on duty and always found a table to study where she would see him. Emily was one person who he didn't feel anxious around.

As baseball's amateur draft approached, Zack positioned himself with several options. Of the first six teams to pick, all but one—the Tampa Bay Rays—had their sights set on a pitcher. Zack figured to go to one of these teams. As long as the money was acceptable, he would sign. But he also inked a letter of intent with Clemson, which gave him a solid back-up plan.

The Royals, slotted in the sixth hole, went back and forth on Zack and prep shortstop B.J. Upton. When the Rays grabbed Upton, Kansas City's decision was made. Zack, who had not grown up rooting for any team in particular, was happy to be a Royal. The club hadn't had a winning season in nearly a decade, but he didn't care. Zach wanted to pitch in the majors.

The Royals felt like they got one of the draft's biggest steals. Zack already had a major-league arm. At 6-2 and 180 pounds, he also had the frame to put on extra muscle and increase his velocity and durability. The greatest challenge for the Royals would be to bring Zack along at a responsible pace. Rushing him to Kansas City wouldn't do him any good.

ON THE RISE

After Zack and the Royals hammered out a deal, he joined the club's affiliate in the Gulf Coast League. There, he put together three good outings and was promoted to the Spokane Indians, a team in the Low-A Northwest League. After a short stint there, he jumped to the Wilmington Blue Rocks of the Carolina League.

Zack was back in Wilmington to begin the 2003 season. He completely dominated the competition. In 14 starts, he went 11-1 with a 1.14 ERA and allowed only 69 baserunners in 87 innings of work. That led to a promotion to the Wichita Wranglers of the Double-A Texas League. Again, he showed the kind of talent that had the Royals drooling.

At one point during the year, the Kansas City brass toyed with the idea of calling up Zack to the big club. The pitching staff was a mess, thanks mostly to a slew of injuries. The Royals fought off the temptation and kept him in the minors.

Perhaps the most important steps in Zack's maturation came off the field. He lived for a while with George Brett and his family. Spending time with the Royals legend was an invaluable learning experience.

Zack opened the 2004 campaign with the Omaha Royals of the Triple-A Pacific Coast League. He logged 28 innings in six starts and continued to mow down enemy hitters. By May, the Royals didn't need to see anymore from Zack. He got the call to make his big-league debut.

After two no-decisions and a loss in his first three starts, Zach picked up his first win against the Montreal Expos. From the time he joined the Royals, the team had him on a 100-pitch count. Against Montreal, Zack went the distance, surrendering just three hits and striking out five. Afterwards, he tried to celebrate in anonymity with his family at a near-empty sports bar. When a waitress recognized him, the secret was out.

For Royals fans, Zack's performance against Montreal was one of the season's few highlights. The team finished at an anemic 58-104 and last in the AL Central. Despite his team's awful record, Zack went 8-11 against a 3.97 ERA. His strikeout-to-walk ratio was a sterling four-to-one.

One knock against Zack was the 26 homers he coughed up. The other was his aloof attitude. He confounded many of his teammates with a Jekyll-and-Hyde personality. Zack could be a prince of a guy one day and just as easily blow off a commitment he had made the next day. Usually, he was quiet and kept to himself.

W'hat teammates didnt know was that Zack was going through a personal nightmare. He didn't let on to anyone that he was suffering from uncontrollable anxiety. Zack was completely uninformed when it came to mental illness. He suspected he was experiencing the normal growing pains of a young player in the majors.

Zack and the Royals looked for signs of optimism heading into 2005. Manager Tony Pena installed him at the top of the rotation with veteran Jose Lima. The everyday lineup featured a mix of youth and experience, with Mike Sweeney leading the way.

Zack broke from the gate on a tear, posting a 3.09 ERA in his first eight outings. But the Royals gave him no support, and his record showed it. From there, his season disintegrated. The pressure of trying to perfect had a disastrous effect. Zack finished the year at 5-17 with a 5.80 ERA. He gave up 233 hits in 183 innings.

Zack often watched tapes of his outings, hoping to find flaws in his mechanics. But his frustration only built. So did the poor play in Kansas City. The Royals ended the year with a franchise-record 106 losses.

For Zack, the mental strain of playing in the majors became too much. During spring training in 2006, he reached his breaking point. He told the Kansas City coaching staff that he was leaving the team. He told others that life as a pitcher was too hard to handle. The days between starts were excruciating. Zack missed hitting. He often cried himself to sleep.

During a meeting with manager Buddy Bell and GM Allard Baird, Zack broke down in tears. He was heartened by their reaction. Both wanted to see him get better before he thought about returning to baseball.

Zack took a vacation from baseball and then began working with a sports psychologist. He learned about his family's history of depression and was prescribed antidepressant medication. Zack's anxiety subsided. When he understood that his condition could be treated, a huge burden was lifted off his shoulders. Before long, he was eager to get back on the baseball field.

The Royals handled Zack's recovery cautiously. In June, they sent him to Wichita, where he had pitched three years earlier. Zack eased into the starting rotation and began to get his feel back on the mound. He won eight of 11 decisions and allowed fewer hits than innings. In September, the Royals recalled Zack to the big leagues. He started one game and earned the victory. After the season, Zack acknowledged Baird and Bell for their support and understanding during his trying season.

As the Royals prepared for 2007, Zack remained a question mark. When he pitched well in spring training, the team added him to the roster. Zack struggled in his few starts, and the Royals moved him to the bullpen. The shift paid immediate dividends. Zack got a new perspective on hitters and learned more about the weapons in his arsenal. He wound up with a 7-7 record and a 3.69 ERA. He even picked up the first save of his career.

The 2008 version of the Royals played competitive baseball for the first time in five years. Kansas City went 75-87 and finished in fourth place in the AL Central. The team got good offensive years from David DeJesus, Billy Butler, Mark Teahan, Alex Gordon, Jose Guillen and rookie Mike Aviles. Zack combined with Gil Meche to give the Royals a solid one-two punch at the top of the rotation, while Joakim Soria established himself as a bonafide closer.

Zack's season was particularly satisfying. He set career highs in victories, innings and strikeouts. His 3.47 ERA was the best by a full-time Kansas City starter in 11 years. Zack's best outing of the year came in April, when he went the distance in a
5-1 victory over the Seattle Mariners. He ended the campaign on an equally strong note, going 4-1 a 2.18 ERA in September.

MAKING HIS MARK

Zack's excellent finish to the '08 season set the tone for 2009. In January, he inked a new four-year deal with the Royals. Zack then proceeded to blow away AL hitters through the first three months of the year. In April, he went 5-0 with a 0.50 ERA. His control was immaculate—in 36 innings, Zack fanned 44 and walked only eight.

The Royals rode their lead horse to a mark of 12-10, posting their first winning April since 2003. The team sat atop the division after the season's first month for just the second time in its 40-year history.

Zack was nearly as good in May. He opened the month with a masterful performance against the Chicago White Sox, striking out 10 in a complete-game shutout. He handcuffed the Detroit Tigers in similar fashion several weeks later to push his record to 8-1. The Royals, meanwhile, stayed hot and continued to challenge for the division lead.

Zack was rewarded for his great first half with his first All-Star selection. Many in the Kansas City media were miffed when he wasn't tabbed to start the game for the AL—Joe Maddon went with Roy Halladay instead. Zack took the announcement in stride.

Baseball fans in Kansas City have needed an uplifting story for some time now—not to mention a reason to show up at the ballpark. Zack has given them both.

Once again living up to his immense promise, he has taken on the imposing mantle of the best pitcher in baseball. There was a time when that sort of hype would have been too much for him to handle. But Zack has gained a new understanding of the term "mind games." He much prefers to be in the heads of opposing hitters, rather than his own.

ZACK THE PITCHER

Zack is the total package on the mound. He is known as a finesse pitcher, but his stuff is often overpowering. Zack throws a fastball in the mid-90s, a sharp slider, a good off-speed curve and a changeup. He has pinpoint control of all four pitches and is willing to go to any of them in any count.

One of Zack's strengths is his flawless mechanics. He is able to disguise his pitches because he delivers each with the same easy motion. Zack can be as tough on lefties as he is on righties. His mechanics also make Zack a good fielder. He finishes his delivery on balance and ready to make a play.

Although he pitches in the AL, Zack is known as an excellent hitter. He loves the chance to bat in interleague play. In his short career, he has lashed two doubles and a home run.

The lingering question about Zack is his emotional stability. To his credit, he has never hid from the psychological problems he experienced early in his career. His organization and his teammates appreciate the way he has handled the situation. Zack may not always be the most personable guy in the clubhouse, but he can be counted on to deliver his best in a big spot.

EXTRA

* In addition to being a baseball star in high school, Zack also lettered in golf and volleyball.
* In 2002, Zack became the third consecutive high school hurler drafted by the Royals. The two before him were Mike Stodolka in 2000 and Colt Griffin in 2001.
* In 2004, Zack became the third youngest Royals starter ever, after Bret Saberhagen (20 years and eight days) and Mark Littell (20 years and almost six months).
* Zack's start against the Cleveland Indians in September of 0f 2008 made him the third youngest pitcher (24 years and 321 days) in Royals history to reach triple digits in career starts.
* In 2009, Zack set a Royals record be working 43 innings without an earned run. He joined Fernando Valenzuela as the only pitchers since the early 1900s to go their first four starts of a season without allowing an earned run.
* In 2009, Zack became the third pitcher in big-league history to win his first six starts while posting an ERA under 0.50. The others are Walter Johnson in 1913 and Fernando Valenzuela in 1981.
* Zack and Emily Kuchar got engaged early in 2009. She is a former Dallas Cowboys cheerleader, a dancer and a model. She was Miss Daytona Beach USA 2008."
* Emily was jealous of Zack when he appeared on the cover of Sports Illustrated in 2009. One of her goals is to model for the magazine's swmisuit issue.
View the full website biography of Zack Greinke.