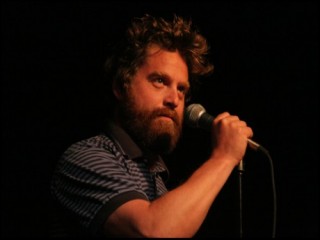 Zach Galifianakis
Date of birth : 1969-10-01
Date of death : -
Birthplace : Wilkesboro, North Carolina, U.S.
Nationality : American
Category : Arts and Entertainment
Last modified : 2011-10-29
Zachary Knight "Zach" Galifianakis is an American stand-up comedian and actor known for his numerous film and television appearances including his own Comedy Central Presents special. While initially more of an "underground" comedian, he garnered mainstream attention for his role in the comedy film The Hangover.

Galifianakis' career began on television in 1996, when he played the recurring role of a stoner named Bobby in the short-lived sitcom Boston Common. Then he joined Saturday Night Live as a writer but lasted only two weeks. Galifianakis co-starred in the film Out Cold and had small roles in Corky Romano, Below, Bubble Boy, Heartbreakers, Into the Wild, Super High Me, Little Fish Strange Pond, and Largo.

He had his own episode of Comedy Central Presents, which first aired in September 2001. It included a stand-up routine, a segment with a piano, and concluding with an a cappella group (The Night Owls, introduced as his "12 ex-girlfriends") singing "Eternal Flame" by The Bangles while he made jokes. In 2002, he was the host of his own VH1 talk show called Late World with Zach. It featured many of his friends and regular performers from the LA comedy and music venue Largo where he appeared frequently during this time period. One episode featured Largo regulars Jon Brion and Rhett Miller as musical guests. His next television role was as a coroner named Davis in the Fox drama Tru Calling, which lasted from 2003 to 2005. He has also appeared many times on Jimmy Kimmel Live and has made three appearances on Reno 911! as "Frisbee".

Galifianakis starred as Alan Finger on the Comedy Central show Dog Bites Man, a fake news program that caught people during candid moments as they acted under the impression that they are being interviewed by a real news crew. In addition, he was on an episode of the Comedy Central show The Sarah Silverman Program as Fred the Homeless Guy. He also had a recurring guest role as a doctor on the animated Adult Swim show Tom Goes to the Mayor and appeared in several episodes of Tim and Eric Awesome Show, Great Job! in a recurring role as Tairy Greene.

In 2006, Galifianakis was featured in Fiona Apple's music video for the song "Not About Love" where he is seen lip-synching the lyrics to the song. A year later Kanye West employed Galifianakis and indie rock musician Will Oldham for similar purposes in the second version of the video for his song "Can't Tell Me Nothing". In June 2006 Galifianakis released the single "Come Over and Get It (Up in 'Dem Guts)", a comedic rap/hip-hop/dance song which features Apple's vocals.

Galifianakis was, together with Patton Oswalt, Brian Posehn, and Maria Bamford, one of the four Comedians of Comedy, a periodic packaged comedy tour in the style of The Original Kings of Comedy and the Blue Collar Comedy Tour. They chose to perform at live rock clubs as opposed to comedy clubs to try to reach a different audience. Much of the tour was taped, and has been featured in both a short-lived TV series on Comedy Central and a full length movie that has appeared at SXSW and on Showtime.
On February 22, 2008, he made an appearance on the Jackassworld.com: 24 Hour Takeover. He interviewed various members of the Jackass cast.

Galifianakis starred in the independent film Visioneers which played in select cities in 2008. This was Galifianakis's first starring role in a film and was given a direct-to-DVD release. That same year, Galifianakis appeared in a web video series of advertisements for Absolut vodka, along with Tim Heidecker and Eric Wareheim, creating a parody of the Golden Girls in which one has a deep anger issue, breaking the fourth wall in exasperation and outright violence on the set. He also completed the pilot Speed Freaks for Comedy Central.

Galifianakis has a series of videos on the Funny or Die website titled "Between Two Ferns With Zach Galifianakis" where he conducts interviews with popular celebrities between two potted ferns. He has interviewed Jimmy Kimmel, Michael Cera, Jon Hamm, Natalie Portman,Charlize Theron, Bradley Cooper (with a brief appearance by Carrot Top), Conan O'Brien and Andy Richter (with a brief appearance by Andy Dick), Ben Stiller, Steve Carell, Sean Penn, Bruce Willis, Tila Tequila, Jennifer Aniston and Will Ferrell. His interview style consists of typical interview questions, bizarre non sequiturs and sometimes inappropriate sexual questions and comments.

Galifianakis co-starred in the comedy The Hangover and earned the MTV Movie Award for the Best Comedic Performance. Following The Hangover's release, Galifianakis was prominently advertised in subsequent films that featured him in supporting roles. These included G-Force, Youth in Revolt, and the Oscar-nominated film Up in the Air.

Galifianakis is currently a member of the regular cast playing a supporting role in the HBO series Bored to Death. He hosted Saturday Night Live on March 6, 2010 during the show's 35th season, during which he shaved his beard mid-show for a sketch, and then closed the show wearing a fake beard. He hosted again on March 12, 2011 and shaved his head this time, in a Mr. T-like hairstyle, which was allegedly supposed to be used for a sketch that never aired due to time constraints. In 2010, he starred in several films, including Dinner for Schmucks, It's Kind of a Funny Story, and Due Date.

On October 29, 2010, while debating marijuana legalization on the show HBO's Real Time with Bill Maher, Galifianakis appeared to have smoked marijuana on live television; host Bill Maher denied that it was real marijuana in an interview with Wolf Blitzer during an episode of The Situation Room.
In 2011, he returned as Alan Garner in the sequel, The Hangover Part II, which was set in Thailand.
View the full website biography of Zach Galifianakis.