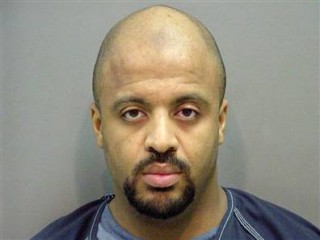 Zacarias Moussaoui
Date of birth : 1968-05-30
Date of death : -
Birthplace : St Jean de Luz, France
Nationality : French
Category : Politics
Last modified : 2011-06-08
Zacarias Moussaoui is a French citizen who was convicted of conspiring to kill citizens of the US as part of the September 11, 2001 terrorist attacks. As a result of his conviction, he is serving a life sentence without parole at the Federal ADX Supermax prison in Florence, Colorado.

Zacarias Moussaoui is the 9/11 plotter -- the "20th hijacker" -- who was arrested before the attacks and was later tried, convicted and sentenced to life in prison. A French citizen of Moroccan descent, he lived in England during the 1990s, earning a graduate degree in business and associating with radical Islamists. Moussaoui was arrested in the United States in August of 2001 by the Federal Bureau of Investigation (FBI), initially on immigration charges. He had come to the FBI's attention when a Minnesota flight instructor grew suspicious of Moussaoui's desire to learn how to pilot a 747 passenger jet. (In early 2001 Moussaoui had flight instructions in Oklahoma, but never obtained a license.) Although further investigation into Moussaoui's actions was not authorized by the FBI, after 9/11 he was linked to the 19 hijackers who died in the attacks. He was held as a material witness and, after years of legal wrangling, entered a guilty plea in April 2005.

He was found guilty on felony conspiracy charges in April 2006 and sentenced to life in prison on 4 May 2006. After his sentencing, Moussaoui recanted his testimony and tried unsuccessfully to reverse his guilty plea.

View the full website biography of Zacarias Moussaoui.