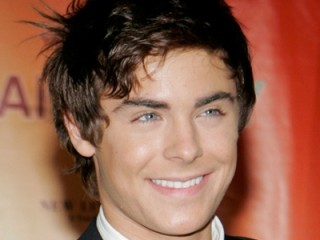 Zac Efron
Date of birth : 1987-10-18
Date of death : -
Birthplace : San Louis Obispo, California
Nationality : American
Category : Arts and Entertainment
Last modified : 2011-03-19
Zac Efron is an American actor, singer, and dancer. He began acting professionally in the early 2000s, and became known to young audiences after his roles in the Disney Channel Original Movie High School Musical, the WB series Summerland, and the 2007 film version of the Broadway musical Hairspray.

On October 18, 1987, Zachary David Alexander Efron was born in San Luis Obispo, California. His father David, an electrical engineer, and mother Starla, an administrative assistant, met while working at the same nuclear power plant. The couple relocated to Arroyo Grande, California, a town roughly 200 miles north of Los Angeles, to raise Zac and his younger brother, Dylan.

At 11, a piano teacher recognized Efron's burgeoning talent and persuaded him to pursue theatrical roles at the Pacific Conservatory of the Performing Arts. He auditioned for—and was subsequently cast in—a small part in a long-running production of Gypsy. The role ignited his passion for acting, and his continued performances in other local productions earned him a contract with a talent agent. Soon, Efron was making regular trips to Los Angeles for auditions while attending Arroyo Grande High School.

In 2002, he made his first television appearance on the short-lived series Firefly. In 2003, Efron landed guest roles on ER and the pilot for The Big Wide World of Carl Laemke. The following year, he could be seen in the film The Guardian, as well as the pilot for Triple Play and the made-for-TV movie Miracle Run.

Efron also starred as Cameron Bale, a series regular, on The WB's Summerland. Although the series was cancelled in July 2005, Efron was still a regular media presence with guest roles on NCIS, Disney's The Suite Life of Zack and Cody and CSI: Miami. He also landed a leading role in his first feature film, The Derby Stallion (2005).

That same year, Efron landed the lead role in a small, low-budget film for the Disney Channel called High School Musical. While on the set of the film, he met co-star Vanessa Hudgens, and the two began dating off-set. The movie debuted in January of 2006, and although it was intended to be the usual Disney fare, it unexpectedly struck a chord with adoring audiences.

Eventually recognized as the most successful made-for-TV movie ever, the movie produced unprecedented ratings, a best-selling soundtrack, and loyal fans. Offers for acting roles and record deals followed, but Efron declined. He chose instead to take time off to refine his focus and graduate from high school.

Controversy later erupted when sources disclosed that Efron wasn't actually responsible for voicing his High School Musical songs, and that Canadian singer-songwriter Drew Seeley was the actual voice behind the role. As a result, Efron made it a contractual point to ensure that his voice appeared unaided on songs for High School Musical 2(2007), which became the most-watched show in cable TV history.

In 2007, Efron also appeared in the big-screen remake of John Waters' Hairspray (1988). Director Adam Shankman nearly passed on Efron for the role of golden boy Link Larkin—reportedly, Shankman initially felt Efron was "too Disney"—but he later reconsidered. Appearing alongside John Travolta, Michelle Pfeiffer, Christopher Walken, and Queen Latifah, Efron once again thrilled his fans, and helped the film earn nearly $119 million domestically. Additionally, he was featured on the cover of Rolling Stone, which dubbed him "The New American Heartthrob."

In an effort to avoid typecasting, Efron decided to make a departure from musicals; he's avoided helming remakes of such song-and-dance films as Footloose (1984). However, to honor his fans, he agreed to appear in High School Musical 3 (2008), the final installment of the trilogy. Since then, he has performed in a leading role in Richard Linklater's drama Me and Orson Welles (2008) and hosted Saturday Night Live to positive reviews.

Efron recently had a near-fatal experience on the set of the light-hearted comedy 17 Again (2009); while shooting the role-reversal film with co-stars Matthew Perry and Leslie Mann, Efron was rushed to the hospital for an emergency appendectomy. He returned to the set a mere two days after surgery to resume shooting.

On April 8, 2009, Efron's participation in a comedic short video entitled "Zac Efron's Pool Party" for the website Funny Or Die was released for public viewing. On April 11, 2009, Efron hosted an episode of Saturday Night Live. In early June 2009 it was confirmed that Efron would be making a guest appearance during the sixth season of HBO's comedy series Entourage.

Efron starred in a series of advertisements, along with Kristen Bell and Sean Combs, promoting the 2010 MTV Movie Awards and the host, Aziz Ansari. In 2009, Efron signed on to play title character in the movie Charlie St. Cloud. The film was released on July 30, 2010.

Zac Efron will also star in 'The Lorax' in 2012 alonside Taylor Swift. Efron voices the role of a young boy who discovers the story of the Lorax, a creature who fights to save the environment. Swift plays the girl Efron's character hopes to win over.

The animated adaptation also features Danny DeVito, Ed Helms and Betty White.


View the full website biography of Zac Efron.