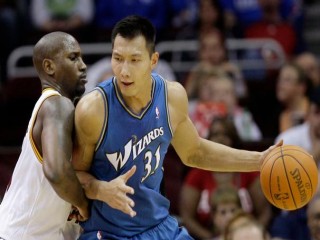 Yi Jianlian
Date of birth : 1987-10-27
Date of death : -
Birthplace : Heshan, Guangdong, China
Nationality : Chinese
Category : Sports
Last modified : 2011-04-08
Yi Jianlian is a Chinese professional basketball player for the Washington Wizards of the National Basketball Association (NBA). He is on the power forward.

Yi played power forward for the Guangdong Southern Tigers of the Chinese Basketball Association (CBA) in 2002 and subsequently won the Rookie of the Year Award.

Career history:

Guangdong Southern Tigers (2002–2007)
Milwaukee Bucks (2007–2008)
New Jersey Nets (2008–2010)
Washington Wizards (2010–present)


INTERNATIONAL CAREER:

Yi's first major international experience came at the FIBA Under-19 World Championships, where he averaged 18.9 points and 11.5 rebounds per game. He debuted with the senior national team in the 2004 Olympic Games and averaged 6 points and 6 rebounds a game at the 2006 FIBA World Championships. His performance impressed coaches on the Chinese national team as well as the coaches from other countries.

In 2008, Yi was once again selected to play for the national team in the Beijing Olympic Games. In China's first two groups games, Yi scored only 9 and 4 points respectively, and China lost both their games against the USA and Spain. But in a win against Angola, he recorded a double-double, and in the Chinese's second win against Germany, Yi had 9 points and 11 rebounds, and hit the crucial shot with 28 seconds left, to help China advance to the quarterfinals. However, Lithuania ended China's run by beating them 94–68, as Yi scored 11 points.

Yi Jianlian, along with former NBA player Sun Yue, was a member of the Chinese National Team that played at the 2009 FIBA Asia Championship. The tournament was held from August 6 to August 16, 2009 in Tianjin, China.

PERSONAL:

Yi is fluent in both Mandarin and his native tongue of Cantonese. Although his English has improved in the United States, Yi still conducts interviews through his interpreter, Walter Ho. He is currently under contract with Coca Cola and Yili (a Chinese dairy company) to endorse their products in China, and after a bidding war with Adidas, Nike signed Yi to a six-figure endorsement deal. He was ranked fourth on Forbes' Chinese celebrities list in income and popularity in 2007. In 2008, Yi donated 100,000 yuan to support the Sichuan earthquake victims, and also participated in the 2008 Summer Olympics torch relay by carrying the torch during the Hainan leg of the relay.


View the full website biography of Yi Jianlian.