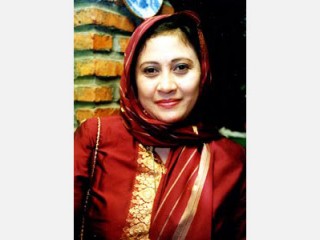 Yessy Gusman
Date of birth : 1962-07-21
Date of death : -
Birthplace : Jakarta, Indonesia
Nationality : Indonesian
Category : Arts and Entertainment
Last modified : 2011-01-04
Yasmine Yuliantina yessy Gusman, better known as Yessy Gusman was born in Jakarta, July 21, 1962. Artist better known as Yessy Gusman is a famous film star (actress) in the era of the late 1970s until the 1980s.

Yessy holds a BA degree with Cum-Laude in Universitaty of San Francisco; MBA at Golden Gate University of San Francisco; and SH-Cum Laude at the University of Pancasila.
Yessy married with Djoko Tingkir Tjakra (Okky) on December 5 Okky 1985.Yessy and first met in 1981 when the deacon both attended the University of San Fransisco, the United States. Incidentally both are active in the Indonesian Club, an organization of Indonesian students who are outside the country. From weddings, this is both blessed with two sons, Javan Dave Tjakra and Cherro Adimas Tjakra. After a foster home for 17 years, they divorced in late 2002.

After three years, widowed, yessy eventually married a second time with a man's home in East Kalimantan, Ir.Syachruddin Batong bin Hasan, MBA, whose age was younger than 6 years. They got married on July 10, 2005. New four-month marriage, the husband was immediately blocked illegal logging and should go to jail. The case is not over, but has faced claims Syachruddin yessy in October 2007, two years after they married.
Biography

Yessy name fame after starring in films from high school Gita Cinta (1979) which starred together Rano Karno. Yessy began to plunge in the Indonesian entertainment world since 1974. There have been many films which starred, among others Romi & Yuli, Puspa IndahTaman liver, Forbidden Fruit, Balance of Love, La Madastra, La Viuda de Blanco, and Red Wrist Marriage. Through Age 18 landing film Teguh Karya, yessy crowned as Best Actress in Indonesian Film Festival in 1981. After the national film industry "fainted", yessy any part disappeared.

Almost 20 years does not appear in the arena of entertainment, look back with yessy very different. Yessy seemed inseparable from the long veil that covers her head. Yessy also focuses its activities on children's education. He has established 46 Child Garden Reading (TBA) and studio creativity of children under the auspices of Mother yessy Foundation. Meanwhile, it has received awards including: the award of Mizan for its concern to support park facilities enyediaan Reading For Children (May 3, 2003) and awards from the Ministry of National Education Republic of Indonesia Malik Fadjar of his achievement in reading interest increase community through Parks READING Mother Child Foundation yessy (December 16, 2003). Even in the midst her activity, yessy time to write a book titled Sowing Love A Journey (2004), which diterbitkn by publisher Baraka (Mizan). She played too with Rano Karno soap opera entitled You Above Below I've ever run on Indosiar year 2001.

View the full website biography of Yessy Gusman.