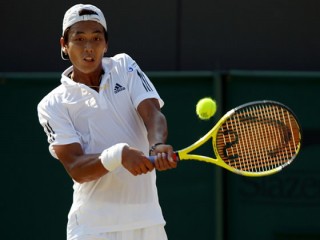 Yen-Hsun Lu
Date of birth : 1983-08-17
Date of death : -
Birthplace : Taoyuan, Taiwan
Nationality : Taiwanese
Category : Sports
Last modified : 2011-05-24
Yen-Hsun Lu is a Taiwanese professional tennis player. He goes by the nickname Rendy. As of November 1, 2010, Lu is ranked #33 in the world and #1 in Asia. His favorite surface is hardcourt.

CAREER:

2009:
At the 2009 Australian Open, Lu advanced to the third round of a Grand Slam tournament for the first time, defeating 10th seeded Argentinian player, David Nalbandian, in five sets by a score of 6-4, 5-7, 4-6, 6-4, 6-2 in the second round. He lost to Tommy Robredo in the third round.

Lu, seeded 82, defeated former world no.1 Lleyton Hewitt in the first round of Delray Beach International Tennis Championships. He then lost to Stefan Koubek.

In May 2009, Lu won the US$100,000 Israel Open at Ramat HaSharon, beating German Benjamin Becker 6-3, 3-1, ret.

He retired in his first round match against Mathieu Montcourt at Roland Garros, trailing 2-6.

He was defeated by Roger Federer in the first round of Wimbledon in a score of 7-5, 6-3, 6-2.

In November 2009, Lu won the US$100,000 Flea Market Cup at Chuncheon, beating Dutch player Igor Sijsling 6-2, 6-3.

2010:
At Wimbledon, Lu became the first Taiwanese player to reach the quarter-finals of a Grand Slam, and the first man from Asia to reach the quarter-finals at a major in fifteen years. He made it to the fourth round without dropping a set defeating Horacio Zeballos (7-5, 6-4, 6-3), Michał Przysiężny (6-4, 7-6(7), 6-3), and Florian Mayer (6-4, 6-4, 2-1) with Mayer withdrawing in the third set. The unseeded Lu achieved the biggest of the upsets on "Manic Monday", by beating world #5 and fifth-seeded Andy Roddick 4-6, 7-6(3), 7-6(4), 6-7(5), 9-7, in 4 hours and 36 mins. He lost to No. 3 seed Novak Djokovic 3-6, 2-6, 2-6. Lu moved up 40 places to 42nd in the ATP after Wimbledon. The ATP named Lu's 4th round Wimbledon upset against Roddick as the biggest upset of 2010.

PERSONAL:
Began playing at age eight…If he wasn't playing tennis, he said he'd likely be back in school studying…Has one older brother, who is a computer engineer…His parents are in business…Aspires to be the first Chinese player to reach the Top 10…Favorite surface is hard courts
Has a 17-11 career Davis Cup record (12-6 in singles) in 11 ties
Coached by Dirk Hordorff.

View the full website biography of Yen-Hsun Lu.