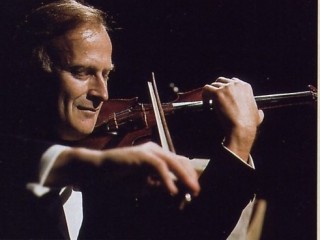 Yehudi Menuhin
Date of birth : 1916-04-22
Date of death : 1999-03-12
Birthplace : New York City,U.S.
Nationality : American
Category : Famous Figures
Last modified : 2011-12-14
Yehudi Menuhin, Baron Menuhin was a Russian Jewish American violinist and conductor who spent most of his performing career in the United Kingdom. He was born to Russian Jewish parents in the United States, but became a citizen of Switzerland in 1970, and of the United Kingdom in 1985. He is often considered to be one of the greatest violinists of the 20th century.

There are few great musicians whose careers have enjoyed both the productivity and longevity of Yehudi Menuhin's. Indeed, he was a child prodigy in the U.S. in the 1920s, as beloved by audiences as child film star Shirley Temple was in the '30s. But unlike many prodigies, his career has never waned. For decades he has been active not only in music, but also in promoting human rights and international understanding; as such, he is one of the world's most admired, respected, and honored figures.

Menuhin was born in 1916 in New York City to Russian Jewish immigrants who were both teachers. In 1918 the family moved to San Francisco. Because he exhibited a precocious interest in music, Menuhin's parents granted his request for a violin, and he began studying in the San Francisco area, first with Sigmund Anker and then with San Francisco Symphony Orchestra concertmaster Louis Persinger. His first professional appearance came at the age of seven, at Oakland Auditorium in Oakland, California.

Fate smiled on the Menuhins in 1924 when a family friend introduced them to Sidney Ehrman, a San Francisco lawyer and philanthropist. Ehrman was so taken by Yehudi's musical talent, and by that of his sisters Yaltah and Hephzibah, that he volunteered to pay for the family's expenses in order for the children to pursue their musical careers. His generosity allowed the family to go to Europe, where Yehudi studied with the violinist Georges Enesco; the family followed Enesco back to the U.S. in 1927.

It was that year that Menuhin made his Carnegie Hall debut, an appearance that launched him to instant stardom. He was a sensation--a mere boy of ten playing "grown up" concertos by Beethoven and Brahms with a mature understanding of the music that left observers breathless. After a concert he gave in Berlin in 1929, a wild-haired man approached Menuhin, embraced him, and exclaimed: "Now I know there is God in heaven!" The man was Albert Einstein.

During the 1930s Menuhin continued to give concerts, pursued a burgeoning recording career, and went on his first world performing tour, in 1935. During World War II he gave hundreds of concerts for Allied soldiers and relief organizations. He was the first foreign musician to perform in liberated Paris, and he played for prisoners who were awaiting liberation from the Bergen-Belsen concentration camp.

Menuhin's humanity is coupled with a serenity that he attributes largely to his discovery of yoga in the 1950s. His playing reflects his personality: it is lucid, straightforward, and earnest, without romantic sweep or emotional pathos. He is an impressive interpreter of such 18th-century composers as Bach and Mozart and is equally at home in the language of the 20th century; in fact, several composers, among them Bela Bartok and William Walton, commissioned works especially for Menuhin.

In 1959 Menuhin took up residence in England, and in 1962, he founded the Yehudi Menuhin School in Surrey, where intensive musical instruction is combined with traditional elementary and high school classes. Carrying on his role as a world citizen, Menuhin has championed jazz and non-Western music, performing with musicians such as Indian sitarist Ravi Shankar and French jazz violinist Stephane Grappelli.

Menuhin died of a heart attack on March 12, 1999, in Berlin, Germany, where he had traveled to conduct the Warsaw Symphony Orchestra.

View the full website biography of Yehudi Menuhin.