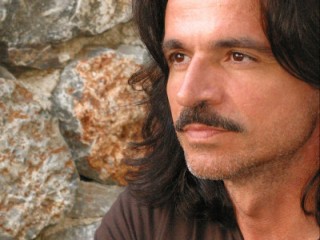 Yanni
Date of birth : 1954-11-14
Date of death : -
Birthplace : Kalamata, Greece
Nationality : Greek
Category : Arts and Entertainment
Last modified : 2010-11-26
Yanni's grandiose keyboard style is both accessible and exciting, two elements that have led to his success in the realm of adult alternative radio. His explosive, pop-influenced instrumentals and romantic pianistic ballads have also made him a popular touring and recording artist for the Private Music label. In addition to his original television, commercial, and film scores, Yanni's music has been used extensively on programs like Wide World of Sports and coverage of the Olympic games. This aspect of his career seems especially appropriate when you consider that he achieved early success not as a musician, but as a member of the Greek national swimming team. (He broke the national freestyle record at age 14.)

Born in Kalamata, Greece, Yanni arrived in the U.S. after high school and obtained a degree in psychology from the University of Minnesota before diving headfirst into music. It didn't take long for the self-taught keyboardist and composer to establish himself as a studio musician, jingles composer, and producer. After gaining an impressive cult following for his first independently released album, Yanni was picked up by Private Music and has become one of the label's best-selling artists.
One of the most visible artists in the contemporary instrumental realm, Yanni's rise to fame was expedited in the early '90s by his romantic relationship with actress Linda Evans, which gained him coverage on mainstream programs like Lifestyles of the Rich and Famous as well as appearances on the daytime talk-show circuit.


Yanni's discography:
Studio albums
* 1984 Optimystique
* 1986 Keys to Imagination
* 1987 Out of Silence
* 1988 Chameleon Days
* 1989 Niki Nana
* 1990 Reflections of Passion
* 1991 In Celebration of Life
* 1992 Dare to Dream
* 1993 In My Time
* 2000 If I Could Tell You
* 2003 Ethnicity
* 2009 Yanni Voices and Yanni Voces (Spanish Version)
* 2010 Yanni Mexicanisimo
Live albums/videography
* 1994 Yanni Live at the Acropolis
* 1995 Yanni Live at Royal Albert Hall
* 1996 Yanni One on One
* 1997 Tribute
* 2006 Yanni Live! The Concert Event
* 2009 Yanni Voices and Yanni Voces (Spanish Version)
Soundtracks
* 1988 Steal the Sky
* 1988 Heart of Midnight
* 1989 I Love You Perfect
* 1990 Children of the Bride
* 1990 She'll Take Romance
* 1990 When You Remember Me
* 1994 Hua qi Shao Lin
Compilations
* 1992 Romantic Moments, BMG
* 1994 A Collection of Romantic Themes, Private Music
* 1997 Devotion (The Best of Yanni), Private Music
* 1997 Port of Mystery, Windham Hill
* 1997 In The Mirror, Private Music
* 1997 Nightbird, Unison
* 1999 Someday, Unison
* 1999 The Private Years, Private Music
* 1999 Love Songs, RCA Victor
* 1999 Winter Light
* 2000 Snowfall
* 2000 The Very Best of Yanni (2000–10), Windham Hill Records, RCA Victor
* 2003 Ultimate Yanni
* 2010 The Essential Yanni
View the full website biography of Yanni.