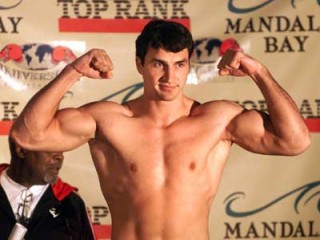 Wladimir Klitschko
Date of birth : 1976-03-25
Date of death : -
Birthplace : Semipalatinsk, Kazakhstan
Nationality : Ukrainian
Category : Sports
Last modified : 2010-07-05
Wladimir Klitschko, also known as Vladimir Klitschko born 25 March, 1976 in Semipalatinsk, Kazakhstan is a Ukrainian heavyweight boxer. Klitschko is the unified IBF, WBO, IBO and Ring Magazine Champion of the world. His older brother, Vitali Klitschko, is the current WBC world heavyweight champion.

Wladimir Klitschko has combined brawn and brains en route to boxing supremacy. The Ukrainian holds the International Boxing Federation (IBF), World Boxing Organization (WBO), and International Boxing Organization (IBO) championships, and wants to become the undisputed champion of that divided weight category. He has also been marketing himself more aggressively in the United States.

Grew Up in Sports Family

Klitschko was born in Semipalatinsk, Kazakhstan, when it was part of the former Soviet Union. The family settled in Ukraine in 1985. His father, Wladimir Rodionovich, was an Air Force colonel and his mother, Nadezhda Ulyanovna, was a flight attendant. Klitschko and his brother, Vitali, played soccer and playfully fought and wrestled as youths. Vitali, nearly five years older, won six world kickboxing championships before embarking on a successful boxing career and running for mayor of Kiev, Ukraine.

Wladimir Klitschko, who has a doctorate in sports science from the University of Kiev, was a European junior boxing champion at age 17 and became a five-time Ukranian boxing champion and the 91-kilogram (200-pound) titlist in the inaugural World Military Games. After winning a silver medal in the European championship, Klitschko captured gold in the super heavyweight division at the 1996 Summer Olympic Games in Atlanta, Georgia, defeating Paea Wolfgramm of Tonga in the final. Ukrainian President Leonid Kuchma awarded him a medal for courage.

Klitschko, also nicknamed "Dr. Steelhammer," stands an imposing six-foot, six-and-a-half inches tall. He knocked out Fabian Meza in the opening round of his first professional fight, on November 16, 1996, and by early 2008 he had won 50 of his 53 career fights; 44 of his wins were by knockout.

Defeated Ibragimov for Unified Title

On October 14, 2000, Klitschko claimed the WBO heavyweight title, defeating Chris Byrd of the United States by 12-round unanimous decision in Westfalen, Germany. He defeated Byrd again by seventh-round technical knockout (TKO) on April 22, 2006, to add the IBF and IBO titles to his resume. With boxing's heavyweight division fragmented, Klitchko and Sultan Ibragimov, by then the WBO champion, agreed to a unification fight at New York's Madison Square Garden on February 23, 2008. It would be the first unification fight since Lennox Lewis defeated Evander Holyfield in New York in 1999.

The match was billed as a study in contrasts. Klitschko wore Hugo Boss clothing and trained at the PGA National Golf Resort in West Palm Beach, Florida. Ibragimov trumpeted his rural roots with the Avars tribe and trained 30 miles from Klitschko in a warehouse adjacent to an auto repair shop.

Klitschko defeated Ibragimov by 12-round unanimous decision to regain the WBO championship, and was one belt away from becoming the undisputed champion. "I'm happy to have three belts," Klitschko said, as quoted by Greg Beacham of the Associated Press. He added, "I'm happy to get the WBO belt back. That was the first title I had."

Standing six inches taller and 20 pounds heavier than Ibragimov, Klitschko took little risk in disposing of his opponent, in a fight marked by frequent inaction. Ibragimov, wrote Beacham, "constantly appeared to be flailing against a mean-spirited older brother."

Heavyweight Division Still Fragmented

Next for Klitschko is supremacy in the World Boxing Association, whose champion in early 2008 was Ruslan Chagaev of Uzbekistan. There has not been an undisputed heavyweight champion since Lennox Lewis retired. "Klitschko is determined to bring order to boxing's fractured former glamour division by winning every major title," Beacham wrote.

For Klitschko, the fight in New York gave him some needed media exposure. "Though the overall heavyweight talent level is thought to be better than in recent years, none of boxing's biggest bruisers are well known to casual fight fans," Beacham added. The Klitschko brothers also promote themselves on a Web site.
View the full website biography of Wladimir Klitschko.