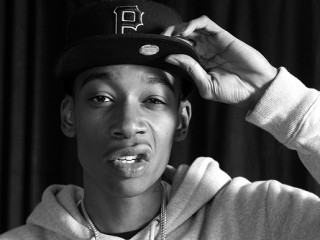 Wiz Khalifa
Date of birth : 1987-09-08
Date of death : -
Birthplace : Minot, North Dakota, U.S.
Nationality : American
Category : Arts and Entertainment
Last modified : 2011-03-30
Cameron Jibril Thomaz better known by the stage name Wiz Khalifa, is an American rapper based in Pittsburgh, Pennsylvania.

A military brat, Khalifa was born in 1987 in Minot, ND. After his parents divorced when he was about age three, he lived in various places and military bases around the world before settling in Pittsburgh. He was constantly writing during that time and soaked up a great deal of knowledge from his globetrotting experiences. His first attempt at committing lyrics to paper happened around age nine, and at 12 he was already recording and producing his own records in his father's Oklahoma studio. As soon as he returned to Pittsburgh, Khalifa laid down the groundwork for a solo career and kept busy recording music in a local studio, called I.D. Labs, in the Lawrenceville neighborhood of the city. Khalifa stood out among the studio's regulars, prompting the I.D. Labs staff to offer him free beats and recording time, plus bringing him to the attention of Benjy Grinberg, a former executive assistant to L.A. Reid at Arista Records who had started up a new independent label, Rostrum Records.

Signed to Rostrum, Khalifa built a buzz in Pittsburgh with a few singles, but he began to draw eyes and ears nationally during his senior year in high school with his first mixtape, Prince of the City: Welcome to Pistolvania, in early 2006. And with the release of his independent full-length debut, Show and Prove, later that year, major publications, including Vibe, XXL, and Rolling Stone, featured profiles on the young rapper, projecting him to be the leading voice of Pittsburgh hip-hop. A regular staple on Pittsburgh radio, Khalifa was definitely living up to that prediction, going on to sell tens of thousands of mixtapes, not to mention tens of thousands of Show and Prove copies around the country. It was only a matter of time before the major labels came looking for the standout Pittsburgh rapper. In summer 2007, Khalifa and Rostrum hopped on board with Warner and cut his first major-label single, "Young'n on His Grind." The follow-up, "Say Yeah," climbed into the Top 20 of Billboard's Hot Rap Tracks that same year, but the relationship between Warner Bros. and Khalifa was taking a turn for the worse. Unable to come to an agreement on his debut album for the label, the rapper announced he was leaving Warner in 2009 and returning to Rostrum for the album Deal or No Deal.

Official music video of Wiz Kalifa 'On My Level' Feat Too Short :


The next year would begin with Khalifa appearing on the cover of XXL as one of the magazine's Top Ten Freshmen while The Source named him Rookie of the Year. In April his Kush & Orange Juice mixtape topped Google's Hot Search Trends list and the Atlantic label took notice, signing the artist that same month. In September his first single the label, the Pittsburgh Steelers tribute Black and Yellow, appeared.

As the NFL team progressed toward the playoffs, Khalifa's track became their unofficial anthem, and when the Green Bay Packers emerged as the team's opponent for the Super Bowl, Lil Wayne responded with the answer song "Green and Yellow."

Khalifa's song topped the charts in February of 2011, with the release of his debut Atlantic set, Rolling Papers, following a month later.


View the full website biography of Wiz Khalifa.