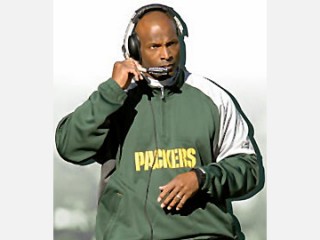 Winston Moss
Date of birth : 1965-12-24
Date of death : -
Birthplace : Miami, Florida
Nationality : American
Category : Sports
Last modified : 2011-02-03
Winston Moss was born in Miami, Fla. Winston and his wife, Zoila, have three sons, Winston Jr., 16, Robert, 11, and Marcus, 8, and two daughters, Victoria, 15, and Isabella, 2. In his spare time, Moss enjoys spending time with his family and playing golf.

• Joined Packers Jan. 19, 2006, as linebackers coach and was named assistant head coach/linebackers on Jan. 15, 2007. His position responsibility was modified to inside linebackers with addition of Kevin Greene to coaching staff in 2009.
• A standout NFL linebacker for 11 years, played 155 games (146 starts) with three clubs: the Tampa Bay Buccaneers (1987-90), Los Angeles Raiders (1991-94) and Seattle Seahawks (1995-97).
• Selected by Tampa Bay as the second of two second-round picks in the 1987 draft, shortly after the Bucs took college teammate Vinny Testaverde No. 1 overall.
• Lettered four years at the University of Miami (Fla.).

Entering his 23rd season in the NFL and fifth with the Packers, Winston Moss begins his third year in the role of assistant head coach with inside linebacker responsibilities for the second season.

Named to the current post by Head Coach Mike McCarthy on Jan. 15, 2007, Moss impressed McCarthy with his leadership skills when the two worked together for five seasons in New Orleans and again in 2006 in Green Bay. The 44-year-old Moss continues to coach the linebackers as well, his original duty upon joining the Packers. His position responsibility was modified to inside linebackers in '09 with the switch to a 3-4 defense and the addition of outside linebackers coach Kevin Greene to the staff.

Last season Moss was part of a staff that guided the Packers defense to a No. 2 overall ranking in the league, the highest ranking since the '96 team finished as the No. 1 defense. Green Bay led the NFL in rushing defense for the first time in franchise history, and the average of 83.3 rushing yards allowed per game set a team record for any season.

Under Moss' guidance, veteran Nick Barnett returned from a serious knee injury to start all 16 games at 'Mack' LB and lead the team in tackles with 122 in '09, a franchise-record fifth time in his career that he led the team in tackles. Barnett also registered a career-high four sacks and led the linebackers with eight passes defensed.

A.J. Hawk started 14 games at the other inside-linebacker spot, the 'Buck' position, and finished second on the team to Barnett with 87 tackles. Hawk was one of only 10 linebackers in the league to record at least 85 tackles, two interceptions and a sack in '09, and was selected as a Pro Bowl alternate.

In 2008, with the addition of free-agent signee Brandon Chillar and the continued development of Desmond Bishop, Moss had his deepest linebacking corps in Green Bay to date, and it was needed when Barnett was lost for the season to a torn ACL in Week 10. Hawk made a rather seamless transition to middle linebacker to fill Barnett's spot, while Bishop and Chillar both contributed at Hawk's former weak-side position.

The previous year, Moss helped Barnett continue his progression from steady performer to true team leader with a Pro Bowl-caliber year. Barnett was named second-team All-Pro after leading the Packers in tackles for the fourth time in five seasons and posting a (then) career-high 3½ sacks along with two interceptions and numerous big plays late in games.

Moss spent a total of six seasons with the Saints, where he also coached linebackers. Originally hired by the Saints in 2000 as defensive assistant/quality control, he was promoted to linebackers coach near the end of that season to replace John Bunting, who departed to become head coach at the University of North Carolina.

Moss began his coaching career in 1998 as a defensive quality-control assistant for the Seattle Seahawks, the club for whom he played his final NFL season.

A veteran of 11 seasons and 155 NFL games (146 starts), the former linebacker played for the Tampa Bay Buccaneers (1987-90) and the Los Angeles Raiders (1991-94), in addition to the Seahawks (1995-97). Over the course of his career, Moss recorded 768 tackles, 20½ sacks and six interceptions, and recovered one fumble for a TD.

In 1993, when he led the Raiders in tackles on a team that advanced to the AFC Divisional playoffs, he earned the Ed Block Courage Award after a vote of his teammates. Moss also was a three-time defensive captain and received the 1996 NFL Players Association Unsung Hero Award while with the Seahawks.

A four-time letterman at the University of Miami (Fla.), he and current Packers scout Alonzo Highsmith helped the Hurricanes to the national championship after the 1983 season under Howard Schnellenberger.

As a prep, Moss attended Miami (Fla.) Southridge High School and was an all-state linebacker.



View the full website biography of Winston Moss.