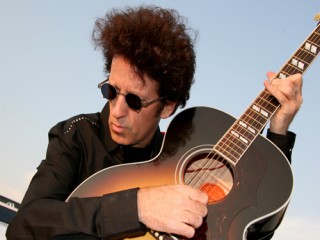 Willie Nile
Date of birth : 1948-06-07
Date of death : -
Birthplace : Buffalo, NY, U.S.
Nationality : American
Category : Arts and Entertainment
Last modified : 2012-01-05
Willie Nile (born Robert Anthony Noonan) is an American singer-songwriter. In 1980 Nile released his self-titled debut album which according to one critic remains "one of the most thrilling post-Byrds folk-rock albums of all time". His career was interrupted several times by various problems, but he has always returned to recording and performing in the US and Europe, re-establishing himself as a singer-songwriter.

In the early 1980s, after garnering acclaim for his self-titled debut and its follow-up, Golden Dawn, as well as a tour with rock gods the Who, American roots rock artist Willie Nile seemed destined to become a major rock and roll star--the next Bruce Springsteen or Bob Dylan some said. However, critical predictions were silenced when a series of legal problems put the folk performer out of commission for the remainder of the decade. Finally, in 1991, Nile resurfaced with his first album in ten years, Places I Have Never Been. Since then, Nile has continued to craft his melodic, intelligent, and listener-friendly pop rock tunes. His acclaimed Beautiful Wreck Of The World, issued in 1999, seven years after his previous studio recording, again marked a new chapter in the career of one of the world's most gifted songwriters. One song off the album, a tribute to Jeff Buckley entitled "On The Road To Calvary," is, according to folk artist Lucinda Williams "One of the most, if not the most beautiful songs I've ever heard," as quoted on Nile's official website.

Despite absences from the studio, fans regarded Nile as a legendary live performer, and his songs have been recorded by numerous artists in various languages throughout the world. In addition, he has recorded and performed with artists including Roger McGuinn, Richard Thompson, Ringo Starr, Tori Amos, Elvis Costello, Lucinda Williams, and the Barenaked Ladies. He also contributed vocals to the recent all-star ensemble album Largo alongside Joan Osborne, Cyndi Lauper, Levon Helm, the Chieftans, Taj Mahal, and Carole King. Nile also wrote and performed most of the songs on the soundtrack for the Kevin McLaughlin film Pinch Me!

Born in 1949 in Buffalo, New York, Nile came from a musical family. His grandfather, a vaudeville pianist, played with Bill "Bojangles" Robinson and Eddie Cantor, and an uncle played boogie-woogie. While growing up in Buffalo, Nile's older brothers would bring home the music of the day's top stars, including Elvis Presley, the Everly Brothers, Buddy Holly, and Fats Domino. Thus, by the age of three or four, Nile was already well-versed in the sounds of 1950s rock 'n' roll. At the age of eight, Nile himself took up the piano and began formal lessons. He studied classical music until his teens, around the time he learned to play his first rock 'n' roll song on his own.

Soon thereafter, Nile started composing his own numbers, a talent that followed him into his college years. During summer vacations, Nile would make frequent trips to New York City to visit clubs like Folk City and the Gaslight, and upon graduation, rented an apartment in the heart of Greenwich Village with the hopes of establishing himself on the folk rock circuit. Unfortunately, he contracted a debilitating case of pneumonia his first winter in New York. Although the illness put him out of commission for about a year, Nile continued to write songs while recuperating. Afterwards, his musical interests began to stretch beyond folk and '50s rock. Hanging out at clubs such as CBGB's, Nile witnessed the emergence of bands like the Patti Smith Group, Television, the Ramones, and the Talking Heads.

In the late 1970s, Nile established a residency at the Greenwich Village club Kenny's Castaways, where he drew ever-growing audiences. As word spread of Nile's songwriting talent and his crowd-pleasing live sets, record labels started to take an interest. At one point, Nile found himself courted by A&R representatives from close to a dozen well-known companies. In the end, he opted to sign a deal with Arista Records, then entered the studio with a cast of musicians that included Jay Dee Daugherty from Patti Smith's band to record his debut effort.

Willie Nile, which included the classic "Vagabond Moon," won accolades upon its release in 1980, as did Golden Down, released in 1981. Pop rock enthusiasts and reviewers alike were taken with Nile's penchant for writing credible, yet hopeful rock 'n' roll tunes. His lyrics were at once serious, optimistic, uplifting, and romantic, while musically, Nile implemented melodies, major chords, catchy choruses, and climactic moments, enabling the songs to fit well within the mainstream pop culture. He drew comparisons to everyone from the Clash to Bob Dylan. Other musicians, too, applauded Nile's work, and in 1980, the Who requested the singer-songwriter to accompany them on a major tour across North America.

However, Nile fell prey to legal problems, derailing his career for a number of years. According to Nile, the situation became "so depressing and dreadful I wanted to get out of the business," as quoted by Boston Globe staff writer Jim Sullivan. Nile retreated from the recording industry spotlight by moving back to Buffalo, raising a family with his wife (from whom he is now divorced), and signing a publishing deal. Much of the 1980s was spent writing songs, around 300 or so, a few recorded by the Hooters and Patty Smythe, and he even penned a screenplay. Nonetheless, Nile was far removed from the loop. "Once you're out of the business, it's difficult to get back in, and I'm not a very good hustler."

Though Nile kept busy writing, he did not play live again until a 1987 performance in Oslo, Norway, with Eric Andersen. Subsequently, a videotape of the concert prompted Columbia Records to sign him to a new record deal in 1988. Production for a new album commenced two years later. Finally, in 1991, Nile made a comeback with Places I Have Never Been, which contained the mid-level radio rock hits "Heaven Help The Lonely" and "Everybody Needs A Hammer." The album also featured guest appearances by Richard Thompson, Loudon Wainwright III, Roger McGuinn, and members of the Hooters and the Roches.

Nile followed this with a four-song EP titled Hard Times In America in 1992, which became a cult favorite throughout Europe. Then came another period of silence. In 1997, though, the live album Live In Central Park, a recording of a 1980 concert given the day after he finished the tour opening for the Who, was released by Archive Recordings. The response to the set opened the door again for Nile, and he returned to New York to start his own record label, River House Records, as well as his own website. He also put together a new band--comprised of bassist Brad Albetta, drummer Rich Pagano, and guitarist Andy York--known as the Worry Dolls. With the band, Nile recorded and produced Beautiful Wreck Of The Worldreleased in 1999. The album also featured contributions from Black 47's Chris Nyrne and Willie Nelson's harmonica player, Mickey Raphael.

Although released late in the year, the album showed up on many "best of" lists, including that of Jim Bessman of Billboard magazine. In addition to the mournfully elegant "On The Road To Calvary," Beautiful Wreck Of The World revealed other highlights including "You Gotta Be A Buddha In A Place Like This," "Black Magic and White Lies," and the introspective "Bread Alone." Yet another well-received set for Nile, the album, according to Anthony Violanti of the Buffalo News, was "remarkable."

In 2006, Nile released Streets of New York, which some may consider to be his best work to date, due to its production and songwriting. Former Time magazine music critic and Academy Award winning screenwriter Jay Cocks writes of Streets of New York, "The tunes he writes and plays with such blowtorch vibrancy get the myth and magic and danger and sadness and love in this town--of this town--truer, and righter, than anything I've heard since Dion. This record is a head-twister and heart-wrencher. It's rock and roll at its best. It's New York at its best. And there's nothing better than that."

Selected discography:
-Willie Nile , Arista, 1980.
-Golden Dawn , Arista, 1981.
-Places I Have Never Been , Columbia, 1991.
-Hard Times In America (EP), Polaris, 1992.
-Live in Central Park , Archive, 1997.
-Beautiful Wreck Of The World , River House, 1999.

View the full website biography of Willie Nile.