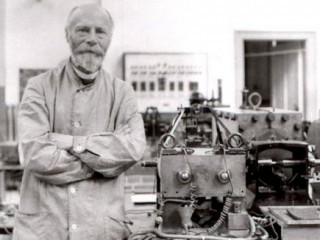 Willem Einthoven
Date of birth : 1860-05-21
Date of death : 1927-09-29
Birthplace : Samarang, Java, Dutch East India
Nationality : Dutch
Category : Science and Technology
Last modified : 2011-12-21
Willem Einthoven was a Dutch doctor and physiologist. He invented the first practical electrocardiogram (ECG or EKG) in 1903 and received the Nobel Prize in Medicine in 1924 for it.

In 1903, Dutch physiologist Willem Einthoven devised the electrocardiograph (ECG or EKG, from the German elektrokardiograph). He was awarded the Nobel Prize for Physiology or Medicine in 1924.

His machine, first called an Einthoven galvanometer, had a thin metallic wire held between two electromagnets, with the wire connected to electrodes on the patient's chest, and the patient's hands and one foot bathed in salt-water tubs.

An electromagnetic field made the wire quiver ever-so-slightly as the heart contracted and relaxed, and using photographic film and shining light on the wire, Einthoven's machine could accurately measure and record the strength and rate of a patient's heartbeat. The machine weighed about 600 pounds, and operating it required a team of five technicians. Present day electrocardiographs are much smaller and more accurate, but the underlying principles remain fundamentally the same.

Although later technological advances brought about better and more portable EKG devices, much of the terminology used in describing an EKG originated with Einthoven. His assignment of the letters P, Q, R, S and T to the various deflections is still used. The term "Einthoven's triangle" is named for him. It refers to the imaginary inverted equilateral triangle centered on the chest and the points being the standard leads on the arms and leg.

After his development of the string galvanometer, Einthoven went on to describe the electrocardiographic features of a number of cardiovascular disorders. Later in life, Einthoven turned his attention to the study of acoustics, particularly heart sounds which he researched with Dr. P. Battaerd.

He died in Leiden in the Netherlands and is buried in the graveyard of the Reformed Church at 6 Haarlemmerstraatweg in Oegstgeest.
View the full website biography of Willem Einthoven.