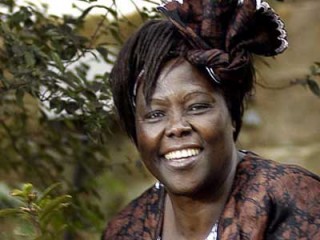 Wangari Maathai
Date of birth : 1940-04-01
Date of death : -
Birthplace : Ihithe village, Tetu division, Nyeri District (Kenya)
Nationality : Kenyan
Category : Famous Figures
Last modified : 2010-11-15
Dr. Wangari Muta Maathai is an African woman who is involved in the work of environmental and political activism. She has the distinction of being the first woman in East and Central Africa to earn a doctorate degree, along with being the first African woman to be awarded the Nobel Peace Prize. She was also Wangari Maathaielected to the Parliament, under the government of President Mwai Kibaki, and served as Assistant Minister for Environment and Natural Resources, from January 2003 to November 2005


Childhood
Wangari Maathai
was born as
Wangari Muta
on 1st April 1940, in Ihithe village of Tetu division, which comes under Nyeri District of Kenya. Initially, she attended Ihithe Primary School and later, shifted to Loreto Convent Secondary School in Limuru. After completing her schooling from Kenya, Maathai went on to study biology in the United States and Germany. She did her graduation in biology, in 1964, from Mount St. Scholastica College (now Benedictine College) and received her Master's degree from University of Pittsburgh.
After her PG, Maathai came back to Kenya and enrolled at the University of Nairobi, for Ph.D. program in veterinary medicine. Thereafter, she became the first woman in East and Central Africa to be awarded with a Ph.D. Later, she garnered the post of a professor, of veterinary anatomy, at the University of Nairobi. Soon after, she was elevated to the position of the 'Dean' of her Faculty. In 2002, Maathai was offered the position of a Visiting Fellow at Yale University's Global Institute of Sustainable Forestry, which she readily accepted.
Activism and Political Life
Maathai entered the arena of environmental activism in the year 1977, when she founded the
Green Belt Movement
. The aim behind the foundation of the organization was to prevent soil erosion taking place across Kenya, by planting trees. Started as a grassroots environmental non-governmental organization, Green Belt Movement had planted over 40 million trees across Kenya, till sometime back. The movement made her very popular and she was affectionately called "Tree Woman" or "The Tree Mother of Africa".
The movement became her first step towards the cause of environmental and political activism. She also served as the former chairperson of Maendeleo Ya Wanawake (the National Council of Women of Kenya). Maathai started working towards the issue of conducting multi-party elections and ending political corruption and tribal politics, during the regime of President Daniel Arap Moi. For this reason, she was imprisoned several times and at times, violently attacked also. However, nothing deterred her from the path.
In 1989, when Moi's business associates tried to construct the 60-story Kenya Times Media Trust business complex in Nairobi's Uhuru Park, she was the one who stopped them almost single-handedly. In 1997, she ran for the presidency in Kenya's second multi-party elections. However, her party withdrew her candidacy and she became a minor candidate. In 2002, National Rainbow Coalition defeated the ruling Kenya African National Union. With this, Maathai, representing the former, was elected to parliament
She was made an Assistant Minister in the Ministry of Environment, Natural Resources and Wildlife, in 2003. The same year, she founded the Mazingira Green Party of Kenya. In 2005, she was elected as the first president of the African Union's Economic, Social and Cultural Council. She was one of the eight flag bearers at the Opening Ceremony of the 2006 Winter Olympics. The next year, Maathai was awarded an honorary doctorate by Connecticut College. She also supported the International Year of Deserts and Desertification program.
Thereafter, she led the United Nations Billion Tree Campaign and also became one of the founders of The Nobel Women's Initiative, founded to support the work being done for women's rights around the world. In January 2007, Maathai hosted the Global Young Greens conference in Nairobi and also endorsed the Forests Now Declaration. She again contested the primary elections for Party of National Unity, for getting parliamentary candidature, but was defeated. She joined a smaller party, but faced defeat in the parliamentary election too.
Personal Life
Wangari married Mwangi Mathai, a politician, in the year 1969. However, her husband divorced her in 1980s, on the grounds that she was too strong-minded for a woman and he could not control her. The presiding judge concurred with Mwangi, which provoked Maathai to speak against the judge. She was put in jail for her act and the judge decreed that she must drop her husband's surname. To show her defiance to the order of the court, Wangari added an extra "a" in 'Mathai' and continued using the surname.
Awards
* 1984: Right Livelihood Award (a.k.a. "Alternative Nobel Prize")
* 1987: Global 500 Roll of Honour
* 1991: Goldman Environmental Prize
* 1991: Africa Prize
* 1993: Edinburgh Medal (For Outstanding contribution to Humanity through Science)
* 2004: Petra Kelly Prize
* 2004: Sophie Prize
* 2004: Nobel Peace Prize
* 2006: Légion d'honneur
* 2007: World Citizenship Award
* 2007: Indira Gandhi Prize
View the full website biography of Wangari Maathai.