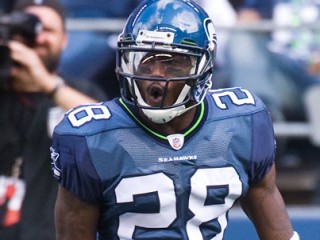 Walter Thurmond
Date of birth : 1987-08-12
Date of death : -
Birthplace : Hollywood, California
Nationality : American
Category : Sports
Last modified : 2010-12-06
Walter Thurmond is an American football cornerback for the Seattle Seahawks of the National Football League. He was drafted by the Seahawks in the fourth round of the 2010 NFL Draft. He played college football at Oregon.

Drafted with the 13th selec- tion (111th overall) in the fourth round of the 2010 NFL Draft. Fourth player chosen out of Oregon since 2007 (Last: Max Unger, 2009).

COLLEGE:

Played in 41 games, recording 254 tackles (181 solo), 12 interceptions (ranked ninth in school history) and scored five total touch- downs. Returned 33 kickoffs for 850 yards and ran back 11 punts for 165 yards and one touch- down. RS SENIOR: Lost for the season after four games with a knee injury suffered return- ing the opening kickoff vs. California. Returned the opening punt 78 yards for a touchdown against Utah, to extend his career TD totals to five. Tied a school record with his third career interception for a touchdown (18 yards) against Purdue. Accumulated 158 all-purpose yards against the Utes after adding 148 return yards in the home opener to his five tackles.

RS JUNIOR: Played and started in 12 of 13 games and finished tied for first in the Pac-10 with five intercep- tions. Recorded 51 tackles and shared the team lead in intercep- tions, including one INT in the Holiday Bowl victory vs. Oklahoma State. Also had five solo tackles and returned six kickoffs for a total of 201 yards, including a 91-yarder to open the second half, setting up UO's second touchdown of the game. Had a 40-yard interception for a touchdown in the closing seconds of the first half at Oregon State. Recorded a season-high 10 tackles at California. Had a pair of interceptions at Washington State.

RS SOPHOMORE: Started all 13 games and finished as the co-leader in the Pacific-10 Conference in passes defended (23) and second on the team in interceptions (5). The league's honorable mention all-conference choice (coaches) claimed first-team all-Pac-10 attention by Rivals.com after posting a team-high 103 tackles (73 solo).

RS FRESHMAN: Started12 games as a redshirt freshman, earning honorable mention all-conference and third-team freshman All-America honors. ... Finished fourth on the team in tackles with 68 (44 solo).

PERSONAL:

Considered one of California's fastest players, helped lead Bulldogs to CIF Southern Section Division VII championship and a 11-2-1 record with the deciding 19-8 victory over South Hills. Recorded 29 receptions for 730 yards and seven touchdowns his senior season in addition to rushing for over 400 yards and two more scores. Added 85 tackles and five interceptions to earn all-San Gabriel Valley Region honors and Region Back-of-the-Year acclaim by the L.A. Times. Also received all-CIF Southern Section second-team plaudits as a wide receiver in 2004 after attracting first-team all-San Antonio League, all-CIF and all-Valley attention following his 2003 campaign. Born Walter Riley Thurmond III on Aug. 12, 1987, in Hollywood, Calif. Parents are Walter Thurmond Jr. and Kassie Carney. Majored in Political Science.

View the full website biography of Walter Thurmond.