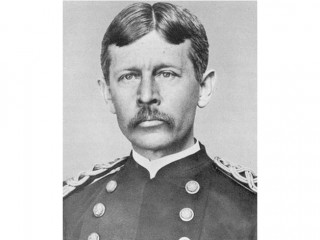 Walter Reed
Date of birth : 1851-09-13
Date of death : 1902-11-22
Birthplace : Washington D.C., U.S.
Nationality : American
Category : Science and Technology
Last modified : 2011-12-16
Walter Reed, (September 13, 1851 – November 22, 1902) was a U.S. Army physician who in 1900 led the team that postulated and confirmed the theory that yellow fever is transmitted by a particular mosquito species, rather than by direct contact. This insight gave impetus to the new fields of epidemiology and biomedicine, and most immediately allowed the resumption and completion of work on the Panama Canal (1904–1914) by the United States.

After two year-long classes at the University of Virginia, Reed completed the M.D. degree in 1869, five months before he turned 19 (he was the youngest then, and is still today the youngest student of the University of Virginia to receive an MD degree).He then enrolled at the New York University's Bellevue Hospital Medical College in Manhattan, New York, where he obtained a second M.D. in 1870.

After interning at several New York City hospitals, he worked for the New York Board of Health until 1875. He married Emilie (born Emily) Lawrence on April 26, 1876 and took her West with him. Later, Emilie would give birth to a son and a daughter and the couple would adopt a Native American girl while posted in frontier camps.

With his youth apparently limiting his influence, Reed joined the U.S. Army Medical Corps, both for its professional opportunities and the modest financial security it could provide. He spent much of his Army career until 1893 at difficult postings in the American West, at one point, looking after several hundred Apache Native Americans, including Geronimo. During one of his last tours, he completed advanced coursework in pathology and bacteriology in the Johns Hopkins University Hospital Pathology Laboratory.

Reed joined the faculty of the George Washington University School of Medicine and the newly-opened Army Medical School in Washington, D.C. in 1893, where he held the professorship of Bacteriology and Clinical Microscopy. In addition to his teaching responsibilities, he actively pursued medical research projects and served as the curator of the Army Medical Museum, which later became the National Museum of Health and Medicine (NMHM).

Reed first traveled to Cuba in 1899 to study disease in U.S. Army encampments there. Yellow fever became a problem for the Army during the Spanish-American War, felling thousands of soldiers in Cuba.

In May 1900, Reed, a major, returned to Cuba when he was appointed head of the Army board charged by Surgeon General George Miller Sternberg to examine tropical diseases including yellow fever. Sternberg was one of the founders of bacteriology during this time of great advances in medicine due to widespread acceptance of Louis Pasteur's germ theory of disease, as well as the methods of studying bacteria developed by Robert Koch.

During Reed's tenure with the U.S. Army Yellow Fever Commission in Cuba, the board both confirmed the transmission by mosquitoes and disproved the common belief that yellow fever could be transmitted by clothing and bedding soiled by the body fluids and excrement of yellow fever sufferers – articles known as fomites.

The board conducted many of its dramatic series of experiments at Camp Lazear, named in November 1900 for Reed's assistant and friend Jesse William Lazear, who had died two months earlier of yellow fever while a member of the Commission.

The risky but fruitful research work was done with human volunteers, including some of the medical personnel such as Lazear and Clara Maass who allowed themselves to be deliberately infected. The research work with the disease under Reed's leadership was largely responsible for stemming the mortality rates from yellow fever during the building of the Panama Canal, something that had confounded the French attempts to build in that region only 30 years earlier.

Although Dr. Reed received much of the credit in history books for "beating" yellow fever, Reed himself credited Dr. Carlos Finlay with the discovery of the yellow fever vector, and thus how it might be controlled. Dr. Reed often cited Finlay's papers in his own articles and gave him credit for the discovery, even in his personal correspondence.

Following Reed's return from Cuba in 1901, he continued to speak and publish on yellow fever. He received honorary degrees from Harvard and the University of Michigan in recognition of his seminal work.

In November 1902, Reed's appendix ruptured; he died on November 22, 1902, of the resulting peritonitis, at age 51. He was buried in Arlington National Cemetery.

View the full website biography of Walter Reed.