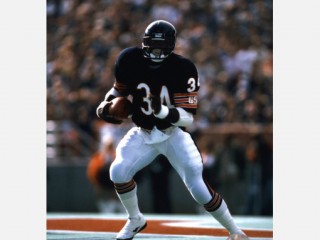 Walter Payton
Date of birth : 1954-07-25
Date of death : 1999-11-01
Birthplace : Columbia, Mississippi, U.S.
Nationality : American
Category : Sports
Last modified : 2010-07-23
Walter Jerry Payton , born on July 25, 1954, in Columbia, Mississippi was an American football player.

Sometimes known by his nickname "Sweetness", Payton was equally admired for his off-the-field personality as well as for his football skills. He first began to attract attention as a halfback at Jackson State University, making the starting lineup in 1971 — his freeman year. Payton was selected for the All-American team and was named Black College Player of the Year for in 1973 and 1974. In his four years at Jackson State, he rushed for more than 3,500 yards and scored more than 450 points, showing fans and opponents alike just what a versatile and talented player he was. Off the field, Payton showed his interest in helping with others, studying education with an emphasis on working with the deaf.

Payton continued to excel once he became a professional player in 1975. Picked by the Chicago Bears, he became a running back who was known for his speed. During his 13 seasons with the team, Payton made nine Pro Bowl appearances and won the National Football League's (NFL) Most Valuable Player Award twice — in 1977 and 1985. Retiring after the 1987 season, he held the NFL rushing record with 16,726 yards and the single game rushing record of 275 yards. Payton was inducted into the Pro Football Hall of Fame in 1993 and the College Football Hall of Fame in 1996.

After leaving the team, Payton explored business opportunities, including real estate, restaurants, and race cars. Living up to his nickname, Payton spent much of his time working make life better for other people. He formed the Halas Payton Foundation in 1988 to help inner-city kids in the Chicago area. He later established the Walter Payton Foundation, also dedicated to helping young people in the state of Illinois.

Payton became ill in early 1999 and died on November 1 of that year from cancer. He was survived by his wife Connie and two children, Jarrett and Brittney. His charitable organization is now called the Walter and Connie Payton Foundation with his wife continuing to support the causes and programs that Payton cared about.
View the full website biography of Walter Payton.