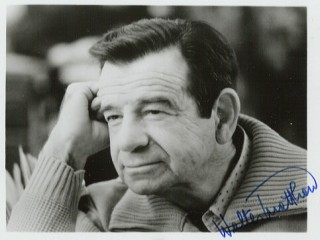 Walter John Matthau
Date of birth : 1920-10-01
Date of death : 2000-07-01
Birthplace : New York City, New York
Nationality : American
Category : Arts and Entertainment
Last modified : 2010-06-30
Early life
Matthau was born in New York City's Lower East Side on October 1, 1920, the son of Rose Berolsky (from Lithuania), who worked in a sweatshop, and Milton Matthau, an electrician and peddler (from Russia), both Jewish immigrants. His surname has often incorrectly been listed as Matuschanskayasky (see below for a detailed discussion). As a young boy, Walter attended a Jewish non-profit sleepaway camp, Tranquillity Camp, where he first began acting in the shows the camp would stage on Saturday nights. He also attended Surprise Lake Camp.

Career
During World War II, Matthau served in the U.S. Army Air Forces with the Eighth Air Force in England as a B-24 Liberator radioman-gunner, in the same 453rd Bombardment Group as James Stewart. He reached the rank of staff sergeant and became interested in acting. He took classes in acting at the Dramatic Workshop of The New School in New York with the influential German director Erwin Piscator. He often joked that his best early review came in a play where he posed as a derelict. One reviewer said, "The others just looked like actors in make-up, Walter Matthau really looks like a skid row bum!" Matthau was a respected stage actor for years in such fare as Will Success Spoil Rock Hunter? and A Shot in the Dark. He won the 1962 Tony Award for Best Featured Actor in a play.

In 1952, Matthau appeared in the pilot of Mr. Peepers with Wally Cox. For reasons unknown he used the name Leonard Elliot. His role was of the gym teacher Mr. Wall. In 1955, he made his motion picture debut as a whip-wielding bad guy in The Kentuckian opposite Burt Lancaster.

Matthau appeared as a villain in subsequent movies, such as 1958's King Creole (in which he is beaten up by Elvis Presley). That same year, he made a western called Ride a Crooked Trail with Audie Murphy and Onionhead starring Andy Griffith and Erin O'Brien, which was a flop. Matthau had a featured role opposite Griffith in the well received drama A Face in the Crowd, directed by Elia Kazan. Matthau also directed a low-budget 1960 movie called The Gangster Story. In 1962, he was a sympathetic sheriff in Lonely are the Brave, which starred Kirk Douglas. He appeared opposite Audrey Hepburn in Charade, which also starred Cary Grant.

Appearances on television were common too, including two on ABC's police drama, Naked City, as well as the 1963 episode "A Tumble from a Tall White House" of The Eleventh Hour. He appeared eight times between 1962 and 1964 on The DuPont Show of the Week and as Franklin Gaer in 1964 in the episode "Man Is a Rock" on Dr. Kildare. Lastly, he starred in the syndicated crime drama Tallahassee 7000, as a Florida-based state police investigator, in the 1961-1962 season.

Comedies were rare in Matthau's work at that time. He was cast in a number of stark dramas, such as 1964's Fail-Safe, in which he portrayed a White House adviser during a catastrophic global incident. [citation needed]

In 1965, however, a plum comedy role came Matthau's way when Neil Simon cast him in the hit play The Odd Couple playing the slovenly sportswriter Oscar Madison opposite Art Carney as Felix Unger. Matthau would later join Jack Lemmon in the movie version. Also in 1965, he played detective Ted Casselle in the Hitchcockian thriller Mirage, with Gregory Peck and Diane Baker, a film directed by Edward Dmytryk, based on a novel by Howard Fast.

He achieved a great film success in a 1966 comedy as a shyster lawyer called "Whiplash Willie" Gingrich starring opposite Lemmon in The Fortune Cookie, the first of numerous collaborations with Billy Wilder, and a role that would earn him an Oscar for Best Supporting Actor. Filming had to be placed on a five-month hiatus after Matthau suffered a heart attack.

Matthau was visibly banged up during the Oscar telecast, having been involved in a bicycle accident, nonetheless he scolded actors who had not bothered to come to the ceremony, especially the other four major award winners that night: Elizabeth Taylor, Sandy Dennis and Paul Scofield.

Oscar nominations would come Matthau's way again for 1972's Kotch, directed by Lemmon, and 1975's The Sunshine Boys, another Simon vehicle transferred from the stage, this one about a pair of former vaudeville stars. For the latter role he won a Golden Globe award for Best Actor in a Musical or Comedy.

Broadway hits turned into films continued to cast Matthau in the leads with 1969's Hello, Dolly! and that same year's Cactus Flower, for which co-star Goldie Hawn received an Oscar. He played three different roles in the 1971 film version of Simon's Plaza Suite and was in the cast of its followup California Suite in 1978.

Matthau starred in three crime dramas in the mid-'70s, as a detective investigating a mass murder on a bus in The Laughing Policeman, as a bank robber on the run from the Mafia and the law in Charley Varrick and as a New York transit cop in the action-adventure The Taking of Pelham One Two Three. A change of pace about misfits on a Little League baseball team turned out to be a solid hit in 1976 when Matthau starred as coach Morris Buttermaker in the comedy The Bad News Bears.

In 1982, Matthau portrayed Herbert Tucker in I Ought to Be in Pictures. There he worked with Ann-Margret and Dinah Manoff, the daughter of an actress whom Matthau starred with in Plaza Suite, Lee Grant.

His partnership with Lemmon became one of the most successful pairings in Hollywood. They became lifelong friends after making The Fortune Cookie and would make a total of 10 movies together—11 counting Kotch, in which Lemmon has a cameo as a sleeping bus passenger. Aside from their many comedies, each appeared (though not on screen together) in the 1991 Oliver Stone drama about the presidential assassination, JFK.

They had a surprise box-office hit in the comedy Grumpy Old Men, reuniting for a sequel, Grumpier Old Men, that co-starred Sophia Loren and Ann-Margret. That led to more pairings late in their careers, notably Out to Sea and a Simon-scripted sequel to one of their great successes, The Odd Couple II. Hanging Up, a 2000 film directed by and starring Diane Keaton, was Matthau's final appearance on screen.

Personal life
Matuschanskayasky
There is a persistent rumor that Matthau's birth name was Matuschanskayasky, which is false, as are the rumors that his name was Matashansky, Matansky, or any other reported names. In truth, as reported by the authors of Matthau: A Life by Rob Edelman and Audrey Kupferberg (along with Walter's son, Charlie Matthau), Walter Matthau often told tall tales. In his youth, he found that the joy of embellishment lifted a story (and the listener) to such enjoyable heights that he could not resist trying to pass off the most bogus of information, just to see who was gullible enough to believe it. Matthau told many stories to many reputable people, including, reputedly, the Social Security Administration. When he registered for a number, he was amazed that they only wanted him to write his name, and offer no proof of his identity. So, as another of his traditional goofs, he wrote that his true name was "Walter Foghorn Matthau". The "Matuschanskayasky" name rumor culminated with the release of 1974's Earthquake. The executive producer, Jennings Lang, had worked with Matthau the previous year on the film Charley Varrick, and persuaded him to take a cameo role in Earthquake – the small part scripted only as a "drunk at the end of the bar." On a whim, Matthau agreed to take the part, without compensation, on the condition that he not be credited under his real name. After Matthau agreed, the part of the "drunk" was expanded to provide comic relief for the film, the character offering toasts to various people (Spiro Agnew, Bobby Riggs, and Peter Fonda), as well as delivering the punchline "Hey, who do you have to know to get a drink around here?" in the midst of a bar devastated by a major earthquake. As requested, when it came time to insert the credits for Earthquake, the long, but false moniker, "Matuschanskayasky", was used in the credits. Despite the facts, this fake name continued to appear in the World Almanac section on "Original Names of Selected Entertainers" as recently as the 2009 edition (p. 278).

Marriages
Matthau was married twice; first to Grace Geraldine Johnson (1948–58), and then from 1959 until his death in 2000 to Carol Marcus. He had two children, Jenny and David, by his first wife, and a second son, Charlie Matthau, with his second wife. David is a radio news reporter, currently at WKXW "New Jersey 101.5" in Trenton, New Jersey. Matthau also helped raise his stepchildren, Aram Saroyan and Lucy Saroyan. His grandchildren include William Matthau, an engineer, and Emily Roman, an actress. Charlie Matthau directed his father in The Grass Harp (1995).

Death
Matthau died from complications of colon cancer in Santa Monica on July 1, 2000, aged 79. After undergoing heart surgery some years before, doctors discovered that he had the cancer, which, by the time of his death, had spread to his liver, lungs, and brain. However, on his death certificate the causes of death are listed as cardiac arrest and atherosclerotic heart disease, with ESRD and atrial fibrillation added as "other significant conditions contributing to death but not related to [primary] cause...". His remains are interred in the Westwood Village Memorial Park Cemetery in Los Angeles.

Just under one year later, Jack Lemmon's remains were buried at the cemetery next to those of his friend Matthau, after dying from colon cancer and bladder cancer. After Matthau's death, Lemmon as well as other friends and relatives had appeared on Larry King Live in an hour of tribute and remembrance; many of those same people appeared on the show one year later, reminiscing about Lemmon.

Actor George C. Scott is also buried next to Walter Matthau in an un-marked grave.

Matthau's widow, Carol Marcus, also a native New Yorker, died of a brain aneurysm in 2003. She was buried next to him.
View the full website biography of Walter John Matthau.