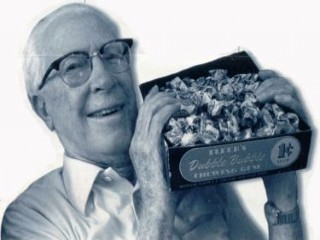 Walter Diemer
Date of birth : 1905-01-08
Date of death : 1998-01-08
Birthplace : Philadelphia, Pennsylvania, U.S.
Nationality : American
Category : Science and Technology
Last modified : 2011-09-29
Walter Diemer was an accountant and inventor of bubble gum.

People had been chewing gum-like substances for fun for centuries, and commercially-produced chewing gum had been available since 1848, but Frank Fleer (1860-1921), founder of the Fleer Corporation, dreamed of blowing gum bubbles. He made a gum in 1908 that was bubble-able, but the texture was so dense it was difficult to chew, it held flavor poorly, and the gum was so sticky a popped bubble meant ruined clothes. Fleer put his concoction aside, and eventually retired and died before Walter Diemer was hired at the Fleer Corporation, as a cost accountant.

Born and raised in Philadelphia, Pennsylvania, USA, 23 year old Diemer was working as an accountant at Fleer in 1926 when the company president sought to cut costs by making their own gum base. (Founder Frank Henry Fleer had made a batch of bubble gum in 1906 which he called Blibber Blubber, but it was too sticky and broke too easily.)

Although an accountant by trade, Mr. Diemer liked to experiment with gum recipes in his spare time. In doing so, he accidentally stumbled upon a recipe that was totally unique. The gum was pink because it was the only food coloring in the factory, which is why most gum today is pink.

Diemer began experimenting with some of the plant's extra equipment on his lunch break and after hours, and despite having no training in confections or chemistry, through trial and error he found the missing ingredient -- a natural form of latex. Adding a little latex to the recipe allowed bubbles to expand smoothly, and let the exploded bubble of gum be peeled easily off of clothes and skin. Diemer's discovery came in 1928, and the Fleer Corporation marketed it as Dubble Bubble and made millions of dollars. The patent and all the profits went to the company, but Diemer was eventually promoted to senior vice president. "I've done something with my life," he explained in retirement. "I've made kids happy around the world."
View the full website biography of Walter Diemer.