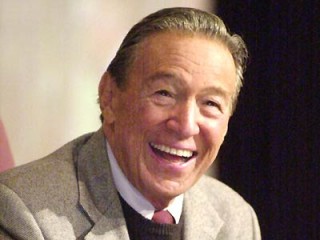 Wallace, Mike
Date of birth : 1918-05-09
Date of death : 2012-04-07
Birthplace : Brookline, Massachusetts, U.S.
Nationality : American
Category : Arts and Entertainment
Last modified : 2010-04-27
Myron Leon "Mike" Wallace was an American journalist, former game show and media personality. Mike made his mark in television journalism as an aggressive interviewer who spent 37 years as co-host of the CBS news program 60 Minutes. A 1939 graduate of the University of Michigan, Wallace worked in radio in Michigan and Chicago, then served in the United States Navy during World War II. After the war he returned to Chicago and worked a variety of radio jobs until 1951, when he moved to New York City.

By the late 1950s he was on TV and nationally known for his adversarial style of interviews, thanks to programs like Night Beat (1956) and Mike Wallace Interviews (1957-58). Wallace joined CBS News in 1963 as a correspondent and was named in 1968 as one of the co-hosts for 60 Minutes, a TV news "magazine" that has been a Sunday night staple since the mid-1970s. Some critics derided Wallace's aggressive reporting techniques -- which included hidden cameras and "ambush" interviews -- but the dramatic stories he told brought big audiences to CBS and international celebrity to Mike Wallace. Over the years he has interviewed dozens of newsmakers, from Malcolm X to Ronald Reagan. He's also been in the news himself a few times, including when U.S. General William Westmoreland sued him for libel in 1984 (the case was settled in 1985), and when he was depicted as knuckling under to the tobacco industry in the 1999 Russell Crowe film The Insider. Wallace has also been open about his battle with depression (which he says was triggered by the 1984 lawsuit) and has worked to educate the public on the issue. He retired from 60 Minutes in 2005, but in 2006, at the age of 88, he signed a new four-year contract with CBS.

On April 8, 2012, CBS Sunday Morning announced that Mike Wallace died at the age of 93. On Face the Nation, Bob Schieffer reported that Wallace died in New Canaan, Connecticut, where he resided, at 8 p.m. on April 7, 2012.

Extras
Other hosts of 60 Minutes have included Dan Rather and Diane Sawyer. Chris Wallace of Fox News Sunday is the son of Mike Wallace.


View the full website biography of Wallace, Mike.