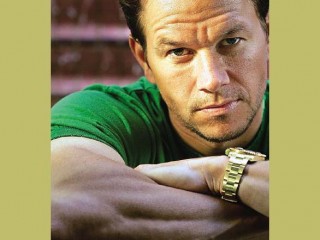 Wahlberg Mark
Date of birth : 1971-06-05
Date of death : -
Birthplace : Boston, Massachusetts, U.S.
Nationality : American
Category : Arts and Entertainment
Last modified : 2010-05-24
Mark Robert Michael Wahlberg is an American actor, rapper and producer of film and television. Wahlberg has appeared in numerous films, including Boogie Nights (1997) and The Departed (2006) for which he was nominated an Academy Award for Best Supporting Actor.

Before he started acting, Mark Wahlberg was best known as Marky Mark, the pants-dropping rapper who attained fame and notoriety with his group the Funky Bunch. In the tradition of Will Smith and Ice Cube, Wahlberg has made a successful transition from music to film, garnering particular early praise for his role in Boogie Nights.

Born June 5, 1971, in Dorchester,MA , Wahlberg had a troubled early life. One of nine children, he dropped out of school at 16 (he would later earn his GED) and committed a number of minor felonies. After working various odd jobs, Wahlberg briefly joined brother Donnie and his group New Kids on the Block before forming his own, Marky Mark & the Funky Bunch. The group had widespread popularity for a time, most notably with its 1992 hit single "Good Vibrations." However, it was Wahlberg himself who received the lion's share of attention, whether it was for the homophobia controversy that surrounded him for a time, or for the 1992 Calvin Klein ad campaign featuring him wearing nothing more than his underwear, Kate Moss, and an attitude. In 1993, Wahlberg turned his attentions to acting with a role in The Substitute. The film, co-starring a then-unknown Natasha Gregson Wagner, was a critical and commercial failure, but Wahlberg's next project, 1994's Renaissance Man, with Danny De Vito, gave him the positive notices that would increase with the release of his next film, The Basketball Diaries (1995). Although the film received mixed reviews, many critics praised Wahlberg's performance as Mickey, Leonardo Di Caprio's friend and fellow junkie. Following Diaries, Wahlberg appeared in Fear (1996) in the role of Reese Witherspoon's psychotic boyfriend.

It was with the release of Paul Thomas Anderson's Boogie Nights in 1997 that Wahlberg finally received across-the-board respect for his commanding yet unassuming performance as busboy-turned-porn-star Eddie Adams/Dirk Diggler. The film was nominated for three Oscars and a slew of other awards by associations ranging from the British Academy to the New York Film Critics Circle to MTV. The positive attention landed Wahlberg on a wide range of magazine covers and gave him greater Hollywood pulling power. He had, as they say, arrived. Wahlberg's follow-up to Boogie Nights was 1998's The Big Hit, an action comedy that, particularly in the wake of Boogie Night's acclaim, proved to be a disappointment. This disappointment was hardly lessened by the relative critical and commercial shortcomings of Wahlberg's next film, The Corruptor (1999). An action flick that co-starred Chow Yun-Fat, The Corruptor showcased Wahlberg's familiar macho side and indicated that success in Hollywood is a strange and unpredictable thing. Though he gained positive notice for his role in David O. Russell' s unconventional war film Three Kings the same year, the film was only a moderate success, paving the way for an even more dramatic turn in the downbeat true story of the ill-fated Andrea Gail, The Perfect Storm, in 2000.

The following year found Wahlberg filling some big shoes -- and receiving some hefty criticism as a result -- with his lead role in Tim Burton's much-anticipated remake of Planet of the Apes. Taking over the role that Charlton Heston made famous, Wahlberg found himself pursued onscreen by sinister simians, as well as offscreen by critics who decried the lack of depth that the actor brought to the role. Late that summer, Wahlberg came back down to Earth -- specifically to the everyday-Joe-rises-to-fame territory of Boogie Nights -- with Rock Star, the story of a tribute-band singer who gets a chance to sing for the band he idolizes. Though his noble attempt to fill the considerable shoes of Hollywood legend Cary Grant in the 2002 Charade remake The Truth About Charlie would be only slightly exceeded by his assumption of the role originally played by Michael Caine in the following year's remake of The Italian Job, Wahlberg would subsequently prove that there's nothing like the fresh breeze of an original script in director David O. Russell's existential 2004 comedy I Heart Huckabees. Of course, Wahlberg was never one to let a crowd down, and after riling audiences alongside Tyrese Gibson and André Benjamin in the Detroit-based revenge flick Four Brothers, the athletic actor would take to the gridiron to tell the inspirational story of one football fan whose dreams of playing in the NFL actually came true in the 2006 sports drama Invincible. Also released in the fall of 2006, The Departed allowed Wahlberg to act opposite such heavy hitters as Jack Nicholson, Matt Damon, Alec Baldwin, and his old Basketball Diaries co-star Leonardo Di Caprio under the direction of Martin Scorsese. Not only did Wahlberg hold his own against the cast of critics' darlings, he landed the film's only acting Academy Award nod. In 2007, Wahlberg starred in the suspense actioner The Shooter.

To prepare for his role in Shooter, Wahlberg attended long-range shooting training at Front Sight Firearms Training Institute near Pahrump, Nevada, and was able to hit a target at 2000 yards on his first day, a feat which took his instructor about six months to achieve. He has said in a number of interviews that he will retire at the age of 40 to concentrate on parenthood and professional golf. However, in early 2007 he indicated that the latter was no longer the plan as "his golf game is horrible". In 2007, he starred opposite Joaquin Phoenix in We Own the Night, a movie about a family of police officers in New York City. The movie also stars Robert Duvall and Eva Mendes.

He starred in M. Night Shyamalan's The Happening as Eliot Moore, which opened in movie theatres on June 13, 2008. The same year, he played the title role in Max Payne, based on a video game of the same name. While promoting Max Payne, Wahlberg became involved in a staged feud with Saturday Night Live's Andy Samberg and threatened to "crack that big (bleep)ing nose of his." Samberg had done an impression of Wahlberg in a Saturday Night Live skit titled "Mark Wahlberg Talks To Animals." However, one week later, Wahlberg later appeared in a follow-up skit parodying both the original skit, Samberg's impression of Wahlberg, and his own threats to Samberg.

In 2009, Wahlberg played Jack Salmon in Peter Jackson's film The Lovely Bones.

View the full website biography of Wahlberg Mark.